You've heard of Mardi-Gras and Carnival, but do you know what it is or how it's celebrated? Here's a look at how, when, where and why it's celebrated in France. It'll all make sense soon.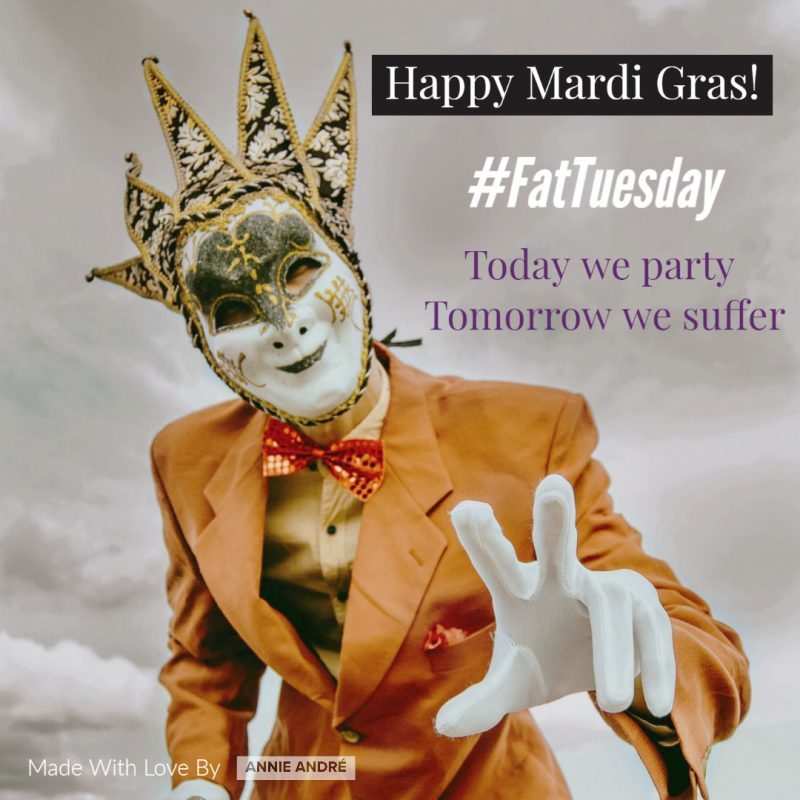 When and What Exactly Is Mardi Gras?
Mardi Gras, which means "Fat Tuesday" in French, is the day when people are allowed to live it up and eat rich and fatty foods before commencing Lent on Ash Wednesday. Traditionally, Christians around the world give up a chosen luxury and fast for 40 days leading up to Easter.


Think of Mardi Gras as the last hurrah before entering into Lent.
Mardi Gras is precisely 47 days before Easter, and since the date of Easter changes each year, so does the date of Mardi Gras.
The Carnival Season In France
What you may not know about the day of Mardi Gras is that it also marks the end of the entire Carnival season that officially begins on January 6th, known as Epiphany, Three Kings Days and the 12th day of Christmas. In other words, Mardi Gras is an actual day that falls within the carnival season.
[thrive_text_block color="note" headline=""]
You can read about Epiphany, Three Kings day and learn how it's celebrated in France [/thrive_text_block]
If you're confused, don't feel bad, I was confused by all these intertwined dates too. Below, I've listed a convenient timeline of events starting from Christmas leading up to easter.
[thrive_text_block color="note" headline="Timeline of events leading up to Mardi Gras & Easter."]
-Christmas – Decembre 25th:
-New Year's Eve – Decembre 31st.
-New Years Day – January 1st.
-Epiphany aka 3 Kings Day and the 12th day of Christmas which also marks the beginning of Carnival season – January 6th
-La Chandeleur aka National crepe day- 2nd of February
-Mardi Gras (Fat Tuesday) – Always on a Tuesday exactly 47 days before Easter & 1 day before Lent. Not all parades happen on this day. They can happen anytime during the carnival season through March.
-Lent aka Ash Wednesday– Always on a Wednesday exactly 46 days before Easter. (Also marks the end of Carnival season but some cities celebrate Carnival in March)
-Easter – Always on a Sunday, usually after the first Full Moon occurring on or after the March equinox.
-Easter Monday – The day after Easter and is always a holiday in France
[/thrive_text_block]
How is Mardi Gras celebrated in France?
Although Mardi Gras has religious roots, today it's mainly known as a time of Carnivals, parades, costumes, and celebrations for school-aged children and adults alike.

Mardi Gras and kids in France:
Every year, schools across France celebrate Carnival by throwing a mini carnival party where parents get to watch their kids parade around in their Mardi Gras costumes. Similar to how North American kids might go to school dressed up for Halloween except not scary.
If the schools have the budget and time, they might even serve some Mardi Gras treats, which are typically sweet. But not any old sweet treat.

Traditional Mardi Gras Confectionary
Traditionally crepes, waffles, and "les beignets"doughnuts are eaten on Mardi gras- all fatty foods. Each region of France has its own version of traditional Mardi Gras treats. For example, "Les Beignets," which are basically doughnuts, go by different names and the recipe varies by region.
Here are a few examples.
Les "Beugnons" in Le Berry
Les "Merveilles" in Charente
Les "Fritelles" in Corse
Les "Bugnes" in Lyon.
Les "Chichifregi" in Nice and Marseille
Les "Rondiaux" in Orléanais
Les "Tourtisseaux" in Poitou
In the south of France where we live, you're more likely to find something called "les Oreillettes" instead of waffles or beignets, which are fried puff pastry covered in sugar. They remind me of flat crunchy Churros, and they are delicious.
But It's not just the kids who celebrate Carnival in France.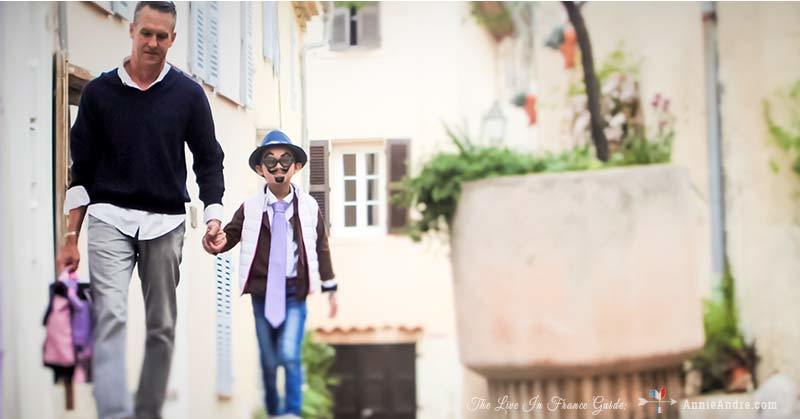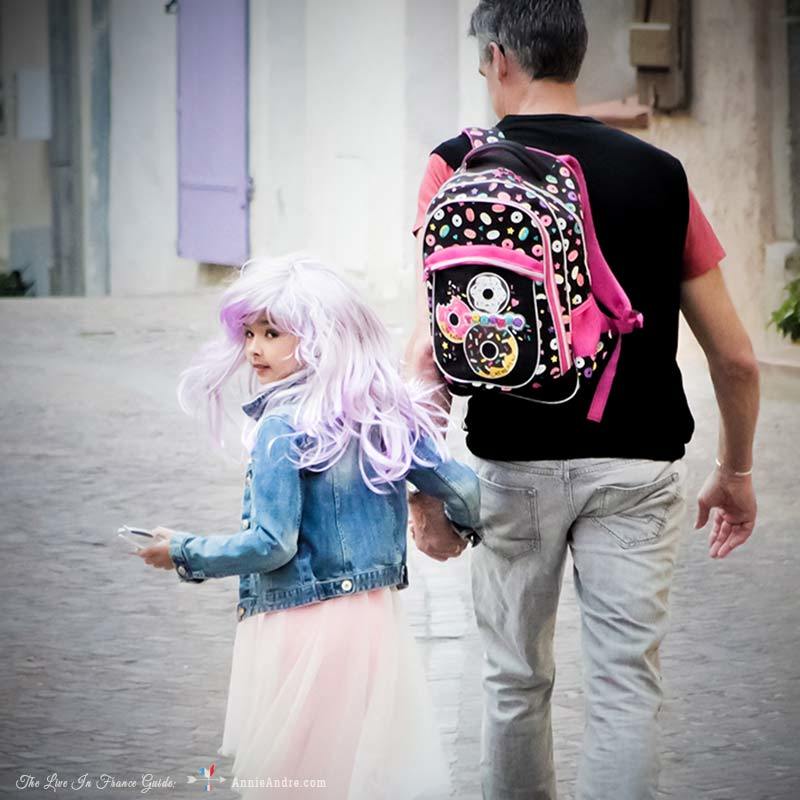 Places in France to celebrate Mardi Gras and annual carnival parades "le Carnaval."
You've no doubt heard the infamous stories of the Louisiana Mardi Gras festivities. People are running around the streets, drinking, throwing beads, getting crazy with lots of purple and gold everywhere.
Mardi Gras and Carnival aren't quite celebrated like that in France. But then again, that's normal because no two carnival celebrations are exactly the same.
Carnival de Nice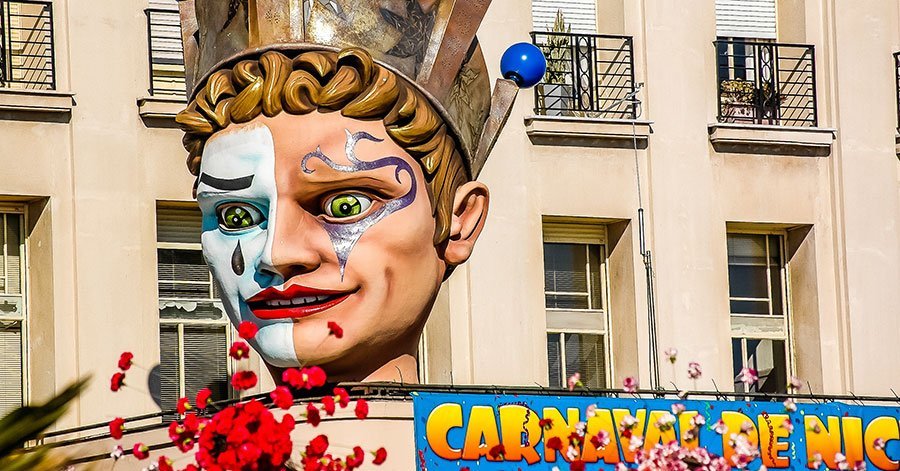 Every February, over a million tourists from around the world, come to watch the Carnival de Nice- held on the French Riviera in Nice, which lasts for about two weeks. It's one of the biggest and most well known around the world. Not as big as the one in Rio de Janeiro, which is said to attract over 2 million people per day and not nearly as wild.
Each year the Carnival de Nice has a different theme. There are usually six parades spread out over the two weeks consisting of about 17 floats and over 1,000 dancers from all four corners of the world. Every float and every dancer will usually follow the theme of the parade for that year. So if the theme of the parade for that year is space, then every float will be designed around that theme, and all the dancers will be dressed in costume around that theme as well.
The city of Nice has been celebrating Carnival since the middle ages. The earliest record dates back to 1294 when Charles of Anjou, the Count of Provence and King of Sicily, wrote that he had passed "the joyous days of carnival," making the Nice Carnival quite possibly one of the oldest if not the Original Carnival.
Nice isn't the only place in France that celebrates the Carnival season with parades, drinking, costumes, and singing in the streets. There are several other smaller but equally impressive ones to visit.
Carnival of Dunkerque:
Unlike the Carnival in Nice, known for its flower-covered floats, there are no floats in the carnival of Dunkerque. Instead, there are mass processions, with everyone getting into the act. It's not unusual to see men dressed up with boobs and a mini skirt but also garish and grotesque costumes. No wonder it's often described as one of the craziest carnival celebrations in France.
Annecy Venetian Carnival:
Perhaps the carnival in France with the most beautiful costumes because of the Venetian-style masks.
Photo source via (wikimedia.org)
Paris Carnival
Despite dating back to 1411, many Parisians don't even know a Carnival parade exists. This might have something to do with the fact that the carnival took a hiatus between 1952 and 1957.
These days the Paris Carnival consists of an annual parade that usually begins at the Place Gambetta and ends at Place de la République, where a big street party ensues and people in extravagant outfits dance, play music and drums, sing and get downright crazy.
Mulhouse Carnival:
Thanks to it's proximity to Switzerland and Germany, the Carnival of Mulhouse does their carnival a little different. Carnival in Mulhouse also referred to as a "Fasnacht Carnival" (Fasnacht is a German word that translates to "Fast Night" in English) refers to eating the very best foods before fasting for Lent.
Fasnacht is also the name for their version of the beignet.
What makes their parade different is that the parade floats and costumes are usually based on Italy's Commedia dell'Arte or inspired by local events. The results are masks that look very morphed, like grotesque caricatures.
Photo source (Abi's Photography)
Other carnival and Mardi Gras celebrations around France
There are many more cities in France that celebrate the carnival season with parades and fanfare. Each with their own flare and traditions, just smaller than the ones mentioned in this article.
Carnival in France is a wonderful thing to experience. If you get a chance, I highly recommend you visit a town during the Carnival season and partake in the festivities.
I leave you with this float of "The Donald" from a small Carnival parade Switzerland.
It was taken by my husband, who works in Switzerland and commutes back and forth to France every few weeks.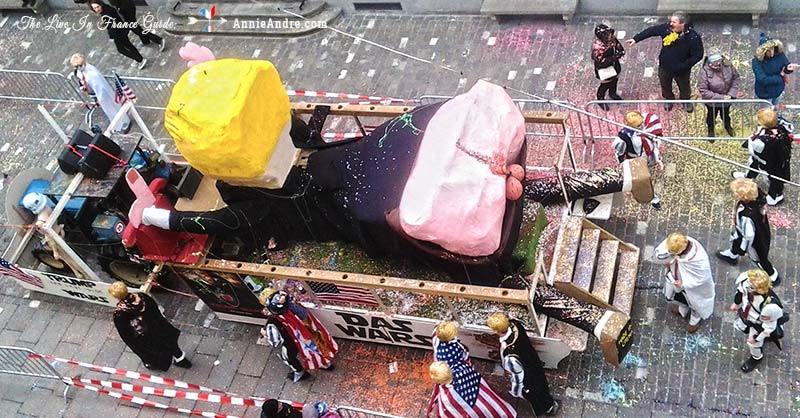 ———-