After several years living in France, I've learned that Halloween is somewhat of a controversial and confusing holiday to the French. Although small pockets of French parents, adults and children celebrate this imported holiday, it's not well liked by the majority of French people. Here's why plus how you can celebrate it anyways if you're ever in France on Halloween.
2011, Marseille France: Our first Halloween in France
"Well, Catherine?  What do you think of your zombie/fairy costume?"
We first arrived in France back in Octobre of 2011. We didn't know anyone and we didn't know much about Marseille, our new city.
We also didn't know the average French person sees Halloween as a morbid, superficial and commercial holiday imported from the United States.
Halloween Controversy In France: Why so many French people dislike Halloween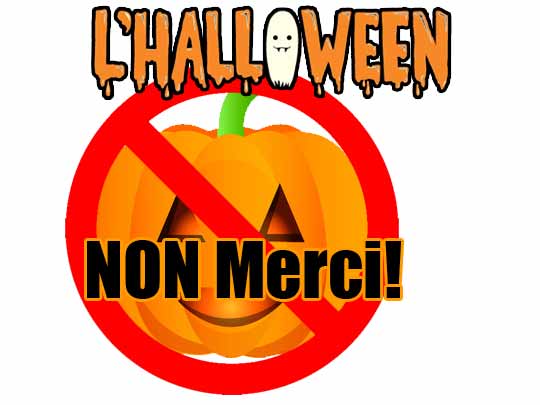 Halloween is not a traditional French Holiday:
Halloween is not a conventional French Holiday.
Many French people don't see the reason behind Halloween like they do in Easter, Christmas or even mothers day. Those all seem like clear-cut holidays you celebrate for a purpose.
Fake blood, cutting up pumpkins instead of eating them and going from house to house for candy?  What's the point?
French people don't know how to celebrate Halloween.
Prior to the 1990's, Halloween was relatively unknown to the average French person. Today, it's well known but many French people are confused about how to celebrate it because they didn't grow up with it.
Bad timing: Halloween steals the limelight from another French holiday
Halloween has the miss-fortunate luck of occurring the day before an all-important and ancient Catholic holiday called La Toussaint (All Saints Day) on the 1st of November when French people visit cemeteries and freshen up the graves and tombstones of their loved ones with fresh flowers.
French people can't pronounce the word Halloween
I have had countless friends mention that they don't know how to pronounce Halloween, as if it's just another reason to hate Halloween.
In French, the H is silent, so the French pronounce Halloween without the H like this.."AAA-Lo-EEN". 

Halloween is seen as another way for stores to make money: crass commercialism:
Many French grocery stores, bakeries, small shops and companies use Halloween imagery in their ads and shop windows to sell more products and drum up more business.
This type of crass commercialism has solidified the notion that Halloween is a very commercial holiday.
Some French people do celebrate Halloween. Here's how!
The French in France who do celebrate Halloween tend to be adults or teenagers who attend parties at friends' homes, bars, clubs, restaurants and other gatherings. Teenagers find it trendy and cool to get dressed up for Halloween.
Trick-or-treating from door to door on the other hand is extremely rare in France. We've had no more than one or two trick-or-treaters ring our doorbell each Halloween.  Compare that to the 50 plus trick-or-treaters we used to get when we lived in Belmont California.
Shop-to-shop trick or treating is a thing in some French towns
Some shops in France have gotten into the habit of passing out candy to kids who get dressed up. If you live in a town with an area full of shops, this can be a fun way to celebrate with the kids and it's typically what we do with ours. You can read about it and how we celebrate Halloween in Montpellier France here.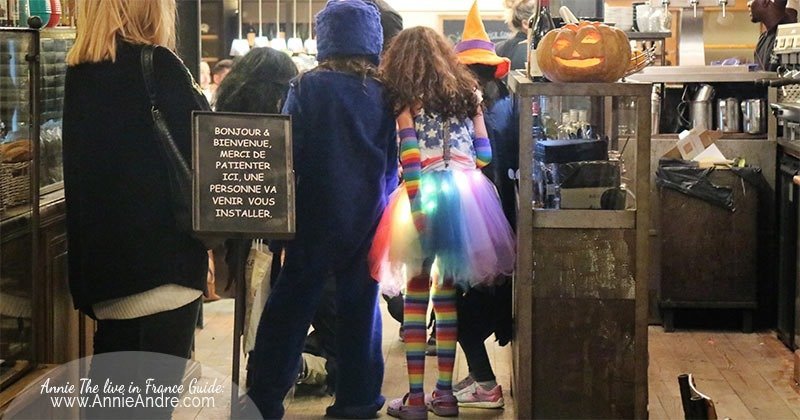 No cute costumes- only scary ones.
In France, Halloween costumes tend to be scarier in the traditional sense. Think vampires, ghosts, witches and goblins rather than cute costumes like princesses, superheroes, cowgirls and turtles.
If you dress up as a princess or some other cute costume in France, people might actually think that you are dressing up for Mardi Gras rather than Halloween.
If you do dress up in a non-scary costume for Halloween, you're bound to confuse some French people.
I once posted a couple of photos of a Halloween party our family went to on Facebook, and one of my French friends thought our daughter's cowboy costume looked more like a Mardi gras costumes because it wasn't.  (Mardi Gras aka Fat Tuesday, occurs the day before Ash Wednesday and 47 days before Easter).

What about pumpkins?
Traditionally, pumpkins are not a favourite food in France so forget about taking the kids to a pumpkin patch. I've read that there are some pumpkin patches located just outside of Paris, but I have never actually seen or been to one myself.
So when I saw pumpkins for sale at our local grocery store, I was not only shocked but delighted. 
I did find it strange that they called it a "jack lanterne" and not a pumpkin. (the French word for pumpkin is Citrouille).  I suppose they can sell more pumpkins if they call them Jack Lanterne's which only fortifies the belief that Halloween is a commercial holiday.
We never actually carved our pumpkin because I ended up making pumpkin pie for the very first time which turned out pretty damn good. Our French friends didn't like it.
My recommendation on how to celebrate Halloween in France
I am not sure if Halloween will ever be as huge as it is in the United States, Canada and Ireland but for expats like us who live in France and want to celebrate it, here are my suggestions.
Throw your own Halloween party and invite your neighbours, your kid's friends and their parents or co-workers.
Sure take the kids trick-or-treating if you want but like I said, trick-or-treaters are rare and finding a house that has candy is even more unusual.
Search for Halloween parties at bars or restaurants in your area. It is, after

all

, a rather commercial holiday so some businesses will celebrate it to lure in customers.
Go to Disneyland for Halloween in Paris. We did in 2013, and it was a blast. We rented a house from airbnb.com and bought our tickets online.
Go to the movies.
Do like most French people and DO NOTHING on Halloween!
If you are near an area with shops and businesses, you can take the kids trick or treating to those businesses which are open. Many will have candy on hand to pass out to the children.
Look for any locally advertised events. For instance in Montpellier at the Franco-American centre, they hold an annual Halloween party for kids.
Hope you had a great Halloween.