I doubt Halloween in France will ever be as huge as it is in the United States, Canada or Ireland, but there are Halloween options for Families with young children living or visiting France. Likewise, there are enough possibilities to keep adults and teens in the Halloween spirit too.
[thrive_text_block color="note" headline=""]
If you haven't already done so, go and read the other articles I wrote about Halloween in France which include:
10 Things You Didn't Know About Halloween In France But Should [/thrive_text_block]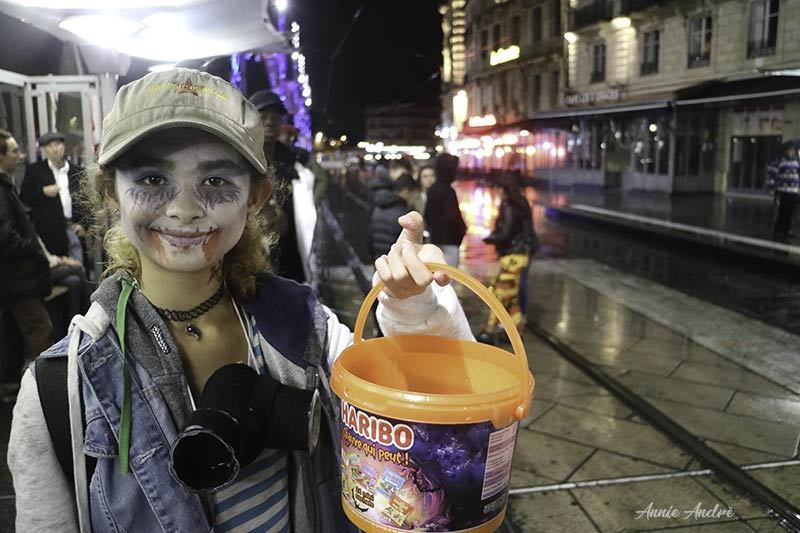 You should try trick-or-treating shop to shop for Halloween in France
Don't go door to door:
If you plan on trick-or-treating door to door with your kids in France, be prepared for some pretty disappointed kids. Halloween isn't embraced in France like it is in Anglophone counties and as a result, you'll be hard-pressed to find homes that pass out candy.
Don't panic. You can still take the kids trick or treating if you know how.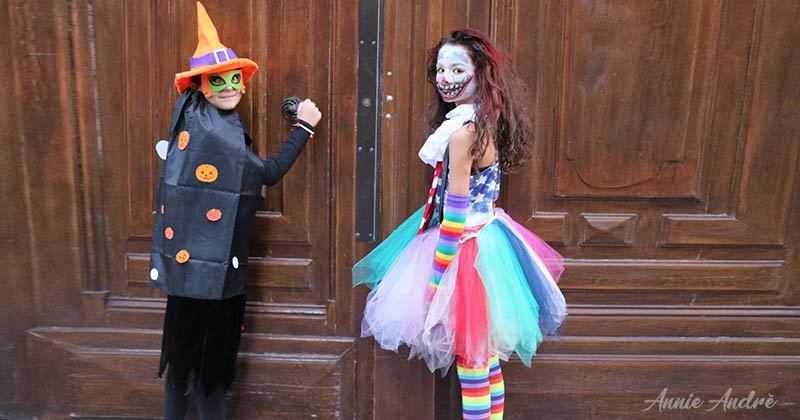 Trick or treat shop to shop:
As strange as it may sound, kids often go from shop to shop and business to business asking for treats because some shops and restaurants have gotten into the habit of passing out candy to kids dressed up in Halloween costumes.
Bigger cities and towns with a concentration of shops and restaurants, such as Paris, Lyon or Montpellier ( to name a few), are a gold mine of candy for the kids.
Unfortunately, if you live in a rural area or the French countryside where there is no concentration of shops and restaurants, then your fun-filled night of trick-or-treating is going to be pretty short.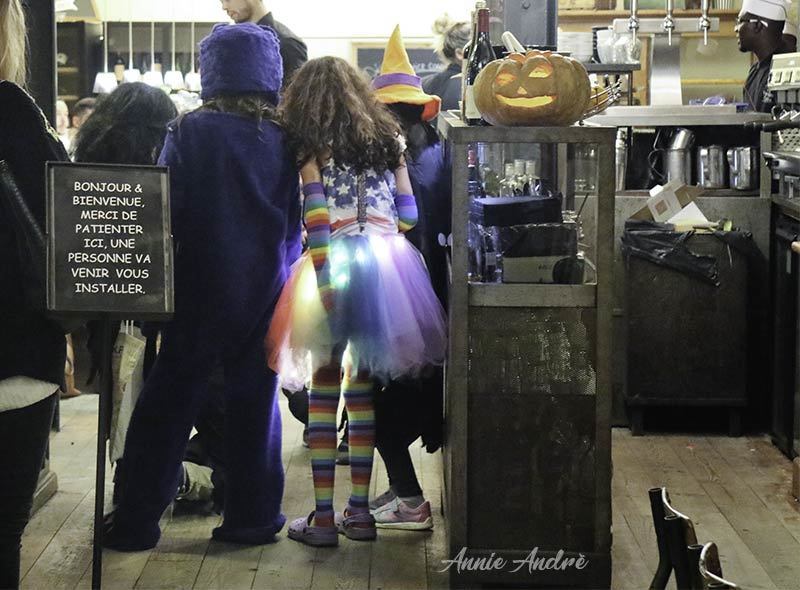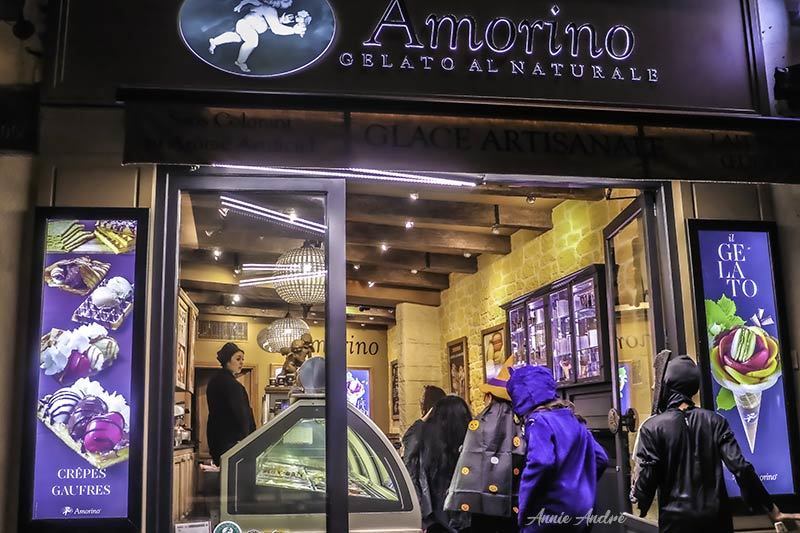 Don't say trick-or-treat on Halloween in France
Make sure the kids learn to ask for their treats properly in French. Here are two popular phrases I've heard children use in France.
Des bonbons ou un sort! = Candies or a spell
bêtises ou friandises = Mischief or sweets
Funnily enough, many kids also say "avez-vous des bon-bons" which means "do you have any candy?"
Dress up in scary costumes for Halloween in France, not cute!
Costumes tend to be scarier in the traditional sense. Think vampires, ghosts, witches and goblins rather than cute beautiful princesses, superheroes, cowgirls and turtles.
One year, I posted photos of Catherine dressed up as a cowgirl, and a few of my French friends were confused.
"Why was she dressed up as a cute cowgirl instead of something scary?
Why the confusion?

It turns out, cute and whimsical costumes are reserved for the Carnival season during Mardi-Gras, where kids go to school and literally parade around the schoolyard showing off their costumes.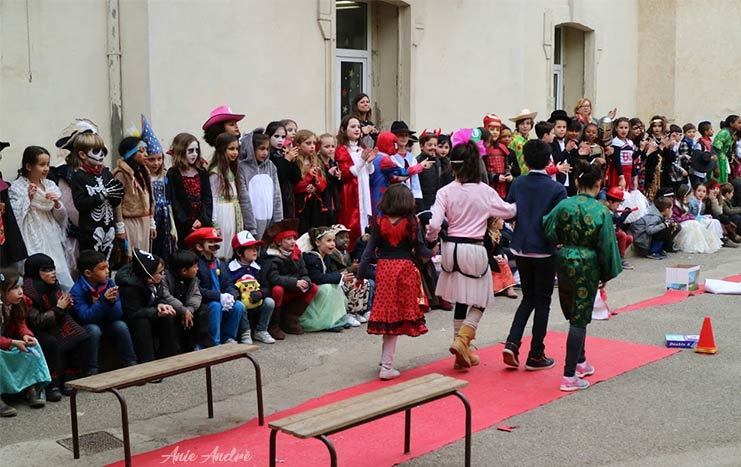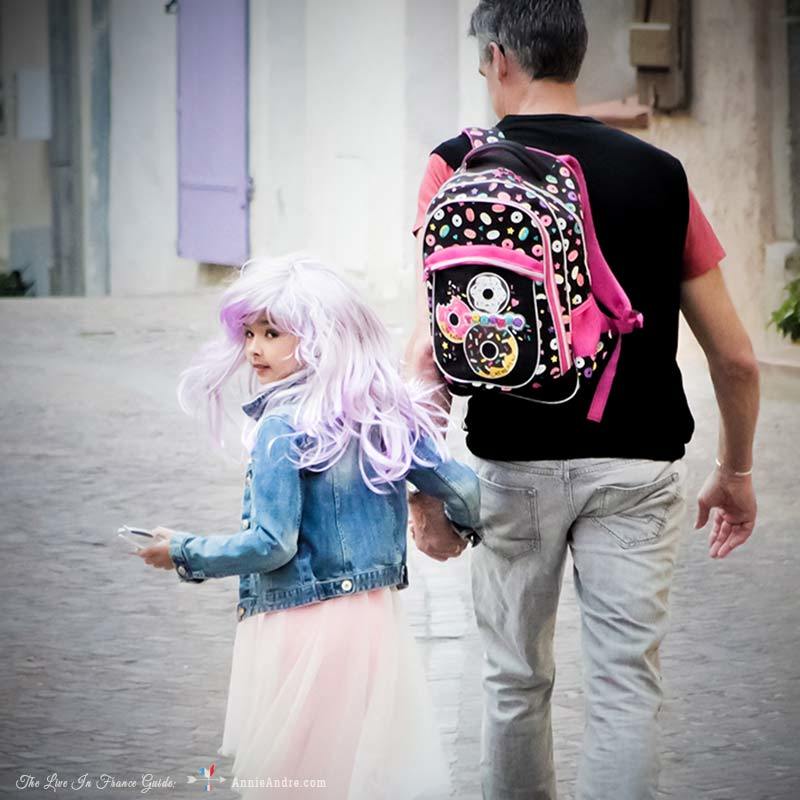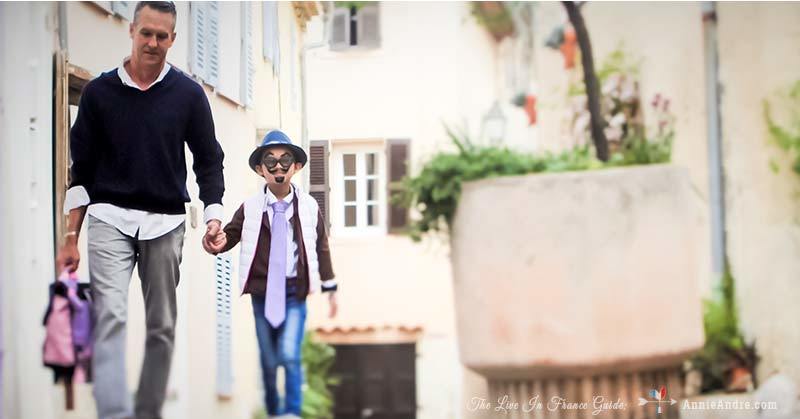 Good luck finding a big ole pumpkin to carve
Traditionally, pumpkins are not a favourite food in France, so forget about taking the kids to a pumpkin patch. I've read that there are some pumpkin patches located just outside of Paris, but I have never actually seen or been to one myself.
So when I saw pumpkins for sale at our local grocery store, I was not only shocked but delighted.
I did find it strange that they called it a "jack lanterne" and not a Citrouille, which means pumpkin in French.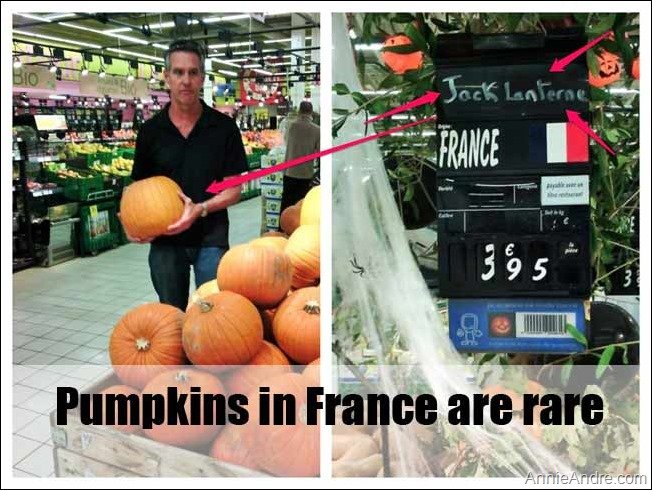 Don't make pumpkin pie
If you want to make pumpkin pie "Tarte à la Citrouille", but can't find pumpkins or sugar pumpkins for your recipe, look for "les potirons" and make a Tarte au potiron instead. Les potirons are more elongated than a Classique pumpkin and fairly easy to find in Octobre. But don't expect your French friends to gobble it down.
The sweet pumpkin pie ingredients, when combined together with the flesh of pumpkin are somewhat foreign to French people. French people are more accustomed to a savoury pumpkin (potiron) than sweet. Our friends either loved it or hated it. They all had squinty faces when they took their first bite. It was painful to watch.
Carve a root instead of a pumpkin
As far as carving a pumpkin, try carving a root such as a turnip, the original Jack O'lanterne by the way. Other things you can carve include, squash, potatoes and rutabagas.
[thrive_text_block color="dark" headline=""]You might be interested in reading: Why you should carve turnip jack-o-lantern for Halloween, not a pumpkin. [/thrive_text_block]
Organize a Halloween Sleepover party
Everyone knows, trick-or-treating with a group is way more fun than solo. With that in mind, why not organize a Halloween sleepover.
One particular year, we organized a Hybrid Halloween- which involved trick-or-treating from shop to shop, which I mentioned above, followed by a pyjama party sleepover. We decided to have kids sleepover rather than have parents come and pick them up late at night.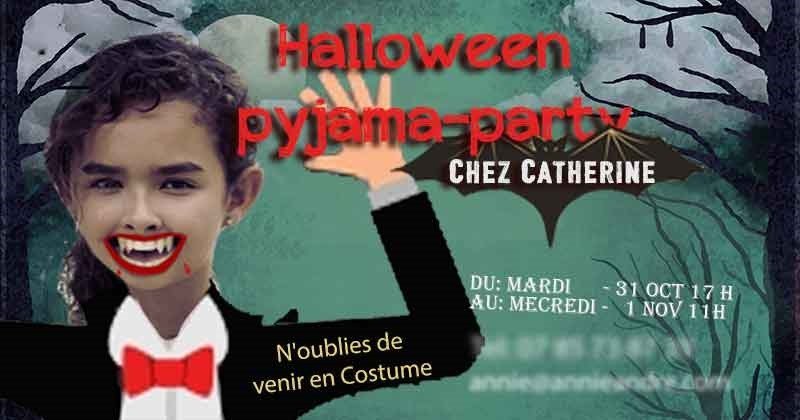 Several children couldn't make the party because Halloween falls smack dab in the middle of a two week school holiday "La Toussaint" (all saints day). French families often take a short holiday during this period.
Organize a Halloween party for adults and children
Some of our friends over the years have thrown Halloween parties which by the way, is a great way to meet new people. Something which can be hard to do no matter where you live but especially when you are a foreigner in a new country.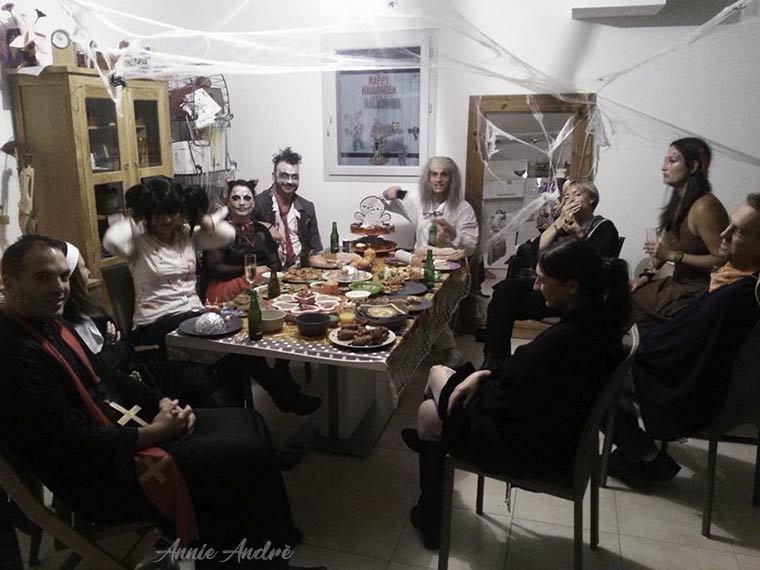 Throw a French style (Apéro Dinatoire) with Halloween themed food
If you really want to impress your friends, take a page out of the French dinner party playbook and host an "apéro dînatoire" which is a more elegant way of saying "finger food buffet and drinks." Not to be confused with a cocktail party where guests have a few hors d'oeuvres. At an apéro dînatoire, your guests eat the equivalent of a whole meal of finger foods.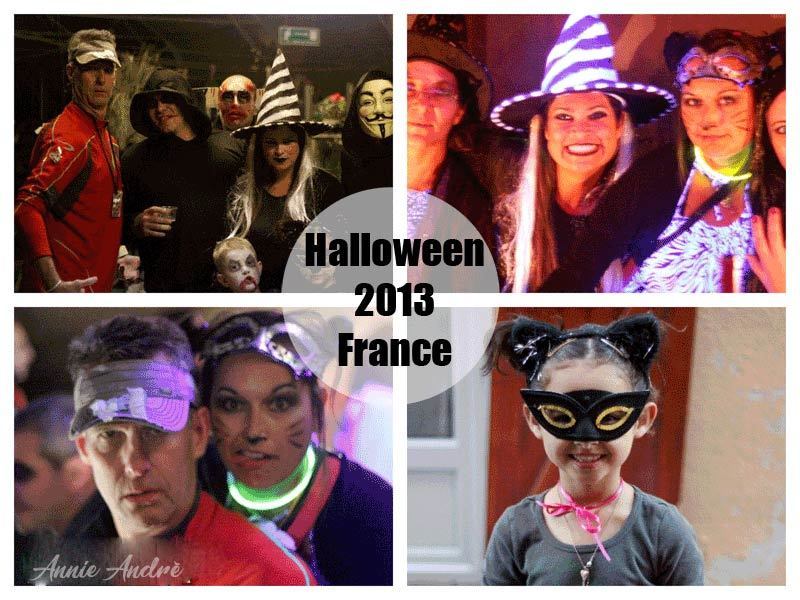 Don't forget the Halloween decorations

Most French people have never seen a house decked out for Halloween. So why not invite some people over and deck the house out with black cats, bats and spider webs.
I like to play spooky video loops on our TV using Google Chromecast. You can find a bunch of haunted music and video loops like on youtube.
A classic Halloween meal is spaghetti gut pasta and hot dog fingers. Here are a few more ideas.
Here are some fun Halloween foods we've made in the past
Cauliflower skull head on a veggie platter.
This was a big hit at one of our parties. You can get the directions to make the skull cauliflower head here. Don't forget the dip.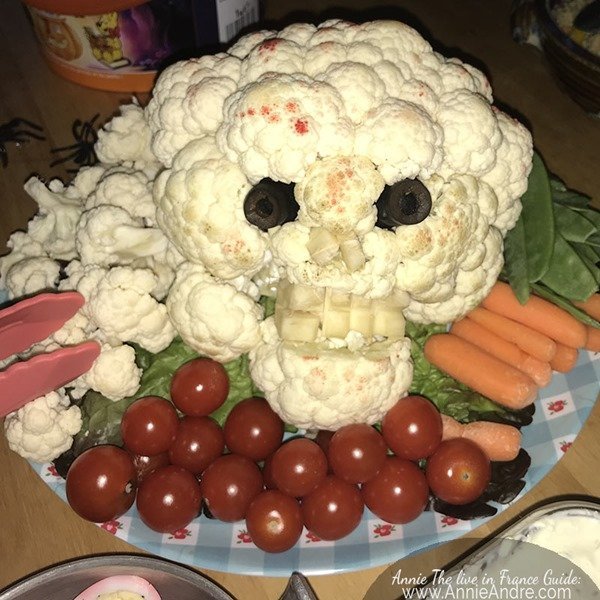 Eyeball punch:
We filled a large punch bowl with red punch and frozen eyeballs, which were just frozen lychee stuffed with a blueberry. We made the eyeballs ahead of time, and the effect was chilling and delicious. You can get the recipe here.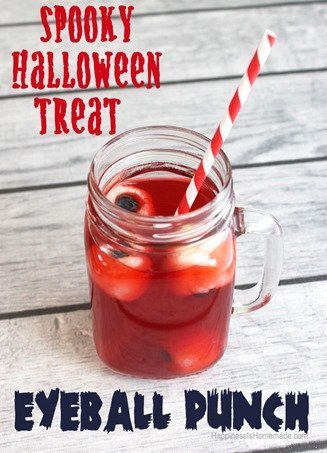 Brain Rice Crispy treats:
While looking for Halloween food ideas, we found a disgustingly realistic recipe for rice crispy treats brains. They seemed easy enough to make, but it did take a few tries to get it right.
Cheese platter
A cheese plate is a must-have at any French apéro dînatoire party. But it's not very Halloween like until you throw some plastic flies and spiders on the plate.
Check out this Cheese Graveyard Featuring a Brie Coffin from Kathleen's Confections.
Get dressed up and go to Disneyland Paris for Halloween
One particular year we went to Disneyland Paris on Halloween, and it was amazing.
The whole park gets a Halloween makeover from October to Novembre in celebration of this ghoulish holiday. I guarantee your entire family will love it.
Search for Halloween parties at bars or restaurants in your area.
In larger cities, especially in Paris, you'll find bars and restaurants that have special events for Halloween.
[the_ad id="49167″]
Go to the Catacombs in Paris
Go deep into the bowels of Paris and visit the Catacombs, a long series of winding tunnels that hold the remains of bones from casualties of war and unearthed cemeteries that used to exist around the city. Truly an eerie place to visit, especially during Halloween.
[the_ad id="49160″]
Watch a scary movie on Halloween in French
If you can't find a showing for The Rocky Horror picture show, I bet you'll be able to find a scary movie to watch on Halloween.

What's it like Trick-or-treating in a big French city: Medieval Montpellier
I wanted to spend a couple of minutes talking about Montpellier, the perfect city for parents to take their kids trick or treating.
Montpellier is a city is sprawled out over 56 sq km (22 sq mi) but the heart of the city where all the action happens is the historic centre (called Écusson because it's shape is roughly the same as a coat of arms) and "la place de la Comédie"- a large square adjacent to the historic centre.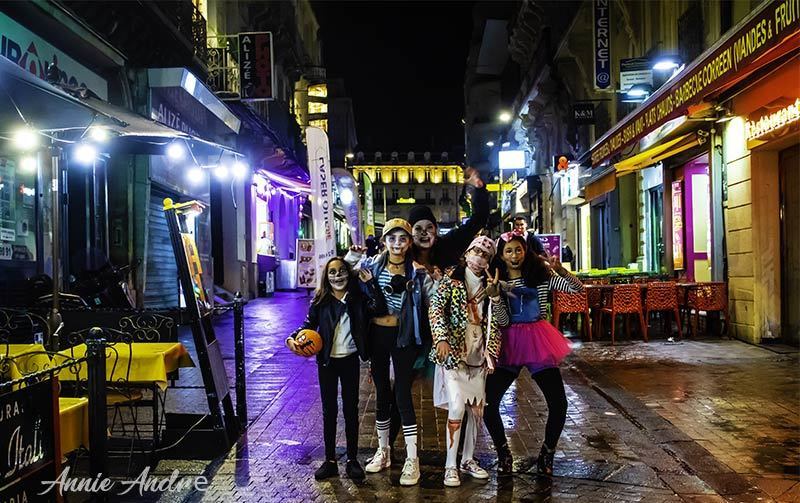 You could spend days strolling up, down and through narrow cobblestone streets of the historic centre of Montpellier, which twist and turn under stone arches that date back to the middle ages.
The best part is you don't need to have a route planned because there are plenty of streets bustling with activity in a very small area.
Depending on where your feet take you, you'll find an eclectic mix of trendy restaurants, quaint boutique hotels, shops, museums, open squares and a couple of massive Gothic churches. All of which gave a chilly Halloween feel to the night.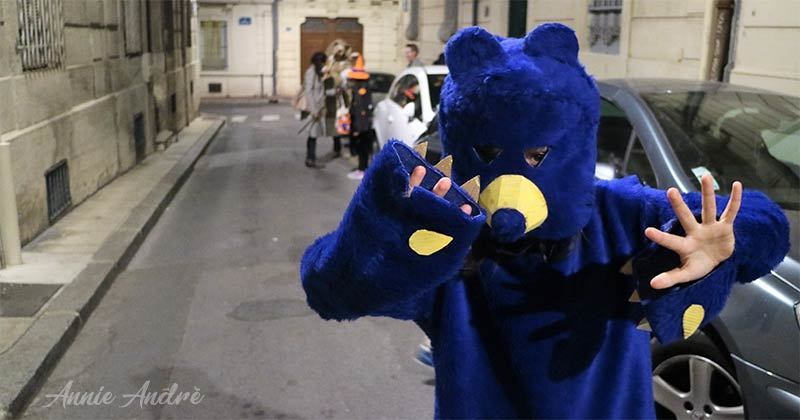 Happy Halloween!
One final word. In our experience French people don't celebrate Halloween however when they do celebrate it, they usually love it.