What day is mother's day? Is it on the second Sunday or last Sunday of May? Are you sure Mother's Day is even in May? Surprise, mothers day is celebrated on all those days depending on what part of the world you ask.
My First Mothers Day In France (OR IS IT?)
I'll never forget my first Mother's day in France. Or at least I thought it was Mother's day.
We had been living in Marseille for about 7 months, just minutes from Gare St Charles. I had one child enrolled in high school, one in middle school and the youngest was in Maternelle (the equivalent of preschool).
On the Friday before what I thought was going to be Mothers day, I expected my preschooler to come home with a handcrafted Mother's day gift. To my surprise, she came home empty-handed. No card, no drawing, not even one of those macaroni necklaces.
No big deal I thought. "Maybe it's not customary for kids in France to make handmade gifts for mother's day just like it's not customary for kids to pass out valentines day cards to each other at school."
Then two days later, on the actual day of Mother's day in the US and Canada, I noticed that none of the flower shops were open, there weren't any cheerful "Happy Mother's Day" signs anywhere. It was just another typical Sunday in France.
At that point, I just assumed Mother's day wasn't a thing in France and didn't give it another thought until Friday 2 weeks later.
I was in the kitchen making a snack while I waited for my husband to return from picking up our daughter from school when I heard the door open. My daughter ran into the kitchen and blurted, very proudly,  "Maman, J'ai un Cadeau pour toi!" which means "Mommy, I have a present for you"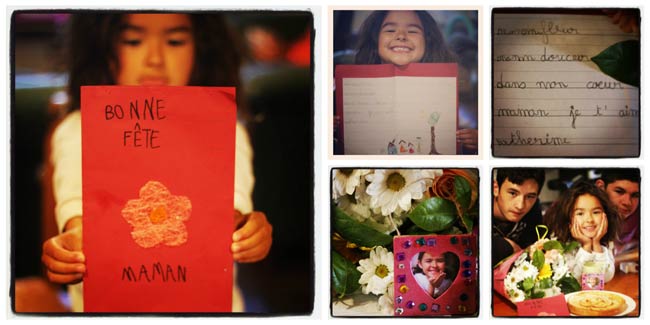 She then very proudly held up a handmade card with the words "Bonne Fête Maman" ('Happy Mother's day), written in her scratchy preschool handwriting.
In that instant, it became clear that Mother's day in France is not celebrated on the second Sunday of May like it is in the US and Canada.
Turns out Mother's day is celebrated in France on the last Sunday of May (unless it coincides with Pentecost day in France, then Mother's Day is moved to the first Sunday of June). 
Kids do make crafty gifts at school for their mommies. Flower shops are abuzz with special Mother's day bouquet's and restaurants have special mother's day meals which usually require a reservation. In fact, Mother's day is celebrated in France pretty much like it is in North America. Or at least that was and has been my experience.

Mothers Day Dates Around The World
France isn't the only country that celebrates mothers day on a different date.
Roughly 140 countries celebrate some form of Mother's day on over 26 different dates. (more or less).

Chart created at http://chartsbin.com/
Of those countries that celebrate in May
3% (6 countries) celebrate on the first Sunday of May
35% (69 countries) celebrate on the second Sunday of May including the US, Canada, Germany, South Africa, New Zealand, Belgium, Switzerland, Australia and even China.
4% (8 countries) celebrate on the last Sunday of May like France and Sweden.
The rest of the countries that celebrate mother's day, celebrate in different months altogether like Thailand in August, Indonesia in December and Russia in November. The UK and Ireland celebrate mothers day on the fourth Sunday of Lent and they call it Mothering Day. I was told by two different people from India that the concept of celebrating on the 2nd Sunday of may is slowly catching on but some Hindu people celebrate mothers in a festival called Durga Puja which is a ten-day celebration in October.
Regardless of which country or date Mother's day is celebrated on, the spirit of mothers day is celebrated in much the same way around the world- to honour the mother of the family, motherhood, the maternal bonds, and the influence of mothers in society.
Happy Mother's day, "Bonne fête des mères".