When is mothers day? The second Sunday of May? The fourth Sunday of May? The last Sunday of May? Are you sure Mother's Day is even in May? Surprise, mothers day is celebrated on all those days depending on what part of the world you ask.
My First Mothers Day In France (OR IS IT?)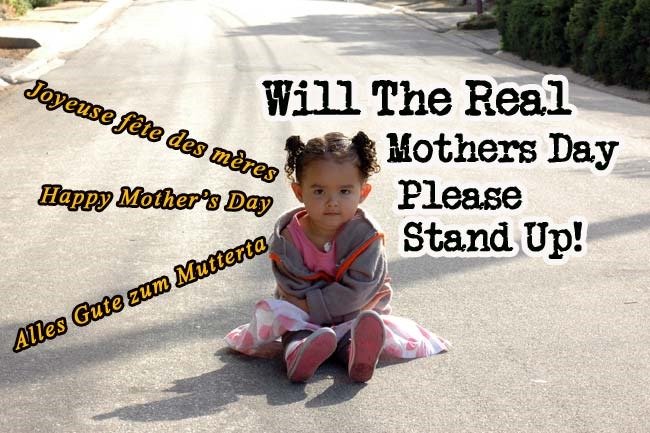 It's the second Sunday of May, 2012, My First Mother's Day In France!
Or so I thought.
We had been in France about 7 months and I was looking forward to my first Mother's Day.
It's the day I get to rest and not feel guilty. If I want to lay in bed all day, I can lay in bed all day. I don't have to clean or cook if I don't want too. My husband and children pamper me a little more than usual and give me special gifts to show me how much they appreciate me.
My hopes were dashed the Friday before Mother's Day.
First Red Flag:
One of the sweetest things a mommy can expect is a hand crafted gift from your kids that they crafted at school. A plant, a card, a drawing. Something, anything. So on the Friday before mothers day, I was curious what Catherine was going to make for me at school. Boy was I disappointed when My daughter came home empty handed on the Friday before mother's day.
"O.K., maybe kids just don't make handmade cards and crafts at school to give to their mothers?".
Second Red Flag:
I noticed that flower shops didn't look any busier than normal. No special  mother's day bouquet's. No signs saying "Happy Mother's Day" and no frantic men buying last minute roses for their mom's and wives. OKAAAAY! What the heck do French people give their mom's?
Third Red Flag:
No restaurants were open on Sunday offering special mother's day meals. Sheesh, could it be that French people expect their moms to cook on this special day?
That's when I thought "Maybe mother's day isn't even celebrated in France!"
We decided to celebrate mothers day on that second Sunday of May despite it not being celebrated in France.
The day past and I didn't give mothers day another thought until 2 weeks later when the florist shops were bustling, and ads for local restaurants promoted specials for mothers day. Last but not least, I got the biggest and best surprise from my daughter.
I was standing in the kitchen preparing Catherine an after school snack called le goûter, when Blake returned home with Catherine.
"Maman, J'ai une surprise pour toi!" ((Mommy, I have a surprise for you))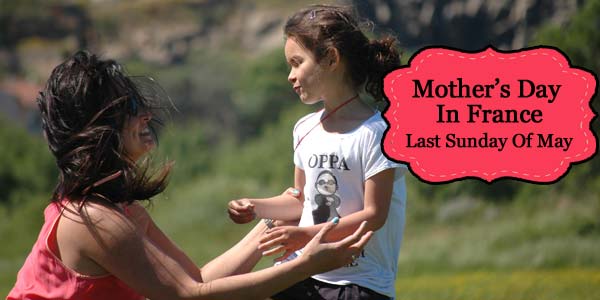 In Catherine's left hand, she held a plant made of paper which she had made at school and in her right hand she held hand made card.
The card had the words "Bonne Fête Maman" written out in her preschool handwriting.
Duh, Mothers Day Is Not Celebrated On The Same Day.
Suddenly I realized that the French celebrated mothers day on a different day than Americans and Canadians.
I still wasn't sure if this was really mothers day or another French holiday so I consulted the source of all knowledge – the internet and I discovered that fact, Mother's day falls on the last Sunday of May rather than the second Sunday of May like in the US and Canada. 
( unless it coincides with Pentecost day in France, then Mother's Day is moved to the first Sunday of June). Confusing isn't it?
Now after having lived in France for several years,  I can say that mother's day is celebrated almost exactly as it is celebrated in the US and Canada.
Kid's make crafts and cards for their mom's at school to bring home. Husbands cook and do chores. The kids are hopefully extra sweet to mom. Restaurants that are usually closed for mothers day are open and they are filled with men taking their mother's and wives out for a meal and pampering.
It's every bit as commercialized too.
Mothers Day Dates Around The World

Chart created at http://chartsbin.com/
It turns out that France isn't the only country that celebrates mothers day on a different day. Mother's Day dates vary around the world.
Mothers Day Is Celebrated on 26 Different Dates Around The World
Apart from the 60 or so countries that do not celebrate mothers day, the rest of the world celebrates mothers day on 26 different dates.
Most fall in May but many countries celebrate in totally different months altogether like Thailand on 12th of August, Indonesia 22nd of December and Russia on the last Sunday in November.
The UK and Ireland celebrate mothers day on the fourth Sunday of Lent and they call it Mothering Day.
In total, out of 196 of the world's countries, almost 150 countries celebrate some form of mothers day on over 26 different dates. (more or less).
The Most Celebrated: Second Sunday of the Month
The most popular day which mothers day is celebrated is on the second Sunday of May. About 69 countries or 35% of the worlds countries celebrate on this day including….
Canada, U.S., South Africa, New Zealand, Belgium, Switzerland, Germany, Australia and even China.
I was told by two different people from India that the concept of celebrating on the 2nd Sunday of may is slowly catching on but some Hindu people celebrate mothers in a festival called Durga Puja which is a ten day celebration in October.
Below is a chart I put together showing the different dates and that the world celebrates mothers day on.
Conclusion
When travelling to other countries or living abroad like we are, you should always take note of local holidays and customs. It's fun to take part in the local festivities.
Regardless of the date or country where mothers day is celebrated, the spirit of mothers day is celebrated in much the same way around the world.
It is the one day out of the year where you get to shower your moms with love, special gifts, cards and more all so you can show how much you appreciate your mommy.
As for us. We celebrate both mothers day. The first one on the second Sunday of May (like the US and Canada) and the second one on the last Sunday of May (the day it's celebrated in France).
Question:  If you were living abroad or in France like us, which date would you celebrate mothers day on?