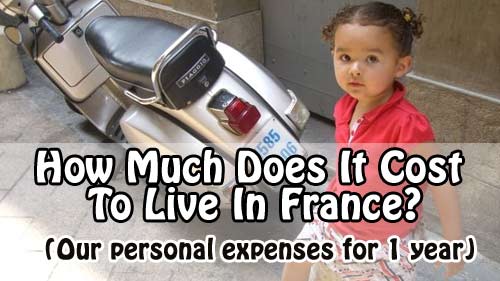 How much does it cost to live in France? I tracked all of our expenses and created this very detailed accounting of how much it cost us to live in Marseille France so that you can extrapolate what it might cost you to live in France.
How Much Did It Cost Us To Live in France for one year?
It cost our family of five just over 3,0000 Euros per month to live in Marseille France. I have no idea if you think $3,000 Euros a month for a family of five is a lot or a little but let me ask you this.
How much did you spend on your last 2-week vacation? Your hotel room alone probably cost you at least $100 a night which will cost you a little over $3,100 USD alone. In France, you'll be hard pressed to find anything cheaper than that. Then, add in the fact and the cost that if you stay in a hotel, you'll have to eat out most nights which means that you will probably have to add in at least another 50 dollars per day for 2 people. Then add in all the site seeing costs, transportation costs and more.
My point is this; 3,000 euros which breaks down to about $133 USD per day is actually pretty damn good.
This is what makes extended travel or living abroad so affordable. Staying in a home and living like a local vs going somewhere for 2 to 4 weeks and staying in an expensive hotel.
Let me break down 3,000 Euros which converts to about 3,900 USD per month.
It cost us $133 per day for our entire family of five to live in France for one year.
That's $27 USD per day per person to live in France.
$795 USD per month per person to live in France
Now before you go off making plans to move to France, you need to understand how I came to my calculations, what our expenses included and what they did not include.
How I came to my calculations (important please read)
One year time period:


My calculations are based on the fact that we lived in France temporarily for a year. Cost of living will look much different if you plan on living in France longer. i.e. you might have a mortgage, a car, extra taxes to pay and other things that a temporary resident will not have to pay.

Exchange Rate:

I used an exchange rate of 0,77. At the time of this writing, 1 USD buys 0,76 centime. Put another way 1 Euro will cost you $1.30.

1 CAD buys 0,78 centime. I split the difference and used .77 centime.

*updated September 2016: The dollar is much stronger. 1 dollar now gets you 0.89 centimes. Put another way, 1 Euro will now cost you $1.10 USD. This just means that the USD costs I list in this article will work in your benefit because they will be slightly less than I stated here NOT MORE!

Averages:

Prices fluctuate. Some months our expenses were higher than others so for simplicity, I used our 1-year average. First I totalled our expense for the year and divided by person, then per day to arrive at the $27 a day per person average cost and converted each calculation to USD / CAD.


Expenses NOT Included:


My calculation does NOT include airline tickets or extended trips. For instance, we took a cruise but I did not include that cost in my numbers. We bought 2 tablets for reading, 2 bikes and some other things which I did not include in my calculation. I did this so you could get a baseline or a bare minimum of fixed costs or essential expenses needed to live in France. That way all you have to do is add in your own extra expenses and creature comforts to arrive at what it might cost you.
High Level Look At How Much It Cost To Live In France For One Year.
The above chart shows a break out of all our expenses by major category. Notice that Rent and Food were our biggest expenses. This is important to know because there is a lot of wiggle room with those two pieces of the pie. We chose to live in more expensive areas and we choose to eat really really well.
Now that that's out of the way, let us get down to the dirty details. I've included a detailed break out of our expenses in Euros and Dollars for each of the major categories along with a small explanation. Ready?
The break down: A detailed look at the cost of living in France by category.
Below is a detailed description by category or our familys expenses.
HOUSING: (1,100 to 1,300 Euros =$1,429 to $1,688 / Month)
By far one of our biggest expenses was housing. We paid 1,300 Euros per month for a fully furnished, 100 sq meter house which accounted for 42% of our annual and monthly budget. This year we will pay less rent because we moved out of the big city to a smaller town 1 hour from Marseille and 2 hours from Nice and Cannes.
I highly advise you NOT to rent an unfurnished home if you are planning to stay in France for a year or less.
Our house was fully furnished and walk-in ready. Now, you're probably thinking, we could have rented a home for less than 1,300 euros a month if we had not rented a fully furnished home.
You're right we could have but trust me when I say "you really don't want to rent an unfurnished place for a year".
Unfurnished does not mean the same thing in France as it does in the US and Canada.
Most rental properties in France DO NOT come equipped with a fridge, washer, dryer or dishwasher. This may not shock you but what if a rental did not come with the following?
No lights (i.e. you provide your own ceiling lights)
No kitchen cabinets. Yes, you heard me right. No kitchen cabinets. I saw it with my own eyes and I still can't believe it.
No stove
No oven
Think about it, just furnishing your place with those few things alone could cost you a few thousand dollars not to mention the time, stress and effort it will take you to buy those things then have it installed and do all this in another language.
What Does Fully Furnished Mean:
Fully furnished usually means it has everything you need the minute you walk in the door.
A working fridge
towels
forks
dishes
beds
linens
A working kitchen with stove and oven.
Granted, you need to buy some things to make the home cozier. For instance, I bought a few pans, a chef knife, a pressure cooker and 2 comforters.
Be realistic
Unless you can afford a higher end fully furnished apartment, the condition of your apartment might be a little worn down or have certain things which you would have wished came with the apartment. Our house in Marseille was extremely worn down and we even had to buy an extra bed because it did not have enough for all five of us.
(On the flip side, our new landlords in France pay for anything we need for our house so it just depends).
Another thing that will affect the price of your flat is the location, for example.
Living in a big city will cost more than living in the countryside. It is cheaper to rent a home further inland away from the water.
I've seen places as big as ours rent for 500 euros but they are in very rural places that usually require you to have a car. We opted for cities and towns with public transportation so we did not have to buy a car.
Marseille City: 1,300 Euros

3 Large Bedrooms in 100 Sq Meter (1,100 sq ft) Flat in the center of the city close to metros, shops, amenities, trains etc.

La Garde City: 1,100 Euros

4 bedroom 100 sq Meter flat in a rural setting. No metro, but access to the good bus system and train which goes all over Europe. Some shopping. 5 minutes from Toulon by Train.
We found our furnished flat on sabbaticalhomes.com.
Utilities-(100 Euros / Month) $130
If you find a rental you may have to take care of the utilities and put the bill in your name. We did that for our flat in Marseille but our new landlords in Toulon kept the bill in their name and we pay the landlord for our utilities.
Be prepared, setting up your utilities is a whole other beast. I set up our account on the phone but if you do not speak French, you are going to run into some issues. Instead, you could try walking into an EDF office (that's the utility company) and hope someone speaks English, or hire an interpreter or get help from your landlord or neighbours.
Side note, to open up a utilities account you HAVE TO HAVE A FRENCH BANK ACCOUNT.. It's true. I tried to get around this but couldn't.
Electricity & Gas (EDF) ( 60 Euros / month)
Telephone & Internet (40 Euros / month)
Water (included in rent but yours may not be included)
FOOD : (885 Euros month) $1,117 or ( 177 Euros /person per month) $ 229
We are a family of foodies.
Food was our second biggest expense after our rent. It accounted for 28% of our total expenses. We don't eat McDonald's, we don't eat Hamburger Helper or hot dogs. We like to eat the good stuff. We buy a lot of fresh produce and cook in most nights. We also like our wine and spirits. I don't say that to brag but to qualify our food bill to you. Our food bill fluctuated month to month but for the most part, we averaged 885 euros a month for a year. This amount included 2 kids eating school lunch every day, booze, all our meat and produce and a few days eating out. VICES: One of the many surprises about France is that Alcohol (especially wine) is very cheap, with a good bottle costing only a few euros. Sure you can buy expensive bottles but you don't have to. Cigarettes are extremely expensive (5 or 6 euros a pack) and rising all the time. Time for you to quit anyway.
| | | |
| --- | --- | --- |
| Food: | 550 – 650 Euros / month | 110 – 130 Euros / person |
| Beer, wine, spirits | 40 Euros / month | 20 Euros / person |
| Eating out | 100 – 150 Euros / month | 20- 30 euros / person |
| School lunch for kids | 120 Euros / month 2 kids | 60 Euros / kid (ony 2 kids ate at school) |
Medical & Doctor ( 450 Euros / month) $585
Medical and health were our third biggest expense. It accounted for about 15% of our total expenses. We could have cut that bill in half if we chose to insure ourselves through a French company instead of using a US insurance company. One of our concerns was losing our continual coverage in the US. There are certain benefits to keeping continual coverage which I won't go into. Contact an insurance carrier to find out for yourself. This year, we may choose to buy medical insurance from an insurance company in France but we need to understand the ramifications first. This means I have some research to do. So far, we have not made any claims on our insurance because of our deductible. In fact, we pay for doctor visits out of our pocket here in France. Each visit costs us a whopping 23 euros. That's it. Another thing to note is that medicine and prescriptions are a fraction of what it costs in the US.
Medical Insurance: 400 dollars/month paid to US company
6 Doctor visits in France: 140 Euros
Medicine, aspirin etc.: 5 Euros
Clothing: (50 Euros / month) $65 or (10 Euros / person) $13
Clothing can be pricey but if you shop at discount stores and buy during the discount season ( After Christmas and then summer), you can get some really good deals of up to 75 percent off. My kids are growing like weeds, so we have to buy clothes every few months. Our biggest expense for clothing were shoes, some jackets and sweaters. My son Andre went from a shoe size of 9 to a shoe size of almost 12 within 2 years. And we walk so much that they wear out the soles within a few months too.
Transportation: ( 50 Euros / month) or ( 14 Euros / person) $65

We don't have a car so to get around we have to take the metro, bus, tram or train. Last year my sons took the metro to school. Each of their monthly metros passes cost around 30 euros. Catherine was under 6 so she was Free. A one-way metro ticket was about 1 Euro 45 and so were bus tickets.
Metro Passes in Marseille (60 Euros)
Bus tickets, train tickets, metro tickets for everyone else. (40 Euros)
Miscellaneous Kid Expenses ( 40 Euros/month per kid) or ( 160 euros/year per kid) $180

After School Sports and Activities
If you have kids, you're going to probably want them to do activities, chat with other kids, play and have friends. We enrolled our three kids in after school sports. Kieran plays soccer 2 or 3 times a week which is called 'FOOT' or FOOTBALL. Not to be confused with American football. Andre plays Judo twice a week (Yellow belt) and Catherine is a budding ballerina. Each activity cost 160 euros for the entire year. That's a deal compared to what I'm used to paying in the states.
Allowance and pocket money for the kids
Our two teenage sons like to go to movies and hang out with friends and buy little things so I opted to give them an allowance of 40 Euros each.
Allowance for kids80 Euros/month
School Sports40 Euros/month total for all three kids.
Taxes & Visas: 365 Euros for one year. (but you could pay more) $78 per month

TAX
If you rent a place for a year then you may have to pay a "Taxe d'Habitation" This tax is to cover things like street cleaning, upkeep, garbage removal and other things in your area. This tax is usually paid by the occupiers of a property and you are liable to pay this tax unless you come to some agreement with the landlord. We made an agreement with both our landlords to have them cover this tax which in some cases can be a few hundred euros EACH MONTH. Get it in writing though.
VISA
If you stay in France longer than 3 months than you have to have a special visa called the Long stay visa. Once you arrive in France, to complete your visa process you have to pay another 360 euros per adult. They then paste the visa in your passport and you are free to stay in the country for the entire year. Every year after that, you have to renew the visa but it drops to only 110 euros per adult. We did not have to pay anything for the kids.
Taxe d'habitation: 0 Euros
Visas: 365 Euros for first year. Every year after it will be 110 euros.
Extras, Incidentals and Miscellaneous ( 70 Euros/month) $92
We had other expenses but many of them were expenses that you probably won't incur. We bought a new laptop for one of our sons. We bought two tablets, a couple of bikes and some miscellaneous things. I have not included them in any of my cost calculations.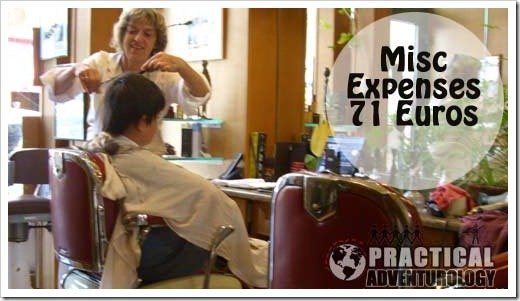 You need to budget for a miscellaneous category. I'm not sure what will go in your budget but here is what went into ours.
Haircuts (12 Euros)
VPN (Virtual Private Network) to access US sites normally blocked to outsiders.: (7 Euros)
Sim Card for a phone: (2 Euros) ( we don't have a plan. We have a prepaid card.
Entertainment, site seeing: (50 Euros)
How We Saved 10,000 Dollars on Pre-school in France!!!
If you have a child between the ages of 3 and 6, you'll be delectably surprised to learn that pre-school is Free in France. This came as a huge surprise to us. I fully expected to pay anywhere from 900 to 1,00 dollars a month for pre-school since this is how much preschool can cost in the US and some parts of Canada. We estimate that we saved a total of 10K / year in pre-school cost alone. But that's not all. The best part is that Catherine loves her school and loves having playmates and friends. I volunteer as much as I can at her school and they do countless outings every year. The photo above is on a class trip to the Zoo in Aix-En-Provence. It was amazing and it's a way for me to meet other parents and people.
Final Thoughts on Cost of Living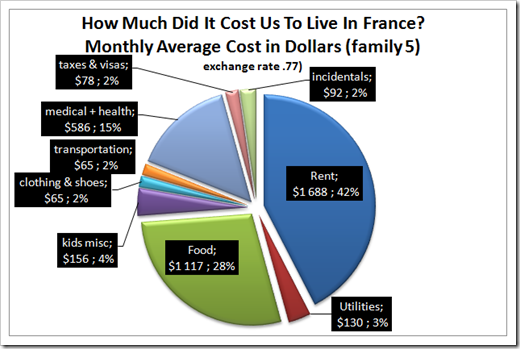 Life Style: We do not live or spend extravagantly. Having said that, we do like our creature comforts. You need to use your common sense and extrapolate costs based on your situation.
Obviously, the cost of living for one year in France is going to depend on your lifestyle and your unique situation.
Other things you may not be able to avoid or skimp on are things like taxes and visas while other things like food, your rent and your site-seeing budget are variable.
You could cut your expenses dramatically if you choose to live further inland or in the countryside but then that would mean you have the added expense of buying a car and lose the amenities of being in a bigger town or city.
Don't forget to please share this article on Facebook for me.