Instagram in North Korea? NOT!    Hulu in France? PFFFFFT     Pandora anywhere outside of the US? In your dreams!   These are but a few of the websites which you are blocked from using outside of their region (The US). But where and what sites are being blocked and why?
Why are websites blocked?
If you live in the US, you probably take for granted the fact that you have access to websites that many people around the world wish they had access to but can't. Not necessarily because they don't have access to the internet but because they are being blocked from viewing those sites- like Hulu, Netflix, Pandora and Facebook to name a few. Let's explore why, what and where sites are blocked.
1- Government Censorship Of Internet Sites
Freedom of speech in China doesn't really exist, at least not in the way that most westerners think it should. No surprise, the government of Mainland China censors the internet drastically by blocking access to over 3,000 websites including Facebook, Instagram, Gmail, Wikipedia and the Wall Street Journal. Porn sites don't stand a chance in China.
"

North Korea's DOMESTIC ONLY intranet system called Kwangmyong offers no links to the outside world whatsoever. It only connect cybercafes, libraries, universities and various other institutions with websites and email. 
Then there is North Korea, described as one of the few remaining "internet black holes" which doesn't allow it's citizens access to the outside world at all. With the exception of a select few high ranking government officials and visiting foreigners, all North Koreans have no access to the world wide web.
But it's not just Mainland China and North Korea that block websites.
British surfers are banned from viewing almost 100 websites, most of which are blocked because they contain or deal with illegal pirating of music and video or copyright and counterfeit sites.
France is also believed to block over 280 sites at the time of this writing. 60 or so are blocked because they relate to terrorism and more than 250 because they deal with child pornography.
Schools, universities and companies can block their users from accessing certain websites.
2- Streaming music and video websites that block their own content to anyone outside of their region / country for licensing or copyright issues
What you may not realize is that streaming video and music websites like Hulu, Pandora and HBONow are all blocked to you once you leave American soil. Blocked by the sites themselves usually due to licensing and copyright issues which do not extend past the American border. It makes no difference whether you are a US based paying customer trying to accesss Hulu while on vacation abroad. You will be blocked.
By the way, it's not just sites from the US that block access to their content abroad. For instance, you can't watch BBC iPlayer outside of the UK.
Related: How to watch blocked video streaming websites from outside the United States (legally). 
What does region blocked look like? The dreaded restriction pop-up
If you visit one of these region restricted websites outside of it's region / country, you won't get a scary notice with a menacing red hand threatening legal action. No one will come knocking down your door and take you away in handcuffs. Unless of course if you visit one of those countries where the gouvernement has banned that site. I'm just speculating here; my imagination goes a little crazy.
You will however get an annoying, and very frustrating geo-restricted message which looks different depending on which website you are trying to view. Here are a few examples of what you might see from Spotify and Hulu.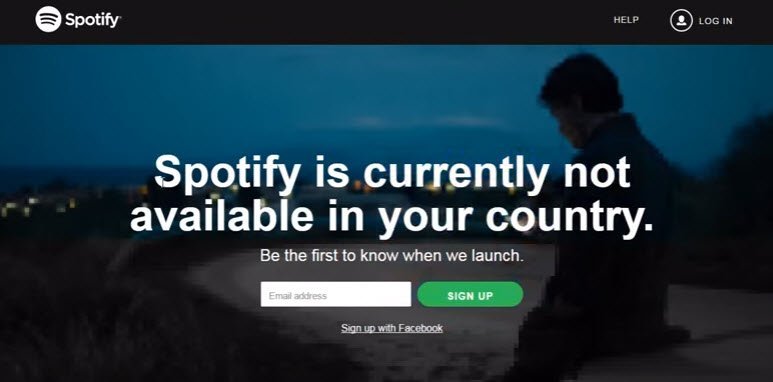 Different version of a website (country specific version)
Netflix, Cartoon Network and a few other sites are the exception because they are available outside of their region (the United States) however the version seen in other countries is different.
For instance, in France where I normally access Netflix, I get the French version. I can still watch the shows in English if I want but I can also watch them in French if I want too. The main difference between the American version of Netflix and other country versions is the selection. There are far more shows available on the American version of Netflix than there are on the French version and other country versions. I am not sure how much more but it could be as much as 50 percent.

Is there a workaround to access blocked US websites like Hulu and Netflix and is it legal?
Yes there is a work around which is legal in most countries except maybe in countries like China where the government censors the internet but I know people who still do it. However in most other countries like Canada, the UK and France, there are no law forbidding the use of tools/ software to access these sites blocked outside of their region. The US may have laws but I have never heard of anyone being arrested from accessing Hulu outside of the USA. In fact there are hundreds of services you can use to circumvent these restrictions which will give you access to most if not all region blocked websites.
If you want to learn more about how to watch region restricted and blocked video streaming websites abroad, you can read about it here .
Exactly which streaming video and music sites are region blocked abroad?
To keep this list somewhat short, I compiled a list of streaming sites which you can't view outside of the United States. It's in no way complete but it should give you an idea of all the sites which are not available to people around the world.
Read it and weep!
Online Video, Movie & TV Websites
Hulu
Netflix (USA version)
Fandor
Shudder
Amazon Instant Video

FandangoNow
CinemaNow
HBO NOW
Crackle
Pluto TV
Popcornflix
LogoTV
ShoutFactoryTV
VUDU
Anime
Crunchyroll
FUNimation
International TV & Movie websites
Drama Fever
Telemundo
MundoFOX
SoompiTV
Websites as part of cable package
FYI Network
Oxygen
USA Network
HBO
GO
HGTV
DirecTV
SyFy
Lifetime
Showtime
Showtime Anytime
DirectTv
TV & Cable Channels
ABC
Bravo TV
CBS
NBC
Spike
FX Networks
TNT Drama
TV.com
CWTV
TV Land
CNBC
AMC
A&E
News, weather traffic
CBS News
ABC News
FOX
WBTV
Educational TV And Movies
Smithsonian
History
National Geographic
PBS
Kids TV And Movies
PBS Kids
Disney
Cartoon Network
Nick
TeenNick
Nick Jr
Disney Junior
Disney XD
Comedy
Comedy Central
Adult Swim
Simpsons World
TruTV
ConTV
Music
CMT – Country Music Television
Pandora
MTV
Radio.com
Playlist
iHeart
Rhapsody
Spotify
Slacker
Samsung Milk Music
VH1
Vevo
ZUUS
Sports
CBS Sports
Eurosport
Tennis Channel Everywhere
FL GamePass
NBC Sports
PGA Tour Live
Golf Channel
FOX Sports
NCAA March Madness
FOX Soccer 2Go
ESPN
WWE
NHL Vault