Taxes for Expats
is a tax firm I've personally used and recommend. Here's my in-depth and honest review of their services and how the whole process works —remotely.
"If you're an American expat living abroad, you still need to file your US Tax returns."
What is Taxes For Expats?
Taxes For Expats, aka TFX, is a full-service tax firm which handles personal and business tax returns for American expats living abroad. They have clients in 175 countries since 1991.
They can also take care of your back taxes, tax planning, help you apply for the IRS amnesty program if you have delinquent taxes, review your self-prepared expat tax return and help you file an amended tax return.
The company is based out of New York and according to the BBB, was founded by Ines Zemelman, EA in 2007 but Ines has been preparing taxes for almost 30 years since 1991.
$50 dollar discount for my readers
I've worked out a deal with Taxes For Expats for all readers at AnnieAndre.com. Simply use the discount code 50THANKYOU and get a $50 discount off your first expat tax return.
Everything is done remotely, by email and through an online client portal
With the online client portal or dashboard, you can keep your information and documents centralized and organized so you know exactly which documents to provide each step of the way.
If you've ever worked with Basecamp or other project management and team communication software, you probably know how useful this is.
I'm located in France so the entire process—communication, questions and exchange of documents with my assigned tax preparer was handled remotely via email and the client dashboard portal.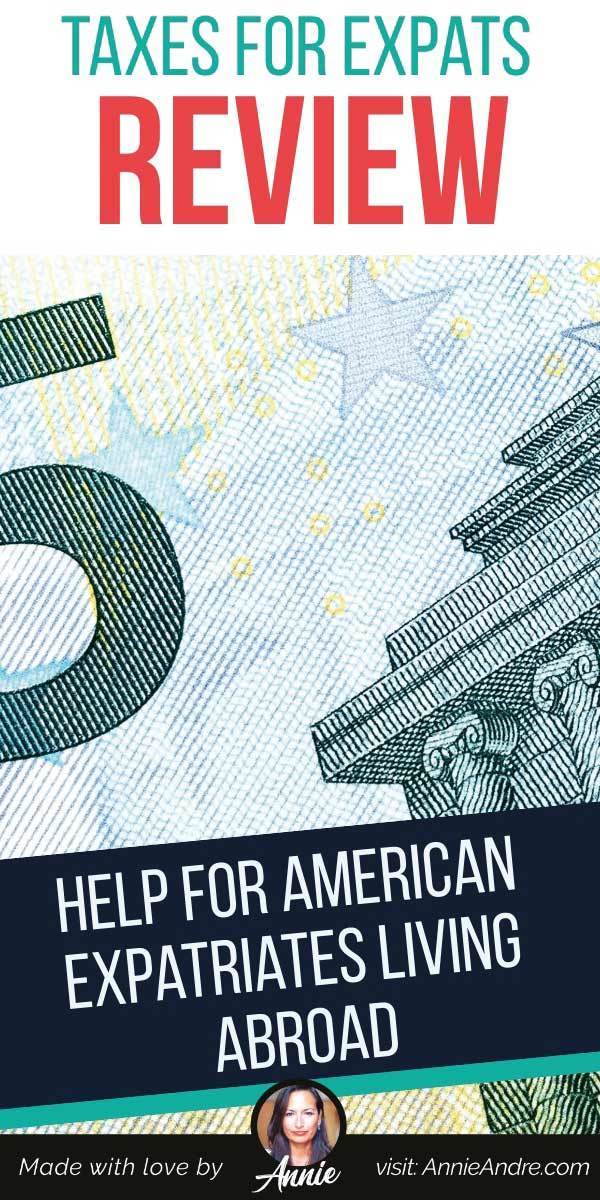 Steps: working with Taxes for Expats
1) Go to the site and sign up for an account:
Once you sign up, you'll receive an email with instructions and next steps to create your account which gives you access to your very own secure tax portal. (see screenshot below)
2) Schedule a free 30-minute consultation:
You may be asked to put down a 50 dollar retainer fee which they will apply toward your final bill.
3) Tax questionnaire:
Login to the client portal area and fill out the interactive tax questionnaire.
If you have any questions or are not sure how to answer something, there is a faq section to help you, or you can email your assigned tax preparer directly.
The tax preparer assigned to us was very knowledgeable and responded within a few hours to our emails. She even helped us adjust our previous years' tax returns to correct mistakes made from our previous accountant.
All the information you input into the questionnaire and all the documents you upload are saved and can be accessed for future tax years. Huge time saver.
4) Upload Supporting Tax Documents:
At the end of the questionnaire, you'll see a document checklist where you can begin uploading documents. Your assigned tax preparer will see them in the portal and use them to complete your expatriate tax return.
5) Review and sign Engagement letter:
Once you complete the questionnaire and upload all the necessary documents, simply wait for your assigned tax preparer to analyze your situation.
Once she or he finishes analyzing your tax situation, she'll draft an electronic engagement letter for you to review from within the portal.
The letter will show you the job scope and total cost to prepare your taxes. If all looks good, sign the engagement letter.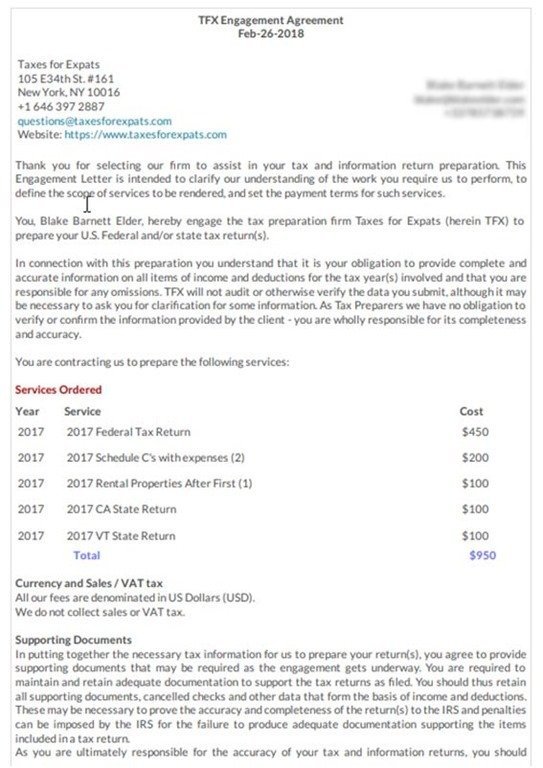 6) Wait up to 2 weeks for your tax return to be completed:
If you're in a rush, TFX offers a rush service for a fee.
7) Pay for the service:
Once you're notified that you're tax return is complete, log in to your portal and you'll see a link to your return but you won't be able to download and review your tax return or see it in its entirety until you make a payment.
(They accept all credit cards, PayPal, and wire transfers).
8) File your tax returns:
After you've reviewed your completed tax return, you can choose to download it and mail it to the IRS yourself or you can have Taxes for Expats e-file for you. We chose the latter.
If you choose e-file and you owe money to the IRS, make sure you send a check directly to the IRS (NOT TAXES FOR EXPATS). Complete instructions on how to pay your taxes is available in your client portal.
That's it. The whole process.
Cost and Fees for Taxes for Expats
Taxes For Expats uses a transparent flat fee structure to prepare your USA expat taxes.
$350 If you earn under 100k per year and $450 if you earn over 100k per year. There are over 40 forms included in the flat fee option.
If you have a simple tax filing, you should be covered under the flat fee option, however, if you have a business or if you have rental property, you'll probably need some documents not included in the flat fee. In this case, you're charged per additional form.
Here are some examples of additional forms you might need to purchase.
FBAR form: An additional $75.
State tax return: An additional $100 per state return.
Schedule C: An additional $100
Should you trust Taxes For Expats?
I don't take taxes lightly. I'v' personally used TFX and definitely trust them based on my experience.
If I'm going to be honest, I was a little hesitant to use TFX because of a bad experience I had with a tax accountant based out of Florida who made quite a few errors on our tax return the previous year. In my defence, there was no way for me to have rated him or known because I only had the feedback of one person. The person who recommended him to me.
Online reviews of Taxes for expat.
With Taxes for Expats, you don't have to rely on the recommendation of one person. There are hundreds of positive five-star reviews on trust pilot and shopper approved (two well-respected consumer review sites). If it weren't for those reviews, I might not have actually used Taxes for expats.
There were some negative reviews which is to be expected but the ratio of positive reviews outweighed the negative reviews by a longshot.
The BBB (Better Business Bureau) gave TFX an "A" rating.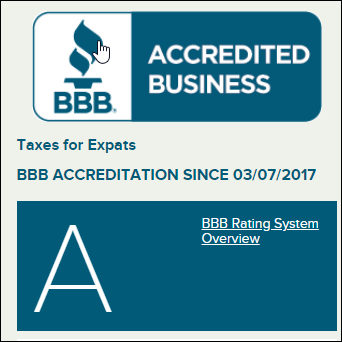 Quality Control
Something I really liked about Taxes for expats is the fact that every tax return is checked by a second and third set of eyes (a quality control check by a CPA or EA (enrolled agent) along with a senior supervisor who double-checks their work.
You don't get always get that when you hire a self employed expat tax accountant.
Enrolled agent (or EA) is a tax advisor who is a federally authorized tax practitioner empowered by the U.S. Department of the Treasury. Enrolled agents represent taxpayers before the Internal Revenue Service (IRS) for tax issues including audits, collections and appeals. (source)
Will I use Taxes For Expats again?
Yes, I'll use TFX again. US Taxes are complicated enough as it is but even more so if you're an American resident living or working abroad.
Working with qualified professional like the ones I encountered at TFX will not only save you time but also help you avoid costly mistakes. If nothing else, you won't have to anguish or wonder if your taxes are prepared correctly.
Discount code
Readers at AnnieAndre.com get a special $50 dollar discount if you're a new customer. Simply use code 50THANKYOU or click on this TaxesforExpat Link.