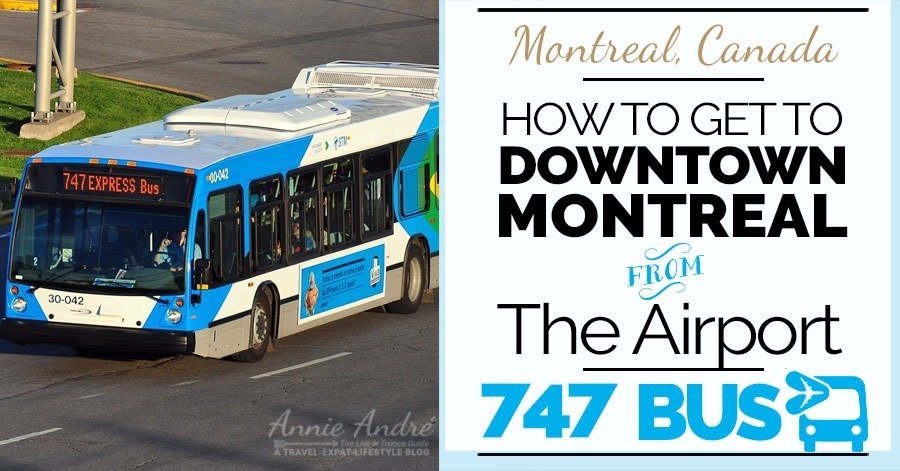 Here's what you need to know about taking the 747 express shuttle bus from the Montréal–Trudeau airport to downtown Montreal.
Living in France has its pros and cons and one of the cons is living far away from your extended family, or in my case, on another continent.
So every year, I hop on a plane and make the 8-hour flight to Montreal Canada to spend a few weeks with my extended family.
You could say, I've become somewhat of an expert on getting to and from the airport and into downtown Montreal.
How to get to downtown Montreal from the airport
The international airport that serves the Montreal area is called "Montréal–Pierre Elliott Trudeau International Airport" –the airport code is "YUL" and it's relatively close to downtown Montreal, just 19 KM or 12 miles outside of Montreal.
I personally never rent a car when I go to Montreal. Instead, I rely solely on public transportation to get around Montreal and to and from the airport.
All public transportation in Montreal- buses and metros are run by STM, short for "Société de transport de Montréal".
I have on occasion taken a taxi from the airport into downtown Montreal (costs about 40 CAD plus tip) if I'm travelling with lots of bags or with my kids, however, more often than not, I take the 747 express airport bus not only because it's inexpensive but also because it's easy, convenient and can be just as fast as a taxi.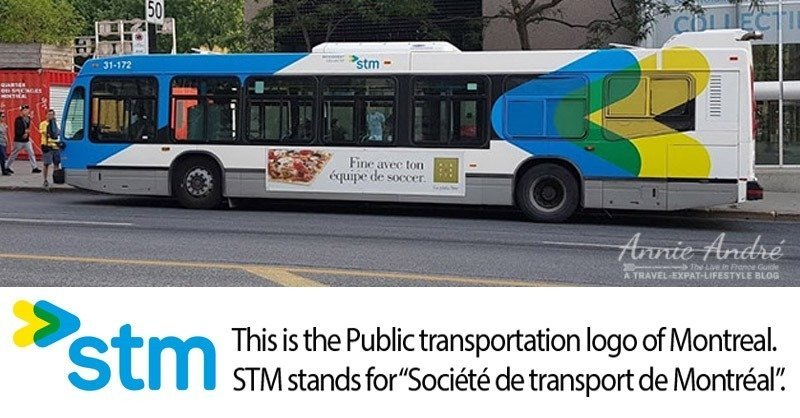 Get your travel docs ready.
Before diving into the nitty-gritty of taking the 747 bus, please make sure that you look into any visa you may need to enter Canada prior to your flight. Citizens from certain countries may also need an (eTA) Electronic Travel Authorization to enter Canada which can be acquired online or by using a service like eta-canada.com. The eTA is valid for up to 5 years.
** Americans holding valid US passports do not need an eTA to travel to Canada.
BUS # 747
Bus #747 is an express bus which takes you to and from the airport, stopping along the way near hotels and metro stations.
Hours of operation: 24 hours a day, 7 days a week, 365 days a year.
Frequency: Departs every 7 to 10 minutes from the airport during peak hours (12 noon to 6 pm).
Between Midnight to 5 am, every 60 minutes. Schedules change so check here for the latest 747 bus schedule.
Cost: $10 CAD gets you a 24-hour public transport pass for the 747 bus, also good on the metro and all other buses in Montreal.
WIFI: There is free WIFI available on the 747 buses (usually)
How to buy 747 bus ticket
After your plane lands at the Montreal airport and you've collected your bags, follow the crowds to the international arrival area and look for one of four big blue vending machines which sell 747 bus tickets.
**You MUST buy your ticket before boarding the bus.
Cost of a 747 bus pass/metro pass:
A single ticket from the airport to the city centre of Montreal will cost you $10 CAD.
One of the great things about this 1 day (24-hour pass) is it gives you access to all public transportation throughout Montreal including the metro.
This means you can buy a pass at the airport, then use that same ticket and transfer to another bus or jump on the metro at no additional cost, as long as it falls within the 24-hour window.
What if you want to buy a pass for a longer period of validity?
If you plan on staying in Montreal for several days or weeks and think you'll use the metro or Montreal buses, consider buying a 3-day pass, weekend pass, weekly pass or monthly pass, all of which can also be used on the metro and buses throughout Montreal.
Be careful when buying the "7 day" and "monthly pass" because their validity works on a weekly and monthly schedule and not from the time you purchase the ticket.
In other words…
-If you buy a 7-day pass on a Wednesday, it will only be valid until Sunday midnight because its validity starts on Monday and ends on Sunday at midnight.
-If you buy a 30-day pass on the 15th of the month, it will only be valid until the last day of the month at midnight because its validity starts on the 1st and ends on the last day of the month.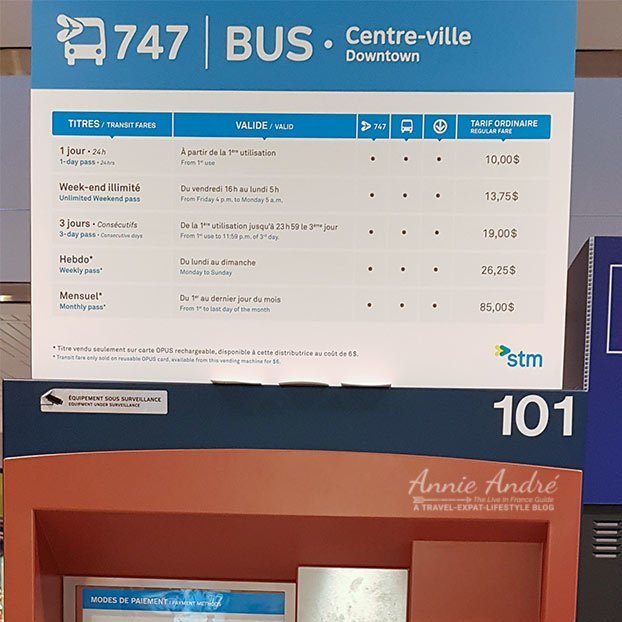 Bus / Metro Pass Prices
1-day pass: $10 CAD
good for 24 hours from the time you validate the card
3-days pass: $19 CAD
 good for 3 consecutive days from time of first use.
Unlimited Weekend pass: $13.75 CAD
valid Friday at 4 pm to Monday 5 am.
Weekly 7 day pass: $26.25 CAD
Validity starts on Monday and ends on Sunday at 11:59.
Monthly pass: $85 CAD
Validity starts on the 1st of the month and ends at 11:59 on the last day of the month.
Children 5 and under: Free
How to pay for a 747 bus/metro ticket
The blue vending machines which sell the public transportation passes accept cash, debit or credit card (VISA, MasterCard).
If for whatever reason your bank cards don't work in the ticket machines, and you don't have Canadian cash on hand, there are a couple of ATMsélocated just a few steps from the ticket vending machines.
Language: If you don't speak French, you can change the language of the vending machine to English with a push of a button.
Choose "reloadable" or "non-reloadable": Once you choose the language, you must choose between a reloadable opus card (hard blue plastic card called the OPUS card) for an additional $6 CAD or choose the non-reloadable paper ticket.
The non-reloadable ticket is a one-time use card. You won't be able to top it up with more rides which is fine for most people but I prefer the rechargeable card because I usually stay for several weeks and I like the convenience of having just one card that I can top up whenever I need to.
It's just a matter of choice.
Keep in mind, If you choose to purchase a 7-day pass or monthly pass, you have no choice but to purchase the rechargeable OPUS card for an additional $6 CAD because these aren't available for the non-reloadable paper ticket.
Both the rechargeable OPUS card and one-time use non-reloadable paper card have a smart chip in them which means you just have to hold the card up to the card readers in the metro and on the bus. You can also use the OPUS card to purchase train tickets.
Exit Door 28 of Airport and walk towards the bus waiting area
Once you've purchased your ticket for the bus, exit the airport doors, turn right and follow the signs for the 747 bus.
You should see a cordoned off area to queue up for the bus and some helpful employees standing around herding people onto the bus and answering questions.
Buses come fairly frequently during peak hours (noon and 6 pm), around every 7 to 10 minutes so you shouldn't have to wait long unless there is a long line.
During off peak hours (midnight to 5 a.m.), there's a bus every 60 minutes are so.
The 747 bus also functions 24 hours a day, 7 days a week 365 days a year.
Which Bus Should You Take
When you approach the bus stop, you may need to choose which 747 bus to take. There are two 747 buses to choose from and the two lines are right next to each other.
1) Bus: #747 ( Lionel-Groulx )
Travel time: 25 to 35 minutes, depending on traffic
This bus makes only one stop at the Lionel-Groulx metro station which you can then take to your final destination.
2) Bus: #747 ( Centre-ville "downtown" )
Travel time: 45 to 70 minutes, depending on traffic
This bus makes 11 stops along the route, including in front of the Lionel-Groulx metro station and at hotels on boulevard René-Leveque. The last stop is near the Berri-UQAM metro station and the bus terminal.
Just hop off the bus at either of these stops and use your card to take the metro anywhere you want in the city.
747 Bust Stop names and some Hotels and Metro stations near the Stops
Lionel Groulx

Metro Station

(Orange & Green Metro lines)
René Levesque / Guy (HI-Montreal hostel, Holiday Inn Hotel & Suites Montreal)
René Levesque / Drummond (YWCA, Best Western, Comfort Suites, Ritz-Carlton)
René Levesque / Peel (Best Western, Marriott,, Sofitel)
René Levesque / Mansfield (Fairmont, Hotel Bonaventure, Le Germain Hotel)
René Levesque / Union (Renaissance Montreal, l'appartment Hotel)
René Levesque / Place Jeanne Mance (Hilton, Embassy Suites, Hyatt, Le Westin, Holiday Inn, Courtyard Marriott)
René Levesque / Saint Laurent (Place d'Armes Hotel & Suites, Auberge du Vieux-Port, Travelodge, Htel Zero 1)
René Levesque / De l'Hôtel de ville (Auberge Saint-Paul, Best Western Plus Hotel, Montréal Candlewood Suites, Montreal Chrome Hotel Downtown Montreal, Hotel Faubourg Montreal)
Berri UQAM

Metro Station

(Orange, Yellow & Green lines) (Hotel Viger, Gouverneur Hotel Place Dupuis, Hotel Le Roberval, Hotel Le St André, Hotel Les Suites Labelle, Hotel Lord Berri, Hotel St-Denis M Montreal)
Berri / Ontario E ( Terminus / Main bus stop / Orange, Yellow & Green metro lines.) (Alexandrie Hostel, Gite du plateau Mont-Royal, Hôtel de l'Institut, Hotel Elegant, Hotel Quartier Latin, Lelux Hotel)
Stowing luggage and bags on the 747 bus
There are plenty of luggage racks for you to store your bags, backpacks and suitcases on the 747 express buses.
Make sure your luggage is in one of the designated racks. The luggage policy on the 747 buses is pretty strict. Except for maybe a small handbag or backpack, you are not allowed to keep your suitcases near or at your feet. This is for safety reasons. They don't want passenger bags and luggage to block access to exits or roll around while the bus is moving.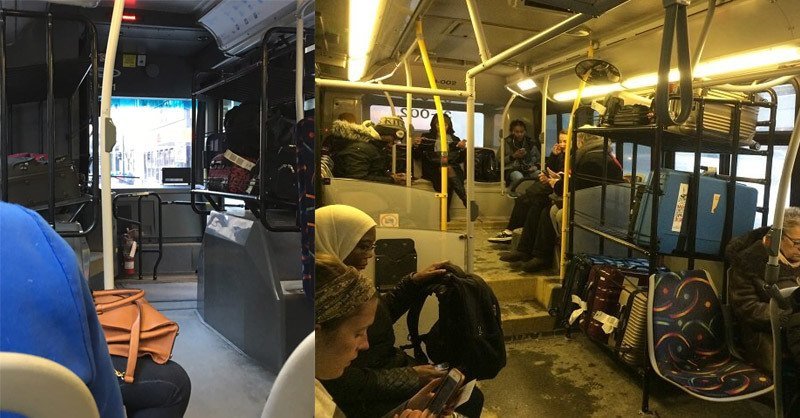 Summary:
One last thing, Montreal has 4 seasons and it gets damn cold in the winter time. You may not want to wait in line for the bus if it's snowing and below zero outside, so consider booking a taxi, especially if you're travelling with children. If you are travelling with 4 or more people, it might actually be more economical to take a taxi, if you can fit all your luggage in the taxi.
Bon Voyage!