The surprising truth about popular Christmas market food in France.
Christmas markets, holiday markets or holiday fairs! Whatever you call them, they're simply a magical experience.
When I first moved to France with my family back in 2011, I was eager to experience the infamous French Christmas market. Especially Christmas market food and drinks, which are often the highlight of the show, especially in Europe.
French comfort food & street food:
Most of us are familiar with and know France's gastronomic & haute-cuisine, gourmet restaurants, meticulous preparation and careful presentation of high priced food. But street foods, not so much.
Apart from crepes and a few other internationally known dishes, I knew next to nothing about France's popular street foods, comfort foods or regional foods.
Obviously, I was enthusiastic about starting my education by eating and drinking my merry way through festive Christmas market food chalets I had heard so much about.
Regional variations are so different:
What amazes me every year are the differences in food and offerings, not just region to region, but even between neighbouring towns. They often reveal what people enjoy the most in the local regions. They're also reflective of the country's diverse culture and influence from neighbouring countries, such as Spain and Switzerland, but especially Germany, which borders the Alsace region of France.
The Alsace influence on Christmas market food across France:
The Alsace region, which is home to the Strasbourg Christmas market, France's biggest, oldest and most famous, is a perfect example of regional foods influenced by German culture.
For centuries, the Alsace region was passed back and forth between Germany and France until it was finally returned to France after WW2.
As a result, Alsatian culture is a unique mix of French and German influences, and many of the foods from the region have infiltrated the French food scene and become a part of everyday French culture.
Let's dig into the list of tasty French Market food & beverages:
You may know a few on this list, but if you've never been to France, some may surprise you.
[thrive_text_block color="green"]You can read about French Christmas markets here. [/thrive_text_block]
Churros "les churros" or "les chichi"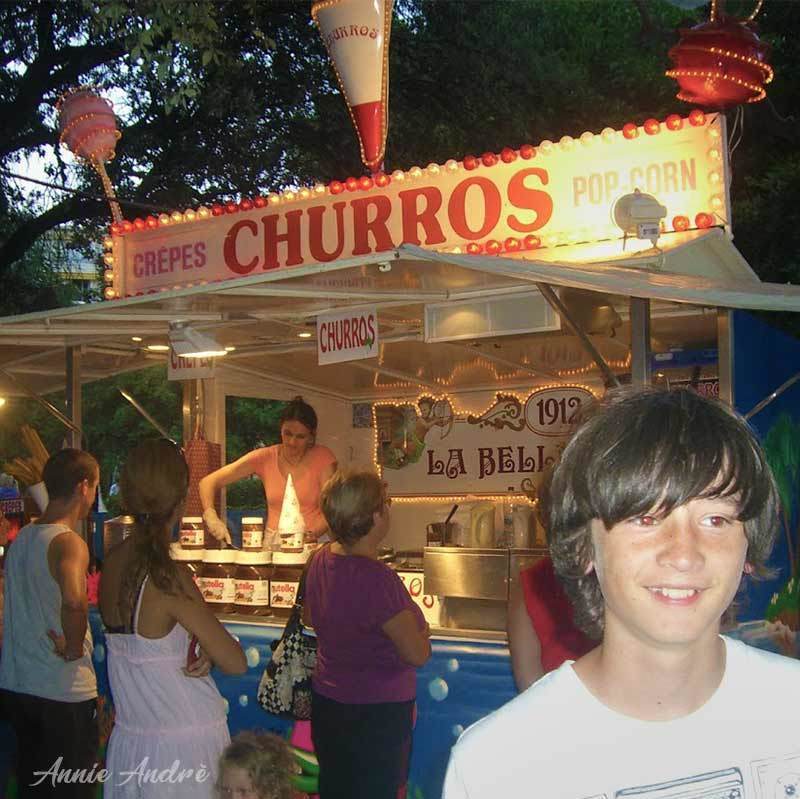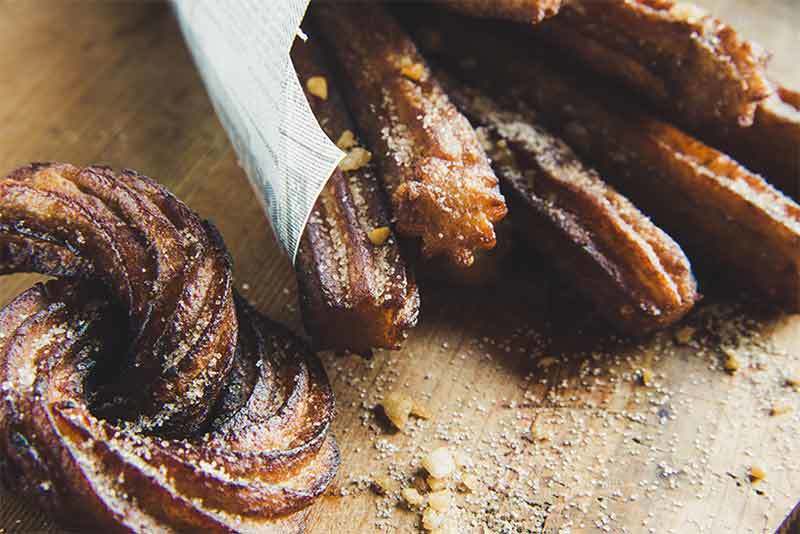 Churros, not very French yet you find them at every single Christmas market across France. You can find them at most fairs and other outdoor events right alongside cotton candy and crepes.
If you're not familiar with Churros, it's a sweet treat adopted from Spain, sometimes called a ChiChi or a "beignet Mexicaine" (Mexican doughnut.)". These tube-shaped sticks of dough are piped through a giant star-shaped piping machine, deep-fried in oil, and rolled in cinnamon sugar. They're delicious, surprisingly easy to make and a hit at Christmas markets.
Mulled Wine "Vin chaud" aka "Glühwein."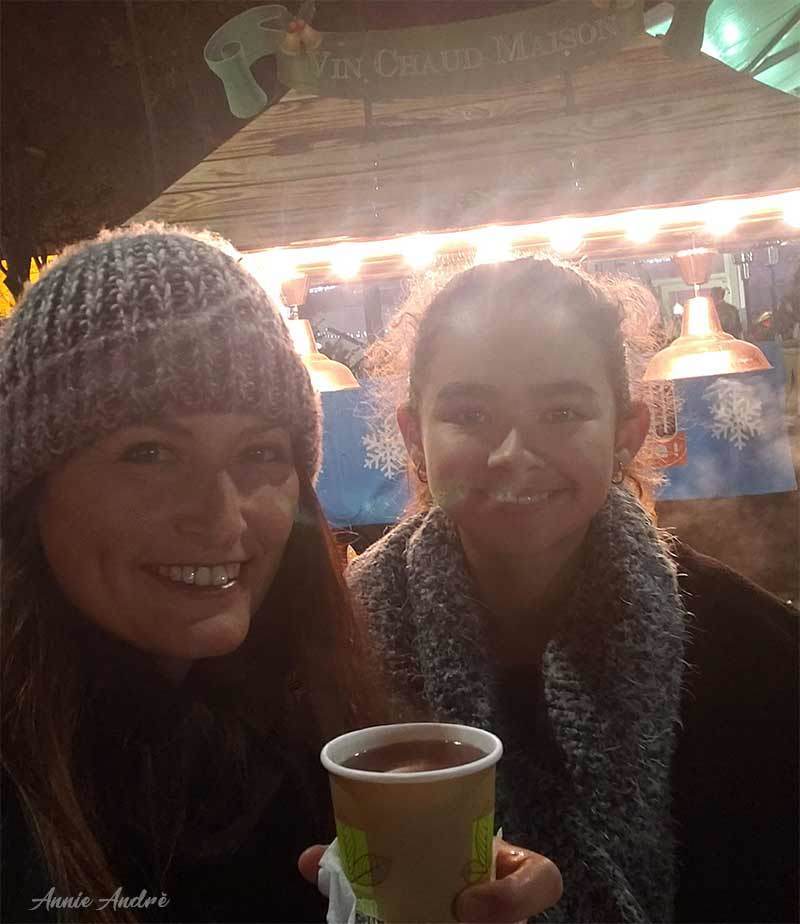 Mulled wine or spiced wine is another trendy traditional seasonal drink, especially at Christmas markets in Germany. However, it's also a staple drink at Christmas markets across France thanks to the Alsace region, which borders Germany. In most of France, it's called Vin chaud (hot wine) or Glühwein (glow-wine) in many Alsatian Christmas markets.
This spiced wine drink is always served hot, keeps you warm in the winter and packs a punch. Recipes vary, but in general, it's made with red wine, sugar, cinnamon, herbs and other spices, which can include cloves, star of anise, orange zest, lemon zest, ginger and or nutmeg and slowly simmered.
Hot Apple Cider "Le Cidre Chaud"
Hot apple cider is an alcoholic drink that is a must-try at French Christmas markets.
Recipes vary but are similar to vin chaud just with apple cider instead of red wine. In general, it's made with a bottle of French cider (an alcoholic beverage made from the fermented juice of apples), apple juice, cinnamon stick, cloves, star of anise, slices of apples or oranges and sometimes, honey, sugar, rum, cardamon. It just depends on the recipe.
Alsacien Bretzel "Le Bretzel"
Bretzels, no that's not a typo, is a specialty of the Alsacian region and another example of German influence over the foods of the area and throughout France.
The best way to describe it is an Alsatian version of the German pretzel, which you can find at almost every Christmas market across France. You can get sweet bretzels, salty bretzels, cheezy bretzels and bretzel sandwiches.
Sauerkraut "La Choucroute"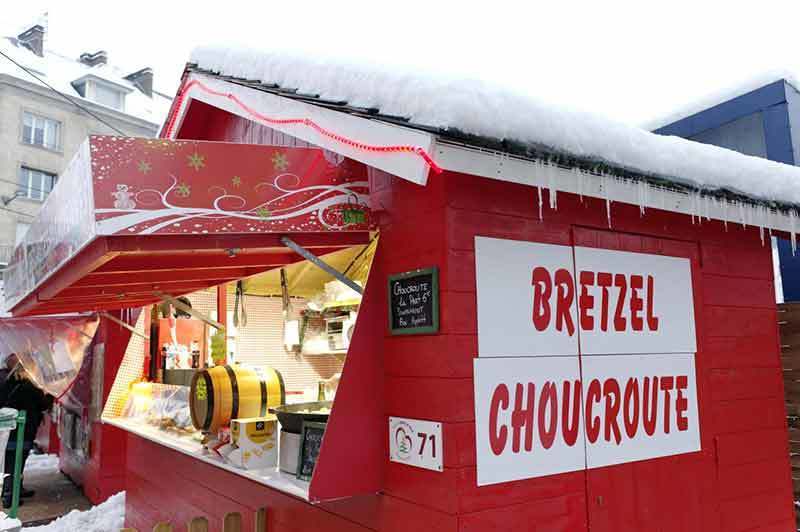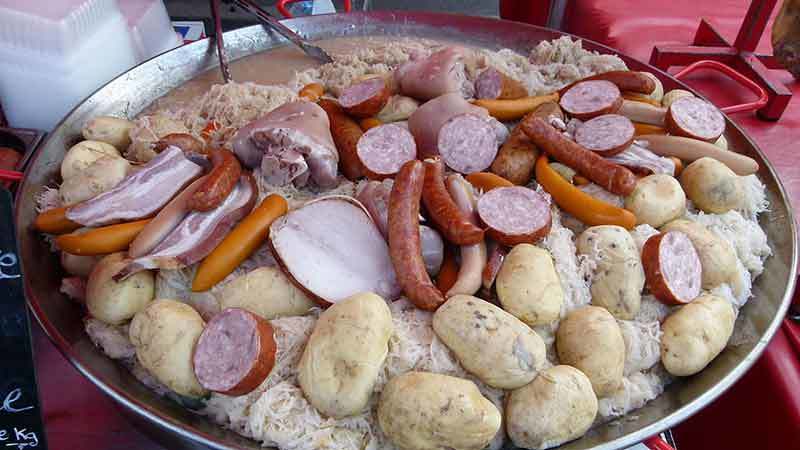 Many first time visitors to France are surprised to learn that Sauerkraut and sausages are a thing. Like the bretzel and gluhwein, this typical German dish is now a regional Alsacian dish and, therefore, part of French culture.
You'll find this dish at most Christmas markets in France, usually served with meat (pork, hot dogs, sausages and of course, potatoes).
Alsacien Pizza "La Tarte Flambée" or "Le Flammenkuche"
Tarte Flambée or Flammenkuche is another Alsacien food influenced by German culture, which you'll find at most Christmas markets. You can also find it at most grocery stores and restaurant menus across France. It's extremely popular and inexpensive. The first time I had one was at a small market in La Garde, France, and I fell in love with it instantly.
This Alsacian pizza is composed of a dough rolled out very thinly into the shape of a rectangle or oval. It's then covered in crème fraîche or Fromage blanc (never red sauce) and topped with sliced onions and lardons (similar to bits of bacon but better).
Brioche Bread In The Shape A Mini Man "Manalas or Mannele" de Saint-Nicolas."
These little guys may look like little gingerbread cookies, but they aren't. Manalas or Mannele, depending on what region of Alsace you're in, means "little guy" in Alsation. Always served with hot chocolate, these little guys are simply brioche bread, a classic in French patisserie which is wonderfully tender and light, enriched with plenty of butter and many many eggs.
Mannele has been part of Alsace's history since the fifteenth century, and you can find these in many bakeries in the Alsace region of France beginning in December and at Christmas markets in the Alsace region. In other regions of France, they come in different names such as "les Bonhomme de noel," which means Christmas guy. But the original and the real name is Mannele or Manalas.
[responsive_video type='youtube' hide_related='1′ hide_logo='1′ hide_controls='0′ hide_title='0′ hide_fullscreen='0′ autoplay='0′]https://youtu.be/SaEAAo5SyPU[/responsive_video]
Alsacian Cookie "Bredele"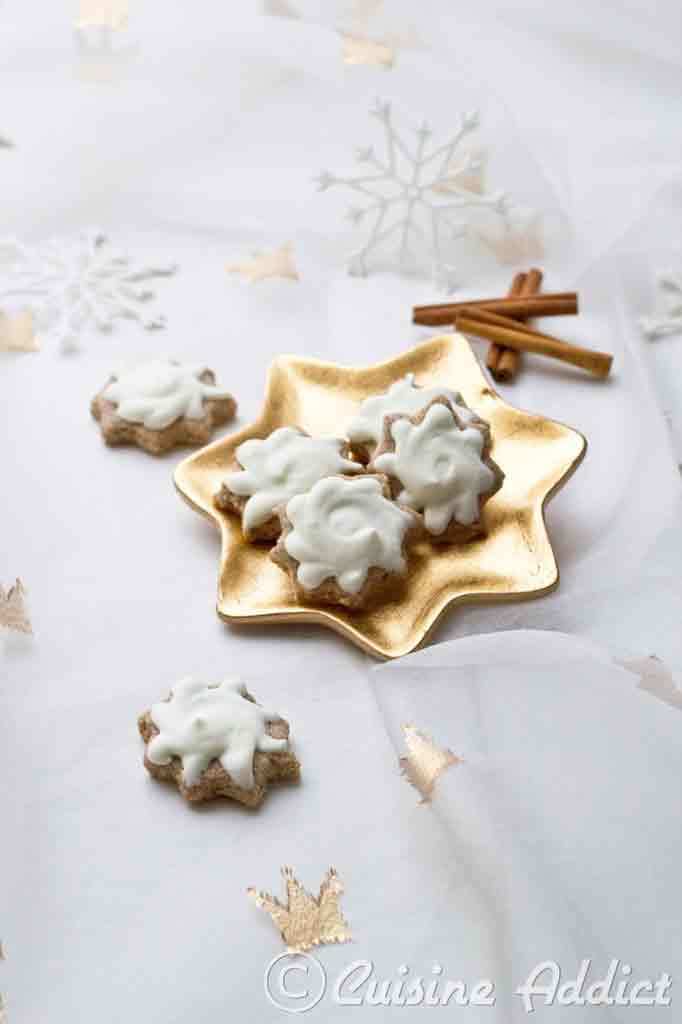 Bredele is a classic Christmas cookie or cake traditionally from the Alsacian and Moselle region of France. Many families cook these during the Christmas period and offer them as gifts to friends and family. They come in all shapes, sizes and flavours from cinnamon, vanilla, and chocolate to coconut, nutmeg and anise. It's really up to the baker's imagination.
An Assortment Of Grilled Meats & Sausages
Grilled meats and sausages are a familiar sight at all Christmas markets, especially Bratwurst. Other meats you'll typically find include, Alsacian hot dogs, boudin blanc. Magret de Canard (duck breast), Foie Gras ( goose or duck liver) and many more.
Meaty Sandwiches on Baguettes
Sandwiches with charcuterie galore on a tasty baguette. An affordable and convenient treat at all French Christmas markets. The varieties are endless; it just depends on the vendor and Christmas market. I've seen Magret de canard sandwiches and foie gras sandwiches, apple and brie, and so many more.
Belgian Waffle "Une gaufre"
I doubt waffles need any introduction. In addition to being popular street food, Belgian style waffles, the big thick ones are a Christmas market favourite, especially topped with Nutella or whipped cream (à La Chantilly) and dusted with sugar.
Nougat
Nougat pronounced [Noo-GAW], an Occitan word, pan nogat, probably from Latin panis nucatus 'nut bread' is a type of candy made with sugar or honey, roasted nuts, whipped egg whites, and sometimes chopped candied fruit. Generally considered a French treat, it exists in other cultures. The Italians call nougat as torrone, and the Spanish call itturrón. This sweet treat is extremely chewy, sticky and gets stuck in your teeth similar to a chocolate candy bar.
Calisson
Calissons are a regional delicacy from Aixe en Provence, believed to have its origins in medieval Italy. These petal-shaped specialty candies are made with finely crushed almonds, candied fruits (melons, orange peels), honey and orange blossom. Since 1991, local manufacturers who make Calisson must follow strict methods that only apply in France, so every bite into this chewy cake-like candy tastes perfect.
These are popular at Christmas markets in Southern France, but you can also find them all year round in grocery stores, airports and weekend markets. The most famous brand of Calisson is "Calisson d'Aix. "
Canelé aka Cannelé de Bordeaux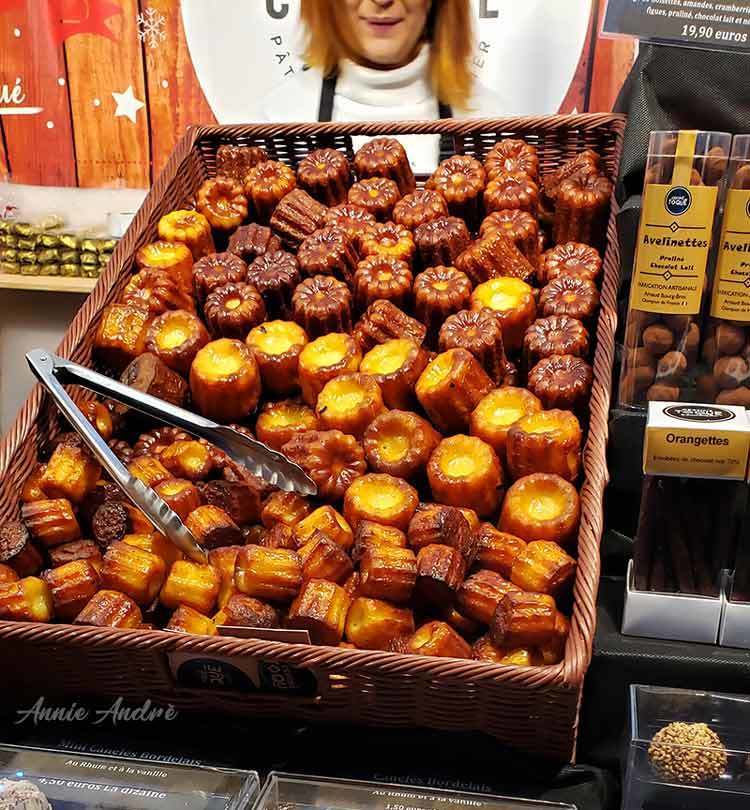 Originally from Bordeaux, Canelé [Cah-Nuh-Lay], this small, rum and vanilla flavoured French pastry is a regional pride which you can find throughout France all year round and at Christmas markets. It has a crisp exterior with a soft custard center that you can enjoy for breakfast, dessert or as an accompaniment for tea or coffee.
Surprisingly simple pastries, they need only a few basic ingredients: milk, flour, eggs, butter, sugar, and vanilla (rum optional). They get their unique fluted shape because they are baked in a special cylindrical fluted mould, usually made of copper which yields the best result because copper is a highly conductive metal that helps create that caramelized exterior.
Candied apple "Une Pomme D'Amour."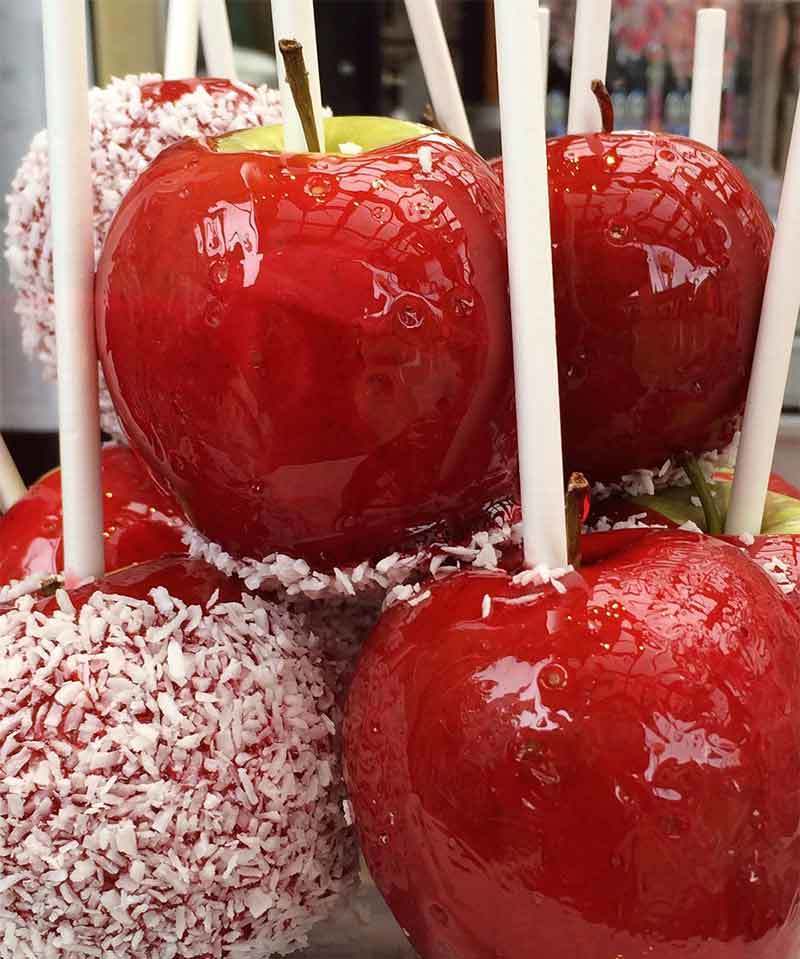 Invented over 100 years ago by American candy maker American William W. Kolb, Candy apples or pommes d'amour (apples of love) are a common treat found at many festivals in France, including Christmas markets.
Crepes "Crêpes"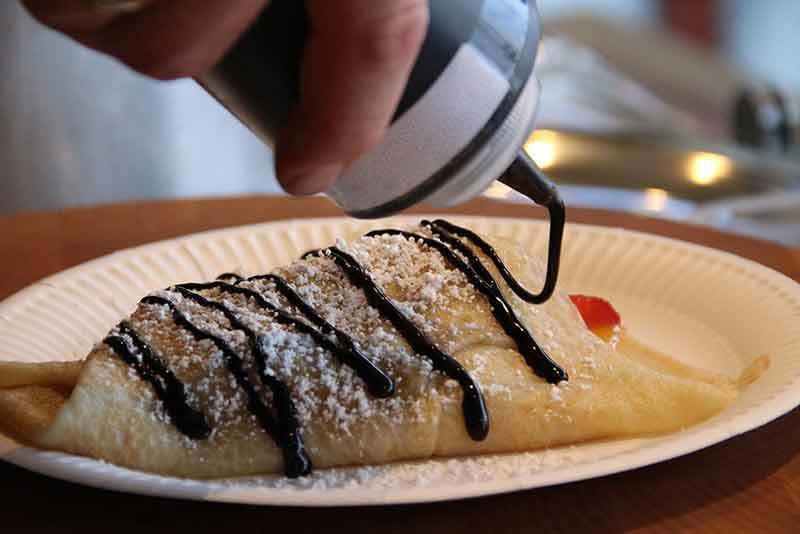 Crepes without a doubt are extremely popular with tourists and locals alike. In addition to the classic Nutella toppings, you can also order these with a variety of other equally delicious toppings and filling. Try the crepe au citron, a squeeze of fresh lemon and a coating of sugar. Crepes with confiture. Crepes with salty caramel, chocolate or just plain sugar.
French Spiced Bread "Pain d'épices."
Pain d'épices is a popular spiced bread, especially during Christmas time. It's very similar to gingerbread, and many online recipes refer to it as French gingerbread. There are a variety of ways to make French spiced cake, but the main ingredients are usually rye flour and honey with various spices. It can be eaten on its own, with butter or as a vehicle for cheese or foie gras.
Paella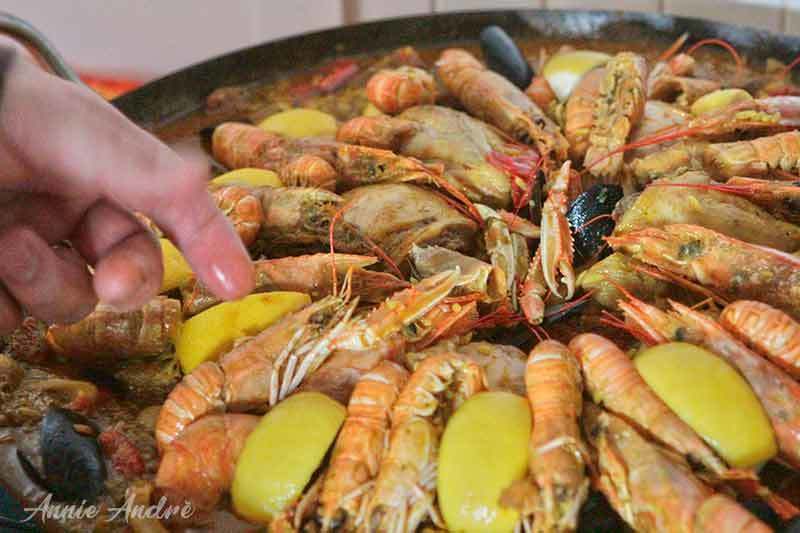 Paella, one of the most famous dishes in Spanish cuisine, is a popular dish on the Mediterranean coast of not only Spain but also France. This dish is eaten all year round along the southern region of France, but you can usually find it at Christmas markets in the south, often with mussels and prawns still in the shell.
Tartiflette
Tartiflette is another delicious cheese and potato dish that is extremely popular in the winter and at Christmas markets in France. Originally from the Savoy region in the Alps, it's a fairly new dish invented in the 1980s to increase the sales of French reblochon cheese. This dish consists of potatoes, onion and lardon and reblochon baked together. Similar to how mac and cheese are composed only with potatoes instead of pasta.
Raclette
Raclette is a semi-hard cheese made using ancestral methods with unpasteurized milk from cows that graze on alpine pastures. It's made on both sides of the French and Swiss Alps and enjoyed in a variety of ways.
If you head to a Christmas market in France and other locations such as Switzerland and even Germany, huge blocks of Raclette are heated under a special heat lamp or fire, then as the cheese melts, it's scraped on to bread, potatoes or meats. You can also eat it at home using a table raclette machine. We have one, and we love it.
Oysters "Des Huitres"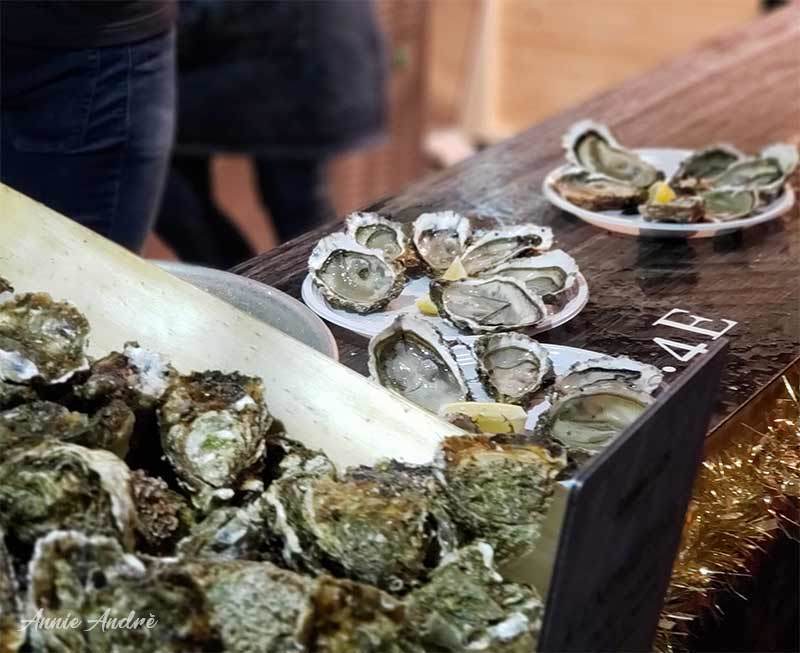 Oysters on the half shell are always celebratory food in France, mainly served during Christmas and the New year. It's often accompanied by a glass of champagne or white wine and of course, a lemon wedge.
[thrive_text_block color="note" ]You might be interested in reading French New Years' Eve Food Traditions: Is It Too Weird For You?
[/thrive_text_block]
Chickpea Pancake "Socca"
Socca, pronounced [Soo-KA] is a chickpea flatbread or pancake from Nice in the Côte d'Azur region of southwestern France and Italy. This savoury and inexpensive street food is made with chickpea flour, water, olive oil and salt, then mixed to form a batter that is poured into a copper pan and heated. Similar to a pancake.
I've rarely seen Socca offered in other regions of France, but it's an absolute must-try if you can make it to a Christmas market in the south, especially in Nice.
Stringy Potato Cheese Dish "Aligot"
Chances are, you've never heard of Aligot, pronounced [Ah-Lee-Go], but if you like mash potatoes and cheese, you'll love it. This French dish, traditionally from the Aubrac and Aveyron region in Southern France, is available in markets all year round, mainly in the southwestern parts of France.
I first discovered it at the Montpellier Christmas market and fell in love with it instantly. This highly addictive stringy dish is half mashed potatoes, half Tomme fraîche cheese with Crème fraîche and garlic. It's all mixed together and churned in huge vats with a wooden paddle and usually topped with a sausage. Sometimes you can find Truffle Aligot, which is heavenly. Home cooks can easily cook this at home even if you don't have Tomme Fraîche by substituting with another meltable cheese.
Belgian Style French Fries "Des Frite Belgique"
French fries are extremely popular in France. No exaggeration here, but they are everywhere, all year round. And at Christmas markets, you'll often find the lines the longest at French fry stands. If you're lucky enough to come across a stand selling Belgian fries, it's worth a try. They are thicker than regular fries and crispier because they are deep-fried twice. French fry stands usually have multiple types of sauces too: mayonnaise (classic most popular sauce for fries), Algerian sauce, white sauce, samurai sauce, curry sauce and of course, Ketchup.
Here is a short video clip (in French) talking about its popularity at the Strasbourg Christmas market. If the video does not play, you can view it here.
Roasted Chestnuts "Les Marrons Chauds"
And finally, roasted chestnuts. This traditional festive snack is widely available during the end of the year holiday season at French Christmas markets and street corners. These sweet and earthy treats are easy to find. Just follow the unique smell of chestnuts roasting on an open fire. Or keep an eye out for vendors selling their roasted chestnuts in little locomotive trains. I have no idea why the train motif is so popular amongst chestnut vendors.
Eat responsibly
Of course, these are just a small sampling of what you can eat at a Christmas market in France. Depending on the region and the Christmas market, you'll find a cornucopia of food to try. Other things I've had were foie gras, magret, cheese, charcuterie and more…