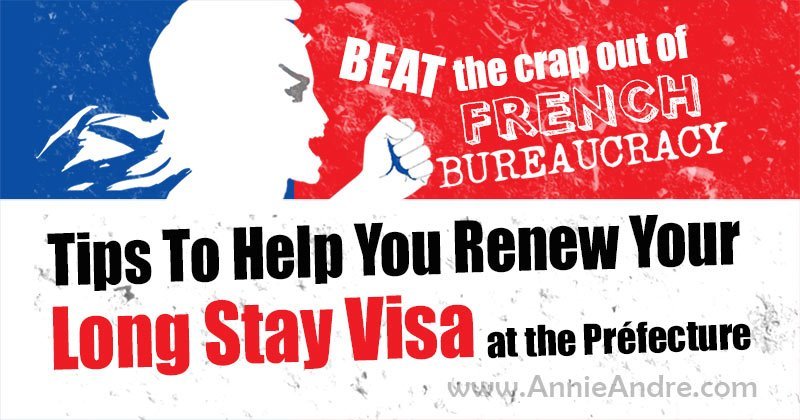 Want to live in France? Being a foreigner in a foreign country is harder than it looks. Here is a look at what we and other foreigners
living in France
have to go through to renew our visa, called a "titre de séjour" and tips to deal with the prefecture where you have to do it all.
I hate going to the préfecture- the place where foreigners living in France like me must go to take care of bureaucratic nuisances like visa renewals and other inevitable immigration issues that pop up at the most inconvenient times.
There is nothing you can really do to avoid the stress or frustration of dealing with the préfecture; however there are some things you can do to lessen the blows and bureaucratic obstacles when dealing with the infamous French bureaucracy. Here are a few helpful tips I've learned from over 2 dozen visits to various prefectures in my 5 plus years living in France.
THE UGLY TRUTH
"

Some French préfectures are worse than others. At some you need to queue up the night before and wait in line all night.
What I am about to tell you is not meant to scare you or deter you from moving to or living in France.
Instead, it is meant to prepare you for what you may have to deal with if you want to live in France. It's what I wish I had known so I could have better prepared myself and adjusted my unrealistic and naive expectations about visa renewals andin France for foreigners.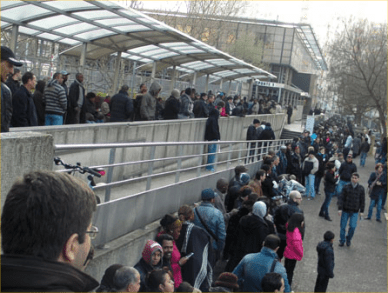 It could be worse than you imagined or better -if you're lucky.
Like most bureaucratic offices, a visit to one of the 101 or so préfectures in France almost always means hours of waiting in line, frustrating amounts of paperwork and / or irritable civil servants (known as "les fonctionnaires") who hold the fate of your life visa in their hands.
But that is where the similarities in bureaucratic organizations end because a trip to the prefecture IS NOT like a trip to the department of motor vehicle to get your driving permit.
No it's worse. Much worse.
Like evil snowflakes, no two préfectures are alike.
Each préfcture has it's own agenda, different procedures, processes and styles. Even the documents required from one prefecture to the next may vary.
Some French préfectures are worse than others. A simple trip to the préfecture to renew your visa, titre de séjour (resident card) or to change your address could mean queuing up the night before only to be told 12 hours later that there are no more spots for the day and to come back another day. Frustrating for anyone but even worse if you are elderly or have to bring your children.
This indignation many foreigners endure, the shame of France as some call it, to be treated like cattle for the right to stay in France legally is not just my opinion. It is a known fact that the system in which French préfectures operate and treats foreigners is lacking. There are articles upon articles across the internet ranting about how frustrating it can be for foreigners.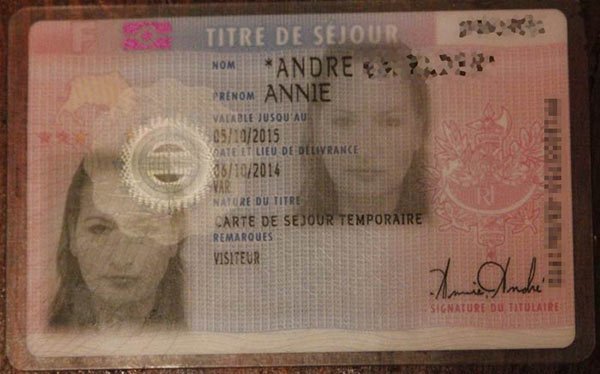 The National Assembly of France has even ranked the top 10 worst prefectures in France . Our préfecture in Montpellier came up 5th worst out of 101 across France.
Maybe you will be lucky like we were for four years and live in the district of the Toulon préfecture which in retrospect has a pretty damn good system when compared to some of the other préfectures. But again, we didn't know how bad it could get until we moved to Montpellier.
Maybe you will get really unlucky and end up in the district of the Bobigny prefecture where people arrive as early as 1 am to queue up with no guarantee of being seen at the prefecture at all.
So now that you know how bad and how good it can get. Let's get on to some general tips which may or may not help. The more you know the better prepared you will be.
Making an appointment
Here is a list of préfectures across France.
Generally speaking, smaller city prefectures are better, or rather less painful than big city préfectures. I think this may have to do with the fact that bigger cities have a bigger influx of foreigners which taxes the system and the workers more than in smaller city préfectures. There are only so many people the prefecture can handle in a day after all.
Try to make an appointment online or by phone.
If you have to go to the préfecture without an appointment, check the website hours for walk-ins. Some préfectures are closed on certain days and or only accept walk-ins during certain hours.
If you plan to walk-in without an appointment, do you need to get there early? At some prefectures, people queue up the night before while others not so much. If you can, do a walk by your prefecture to get a feel for what the lines look like in advance. If you see hundreds of people staning outside than you know you may have an issue and need to get there early to line up.
Be prepared to wait. Even when you have an appointment.
Be Vewy, Vewy patient.
Some prefectures call out your name when it is your turn. Listen carefully because the way French people say your name may not sound like your name to you. I have seen many people sitting waiting for their name to be called only to realise that a clerk came out and butchered their name. For example the last name "POWER" will be pronounced "POEWAH" in French. "THOMAS" will be pronounced "TOEMAW" in French.
Be Over-Prepared
Learn as much as you can beforehand. You may get a clerk who is not very helpful and not forthcoming with suggestions to help you achieve your goals. The more you know the better questions you can ask.
Always check the website first to see what the procedure is for dealing with your particular need.
Try to get a list of requirements from your prefectures website.
Don't assume that you will be able to skate by without that "one document".
Don't throw anything away
Keep careful records of correspondence and phone calls to the bureaucracy. Write down what you say and what they say.
Follow the bureaucracy's procedures.
Fill out their forms carefully and completely.
Mind your manners
Remember, the people behind the counters at the prefecture are human beings. Always, always be polite.
Say "bonjour" before asking your question and be sure to say "merci" when you are finished. It is common practice to say bonjour everywhere.
DO NOT lose your temper. The front line clerks are used to this and may write you off as completely irrational or insane.
Your Documents
Be over prepared with regards to documents.
Have originals and copies with you.
Create a 'contents' page or put post its on each section of documents you bring so everything can be found quickly.
Be aware that most docs must be translated to French. Even a simple birth certificate may be asked to be translated to French as is the case with us.
Translations must be notarized by a sworn translator called " traducteur assermenté" which can be extremely expensive. Don't be surprised if you are charged 45 or 65 Euros per page. We paid a little over 700 Euros to have all our families documents translated. Luckily we can use those translations over and over every year.
Go to a French photobooth to get French legal size photos and always have them handy. We seem to go through them quickly in France.
Expect the worst but hope for the best
Never be too optimistic going to the Prefecture.
You may be asked to provide documents which were not originally asked of you or listed on the website.
The rules are changing all the time so you never know what you might face. It's like a box of chocolates.
Don't expect administrative employees to treat you as if you were a customer in a restaurant or a store.
Communication
Don't expect the clerks to be able to speak English, it is very unlikely they will. You are in France after all.
If you don't speak French, have your questions written on a piece of paper in French. Look on Google translate or have someone help you.
If possible, bring someone to help translate.
No sometimes means YES
If you get stonewalled or don't get the help you need try to come back again in hopes of getting a different person. Sometimes different people have different interpretations of policies.
Or ask to speak to a supervisor. Nothing is set in stone and supervisors have more authority to consider individual circumstances.
Sometimes you get someone who just won't help you whatsover and other times you might get someone who goes over and above. Usually it is the supervisor who has the authority to break the rules.
Bottom Line
You'll never completely escape bureaucracies or completely beat French Bureaucracy. They're a necessary part of the French government functionality. But if you know how a system works, you can at least set some standards for how to deal with them.
Bonne Chance mes amis. You are going to need it.