**This post is image-heavy, so give it time to load.
This is a rather lengthy article . Feel free to use the table of contents to jump to a particular pool or city.
Did you know swimming is France's second favourite sports activity and pastime?
After hiking, swimming is France's 2nd favourite sports activity and pastime, according to a study by Statista. Every year, millions of French people flock to public pools, and you can too.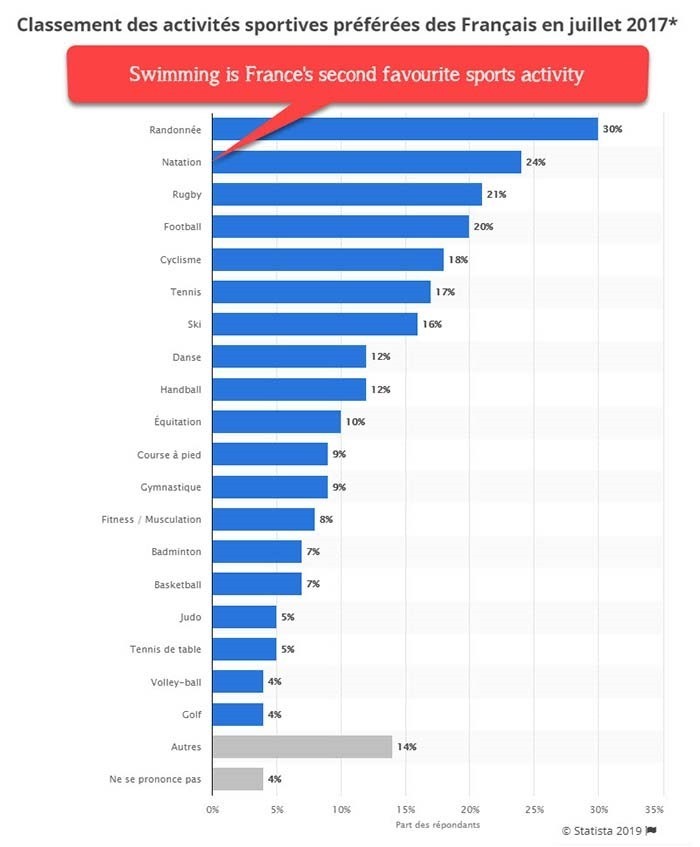 No matter where you go, you're sure to find a public pool in France nearby because most towns above a specific population have at least one pool. Cities with a larger population such as Paris, Lyon and Montpellier have several pools. For instance, Paris has 39.
In total, there are roughly 2881 public swimming pools scattered across French cities in France. (The number fluctuates from year to year as some pools close and others open).
But what are French public pools like?
Public Pools in France are better than you think
My daughter recently joined the local synchronized swimming club in Montpellier France, so it feels like I'm constantly thinking about pools these days.
At one of her swimming practices, I looked around the pool complex, and I felt lucky to have such a great public pool facility at our disposal.
Public pools (Les piscines municipales) in France generally meet or exceed my expectations in one way or another. That's not to say that every municipal pool in France is wonderfully perfect. I've been to a few that were subpar, but I have high standards, and I genuinely believe that those less than stellar pools were the exception. Or at least that's been my experience.
What makes the French pools on this list so unique?
I'm no "swimming pool expert," but I've dipped my toes into enough private and public pools around the world to draw some conclusions.
I handpicked public pools in France, which I think stand out from the others.
Some are historical sites that date back to the early 1900s with interesting period architecture.
Others are in breathtaking locations with spectacular views.
A handful of these French pools are modern architectural marvels that have that 'je ne sais quoi".
And some are so chock-full of amenities: they seem more like an aquatic amusement park then they do a public pool.
Don't forget to set your expectations
Although the public swimming pools on this list are extraordinary (relatively speaking), remember to set your expectations.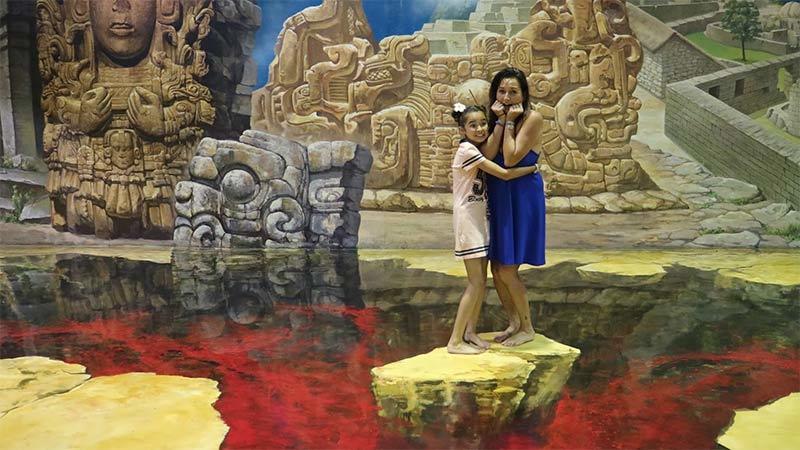 If you're looking for a serene, five-star swimming experience with still water in a quiet spa-like environment, it's highly unlikely to happen at a French public pool.
Remember that these are public pools that cost just a few euros to enter. Because of the low entry fee and popularity, they can get crowded and loud. Especially in larger cities, in warmer months and during children's school holiday breaks. Crowds mean more dirt, so please adjust your expectations when visiting these pools.
If, however, you're up for swimming with locals in a pool that stands out from the rest, then read on.
Let's start with Montpellier
Montpellier, located in southwestern France, is the 7th largest city in terms of population. It's also one of the fastest-growing cities with the youngest population in all of France. It might be the closest thing you get to a college town. It's also where I've lived for the past few years.
1) Piscine Olympique d 'Antigone (Montpellier)
Piscine Olympique d 'Antigone is my favourite pool on this list because I'm biased and because our family uses it regularly.
This modern bi-level sports complex (called POA by the locals) is big and bright thanks to its retractable roof and glass enclosure.
There's an Olympic sized pool dedicated to serious swimmers and swimming clubs like the polo team and my daughter's synchronized swimming team. There's also a jacuzzi and a fun recreational pool with a giant slide where people congregate to talk, and kids splash around very loudly.
A full price adult entrance fee is 5.20 €, or you can get a family pass for 13.20 € (2 adults +2 children). There are also aquatic classes and activities open to the general public for an additional fee.
10 Swimming Pools In Paris
Paris has 39 public swimming pools. Here are ten of Paris's unique swimming spots.
2) Piscine Molitor (Paris)
And this is where it all began!
The Molitor pool is no longer a public pool; however, it's ground zero with regards to public pools in France as far as I'm concerned, so I included it. And you'll be glad I did because it has a fascinating history.
You may recognize this pool from its role in the movie and novel "Life of Pi." But this pool is also famous for a few other things.
Initially built in 1929, architect Lucien Pollet who worked for Les Belles Piscines de France, designed this pool to resemble an ocean liner with art deco stained glass. At its peak, the Molitor pool was a magnet for all things chic. It's where you went to be seen as much as you went to swim. Movie stars frequented the pool, and there were often glamorous poolside fashion shows.
The Molitor pool is the birthplace of the modern-day itsy bitsy teeny weeny two-piece bikini.
It was in 1946 at one of those fancy fashion shows that Designer Louis Réard unveiled and photographed the first modern-day two-piece bikini.
Although women wore two-piece bathing suits as early as the 1930s, they usually had a modest bottom that covered the hips, derrière, and navel. Rénard's bikini exposed all three letting it all hang out. It was the furthest thing from modesty. His bikini design was so skimpy, no one local wanted to model something so risqué at the time so Rénard hired Micheline Bernardini, an American Nude dancer.
The Molitor pool deteriorated over time and was eventually abandoned in 1989. It became very popular with graffiti artists, skateboarders and as an unconventional place for raves and concerts. The city came close to demolishing the building however it was declared a National Heritage site and saved for phase three of its existence.
The Molitor today.
In 2014 after being closed for 25 years, private developers returned the Molitor to its former glory, adding a glamorous 124 room hotel, restaurant, spa, and private club.
Although it's now a private pool, you can still swim in this pool rich in history if you book a room at the new Molitor Hotel Paris or become a member of Club Molitor. The latter gives you access to the pool, workout facility and spa area. It will only set you back about €3,300 ($3,600) per year.
Your second option is to pay €195 ($213) for an all-day access pass to the pool, sauna, and hammam, which also gives you an hour-long treatment at their lush Clarins spa. If this is out of your price range, don't worry. The same architect makes the next pool, and it costs less than 5 euros to swim in it.
Go ahead, book a room at the Hotel Molitor
3) Piscine Pontoise (Paris)
Designed by Lucien Pollen, the same designer of the Molitor pool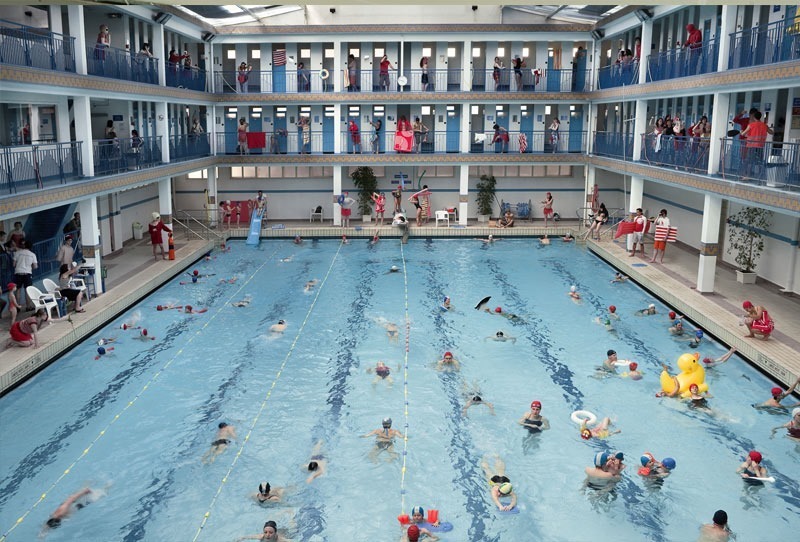 ** The Pontoise pool is closed temporarily as of Decembre of 2018 for security reasons and renovations. It's estimated to reopen the beginning of 2020 with an amazing facelift.
If this pool looks familiar, it's because Lucien Pollet, the same architect who designed the Molitor pool also designed this pool— constructed in 1934, 4 years after the Molitor.
This lovely 33m pool is set inside a stunning art-deco building. Its enormous glass ceiling and mosaic frescoes are flanked by two mezzanine levels with vintage changing cabins. And like the Molitor, this pool is a historical monument. The downside is that there is only one pool so the pool can get quite crowded. It's also in a popular location, near the Notre Dame Cathedral.
Pay a few euros more, and you can use the sauna, squash court, cardio room, and fitness courses. Or go during "nocturne," night swimming to music from 8 pm to midnight on certain nights, for 11,10 €.
4) Piscine Pailleron (Paris)
Designed by Lucien Pollen, the same designer of the Molitor and Pontoise pools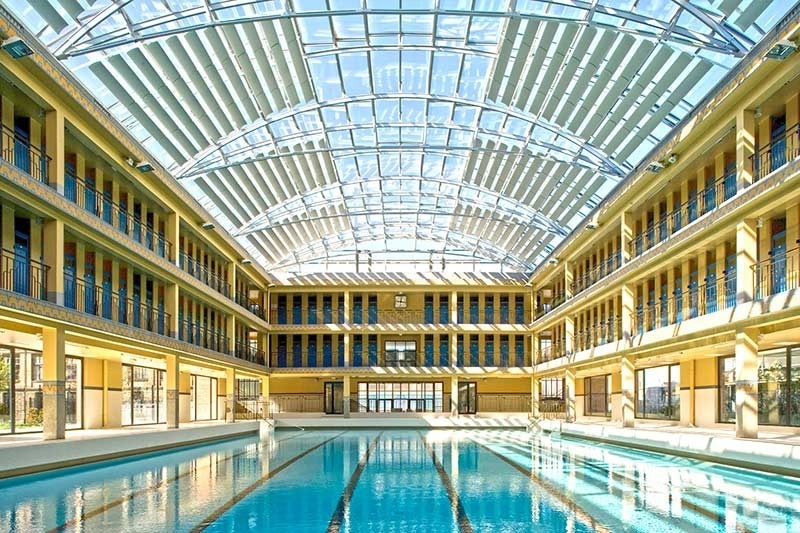 Located in the 19th arrondissement of Paris, next to the trendy Buttes Chaumont park is the Pailleron pool nestled inside a charming historic red brick building with an art deco interior.
There is a two-level mezzanine with vintage individual changing cabins. The pool opened in 1933 but abandoned in 1998. Following a few years of restoration, it reopened in 2006 with a new integrated sports complex. The filtered light that comes through the glass roof gives the pool lots of natural light. In the summer, the pool opens its lawn area where you can see French families and couples tanning on towels.
5) Piscine Hébert (Paris)
The secret art deco pool in Paris

One of the best kept aquatic secrets in Paris is the Hébert pool, which is hidden behind the Marx Dormay metro station across from a small wooded square in the 18th arrondissement. This pool is far away from the busy Paris center, so it's usually quiet and calm, unlike many of the other more popular pools around Paris.
The pool initially opened in 1896 as a sort of bathhouse fed and heated by artesian wells but was completely renovated in 1990. Its two pools, which measure 25m x 12m and 12m x 12m, are well-lit thanks to the buildings' modern solarium design and the roof that opens up.
At just 3,50 € per entry, it's an affordable way to get some laps in if you're near the 18th arrondissement.
6) Piscine Roger le Gall (Paris)
Care to go skinny dipping in Paris?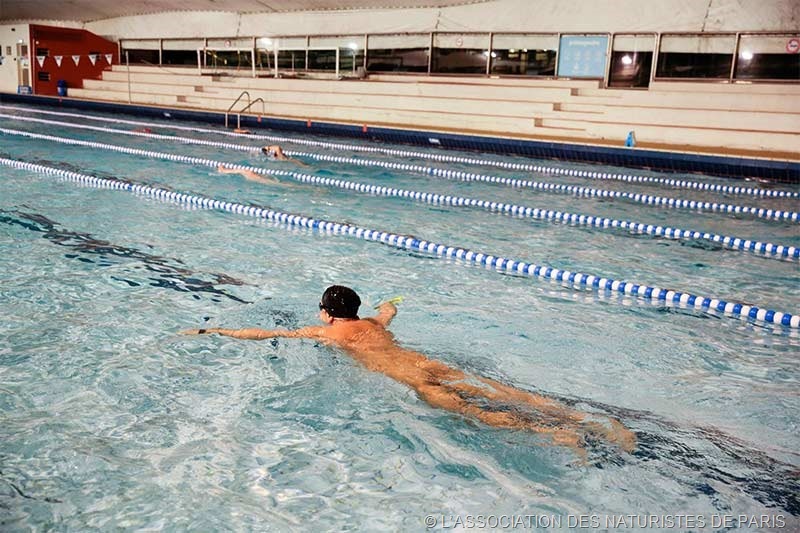 The Roger Le Gall Swimming Pool might seem like your run of the mill pool, but what sets this pool apart is that you can skinnydip here.
Three nights a week, the l'Association des naturistes de Paris (Paris Naturist Association) offers nude swimming at this pool.
If this sounds appealing to you and you want to go skinnydipping, show up with 10 Euros and your birthday suit. If your18 to 26 it's only 5 euros. Got kids under 18? Bring them; they can swim in the buff for free as long as a paying adult accompanies them.
Although swimming in the nude is open to people of all ages and gender, there is typically more males than females. Typical!
Nudists swim nights: Monday, Wednesday and Friday (9 p.m.-11 p.m.) Check the nature club website as times and days may change. French site: naturistes-paris.fr/adhesion-et-visites/tarifs/
7) Paris Plages Bassin de la Villette (Paris)
The other Paris Beach you didn't know about.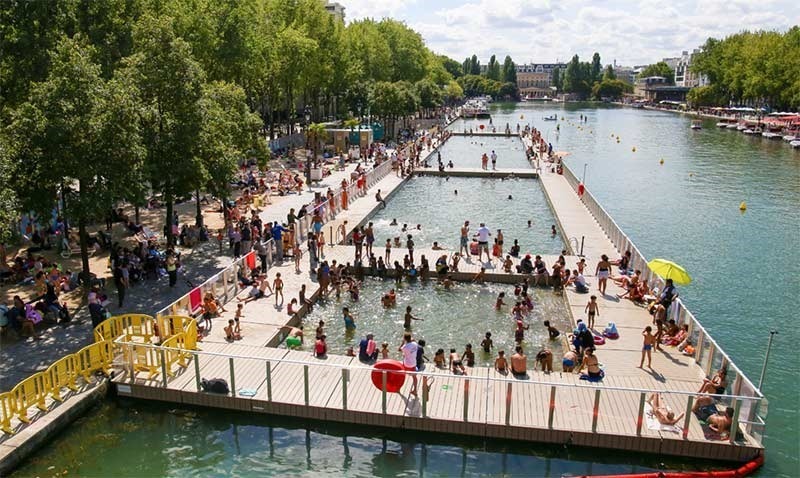 Most visitors to Paris know about the Paris plage (Paris beach), a temporary artificial beach along the river Seine open from July to September. But did you know there's a second Paris beach on the outskirts of Paris in the 19th arrondissement on the quay de la Marne?
Le Bassin de la Villette is a set of 3 pools which jut out of the Quay on an artificial lake that connects the humanmade canals de l'Ourcq and Saint Martin. The pools vary in depth to accommodate both children, adult swimmers, and people with reduced mobility.
8) Piscine des Amiraux pool (Paris)
You may recognize piscine des amiraux (the admiral's pool) immortalized in the cult French film "Amélie."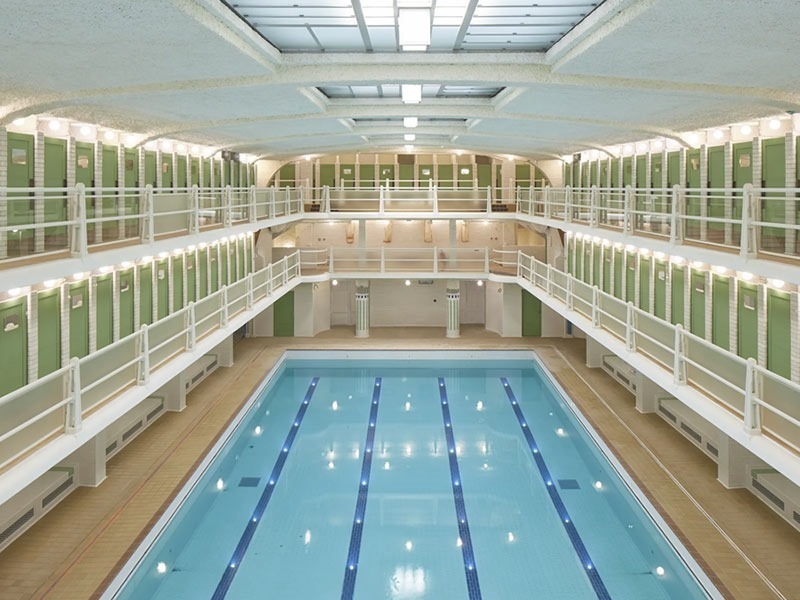 Designed by Henry Sauvage, the pool dates back to the 1920s. Monsieur Sauvage also invented the stepped building where the higher floors are set back like a step to give room for each tenant to have an open terrace. At the centre of the apartment building is where he put the municipal swimming pool.
In 2017, the pool closed but opened after two years and a 9.7 million euro restorative facelift. The restoration maintained the integrity of the original art deco design, including the double mezzanine levels surrounding the pool with individual changing cabins — a design feature in many of the older art deco pools.
9) Piscine Georges Vallerey formerly Piscine Les Tourelles (Paris)
In the 1924 Olympics, this was the first pool to use the standard 50 m pool with marked lanes.
Built for the 1924 Olympics, Piscine Les Tourelles was also the first Olympics to use the standard 50m pool with marked lanes, which we now call an Olympic sized pool.
In 1989 the pool was renovated and reopened as piscine Georges Vallerey, although it's often referred to by its original name. The 50m pool is often sectioned off into two 25m pools separating the serious lap swimmers from classes.
When the weather permits, sunbathers can get a tan thanks to the retractable plexiglass roof added as part of the renovation.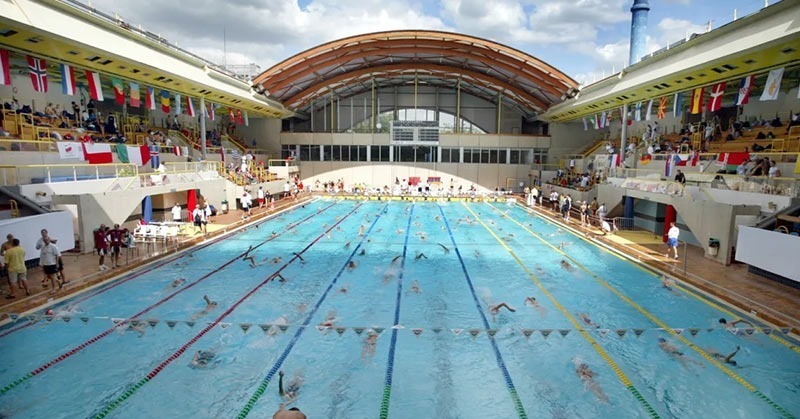 10) Piscine de la Butte-aux-Cailles (Paris)
It feels like your swimming in a cathedral.
Housed inside a beautiful red brick building registered as a historical monument is the Butte-aux-Cailles pool. The pool sits on top of an artesian well dug in 1893 and was initially a public shower and bathhouse before becoming a public swimming pool in 1924. Making this the oldest pool in Paris and France.
There are three pools, a two 25m by 12m exterior pools and a 33m indoor pool. Swimming in the interior pool, with its art deco high vaulted roof supported by several concrete parabolic arches, is like swimming in a white cathedral. The water temperature is kept warm thanks to the natural sulphurous spring, roughly 28°C.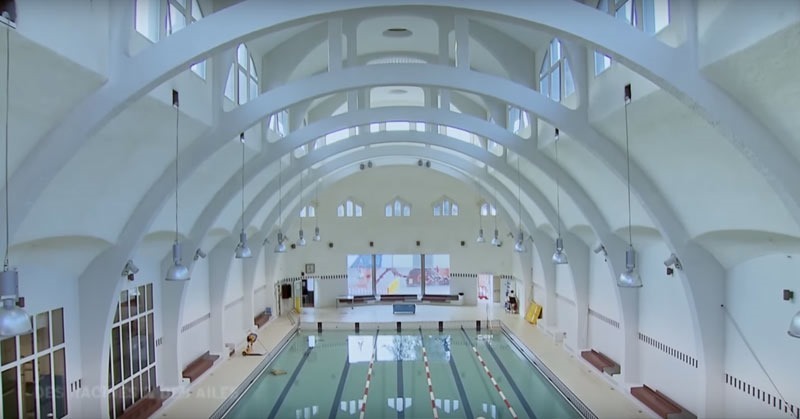 11) La piscine Joséphine Baker (Paris)
Swim on the Seine river in a pool named after a famous Parisian transplant: American singer and actress

Take a walk down the Seine river towards the François Mitterrand library in the 13th arrondissement, and you'll come across a floating pool that stands out from other Parisian public pools on this list. This impressive glass and steel barge created by architect Robert de Busni has a retractable glass roof and floats on the Seine river.
Due to its location and visibility, it is extremely popular (especially during the summer) and is often jam-packed with Parisians looking to enjoy an open-air swim, a workout in the fitness rooms, or to relax in the sunrooms, saunas, jacuzzi or hammam.
There's also a wading pool where children love to splash around while parents watch. The pools are open all year round, and with an admission price of 4 Euros for visitors, this is a great place to add to your Paris bucket list.
Other pools located throughout France
The remaining 29 pools on this list are scattered through France in no particular order.
Issy-les-Moulineaux
Issy-les-Moulineaux is a suburb of Paris, just 6km from Eglise Notre Dame, considered km zero of France.
12) Piscine Aqua Zena (Issy-les-Moulineaux )
Possibly the only Zen Feng Sui public pool in France
Unlike the art deco pools of Paris, the Aqua Zena pool is a very modern experience with it's recessed rounded skylights and rounded corners. It's got an almost retro 1960s feel to it. Mikou Design Studio designed this 14.5 million Euro Piscine du Fort structure in 2014.
They engaged Feng shul specialist Laurence Dujardin to guide them in understanding the Chinese philosophical system of Feng shul. Their water in the swimming pools is ozone-treated, so there's no chlorine smell.
A full-price adult ticket costs 4,70€. You can also buy a day pass, which gives you access to everything- the fitness centre, solarium, squash courts, sauna, and hammam. Hungry? Have a bite in the cafeteria.
Creil
The perfect day trip from Paris is Creil, a short 25-minute train ride.
13) la piscine de Creil
Another art deco pool inaugurated in 1926. The Creil pool was initially modelled after the Parisian pools Butte-aux-Cailles (1923) and Stade Nautique des Tourelles (1924).
During WW2, the pool was heavily damaged during air raids and bombings but it was rebuilt in 1963. Over the years, the facilities became dilapidated, and out of date, so it was given another update in 2013. The result is a modern pool with updated facilities and art deco touches.
For a mere 4,30 €, visitors can swim in the beautiful 25m pool or splash around in the fun pool with water jets where you have a view overlooking the Oise river thanks to the glass windows. For an extra 4,30 €, take advantage of the sauna and hammam.
Biarritz
Biarritz, in the heart of Basque Country, just 40 minutes from the Spanish border, offers visitors a unique atmosphere. Known for its thriving surf scene, beaches, and therapeutic water, it's a place where posh restaurants and spas live side by side lowbrow pizza joints and surf shops.
14) Piscine Municipale (Biarritz)
An indoor pool with huge bay windows overlooking the beach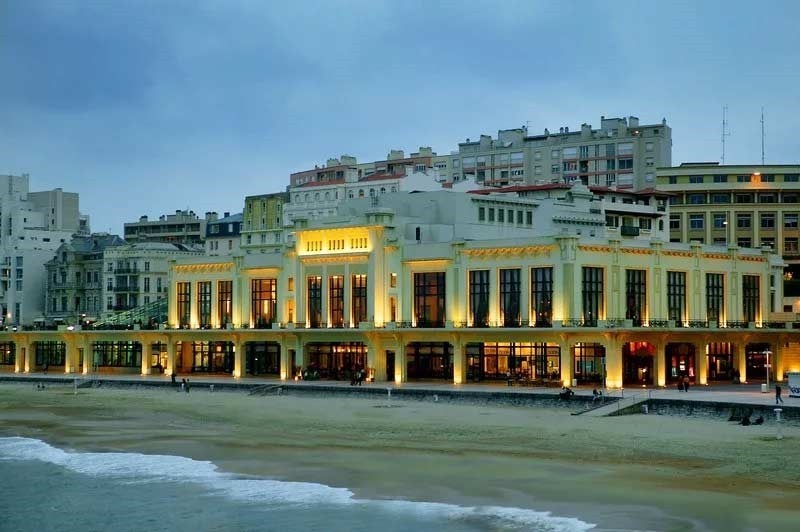 For a few Euros, swimmers can dip their toes in one of two heated indoor sea-water pools located in an elegant art deco building. Swimmers can also relax on the indoor decks in front of the large bay windows where you'll have a view of the beach on the Bay of Biscay.
Aix en Provence
Does Aix en Provence even need a description?
15) Piscine Yves Blanc (Aix en Provence)
Peter Mayle (RIP) never mentions the Yves Blanc public pool in his book "A Year in Provence." However, it's worth visiting this newly renovated complex, which features a 50m eight-lane outdoor pool under a retracting roof with stadium seating and a smaller 25m indoor pool. There's also a wading pool for the little ones right outside the building.
You have to see it to believe it. Check out this video showing what the pool and building modifications. https://www.youtube.com/watch?v=RQe71HuOtGM
Bordeaux
Out of the six public pools in Bordeaux, France's ninth-largest city, two stand out.
16) La piscine de Bègles (Bordeaux)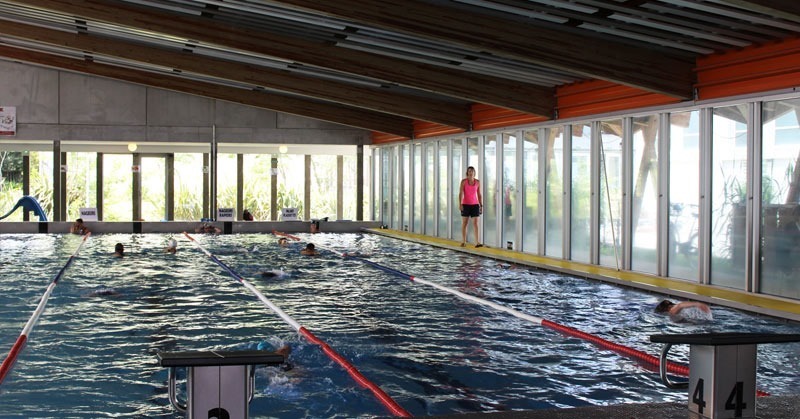 Situated in a 1932 art deco building in Bordeaux, France is a 25m swimming pool with hammam and patio. You can also practice climbing or biking in a grassy landscaped area. And if you're hungry, grab a quick bite at the restaurant/tea room.
17) La piscine Judaïque (Bordeaux)
Guys, bring your speedos here. No joke!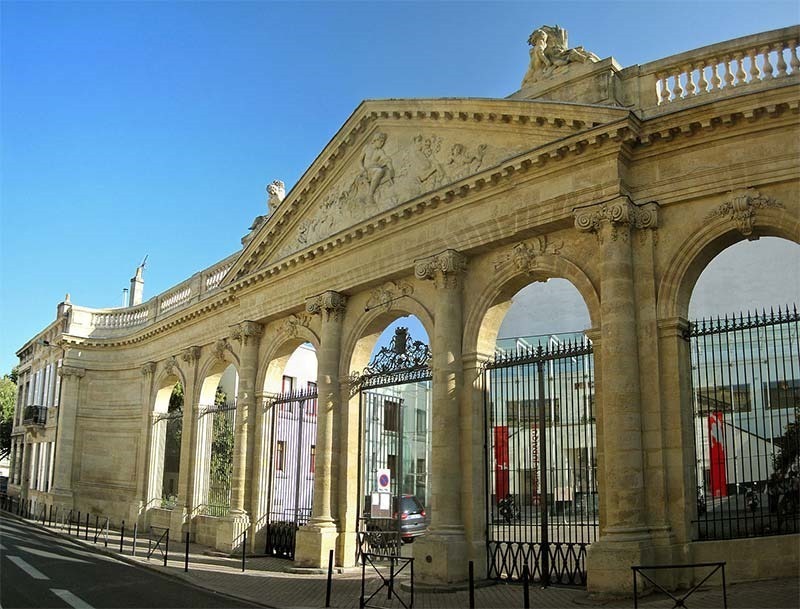 For 5.05 euros, you can swim in one of 2 pools at the Judaique pool in Bordeaux, which is hidden behind a giant concrete portico of a former riding school dating back to the 1800s.
By contrast, the interior is very modern, open and light.
The retractable roof and glass wall, which divides the two pools can open up, giving the illusion that both pools are side by side outdoors.
This pool has a reputation for being extremely strict about their bathing suit policy, specifically for men. Many male reviewers have complained that they were asked to exit the pool because they were not wearing speedo type swimming trunks.
Lyon
Lyon, France's third-largest city in terms of population, has 11 public pools, but there's one that stands out from the rest because of its location, view, and amenities. This pool is a victim of its success.
18) Centre Nautique Tony Bertrand formerly La Piscine du Rhône (Lyon)
Swimming on the Rhone river


In the heart of Lyon on the left bank of the Rhone river is le centre Nautique Tony Bertrand also known by its former name piscine du Rhône. This pool gets extremely popular, especially during the warmer months, when many Lyonnais locals complain of waiting up to an hour to gain entry.
Once inside, it's worth the wait. The open-air outdoor pools give you a spectacular view of the city and the Rhone river. There's a 50m Olympic size pool for laps. A huge 168m x 24 m pool sectioned off to give swimmers a fun slide area, a wading area with water jets for kids, and a larger space for splashing around.
The centre is open all year round, and the price of regular admission is 3.40 euros while locals pay 2.60 euros. Definitely worth a visit, especially if you have kids or want to get in some laps to burn off all those croissants you ate.
Rennes
Like Strasbourg, Rennes, the capital city of Brittany in northwest France, is known for its traditional half-timbered houses.
19) Saint-Georges pool (Rennes)
Bark at the moon while swimming in an art deco pool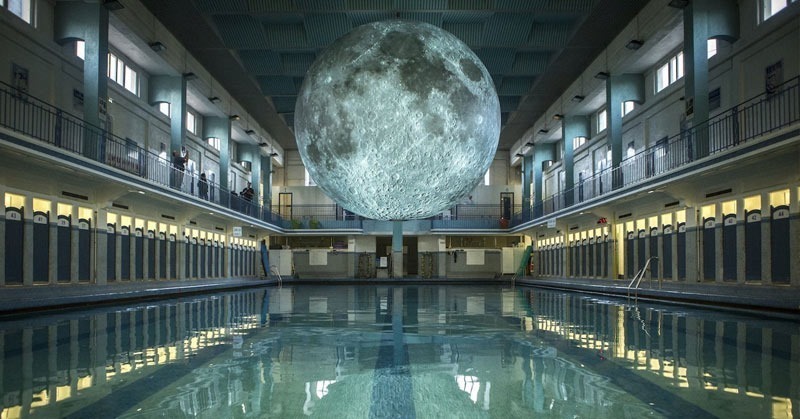 Classified as a historical art deco monument is Renne's first swimming pool, which opened in 1925.
It was designed by Architect Emmanuel Le Rayhe who based his design off of the Butte-aux-Cailles pool built of 1923 as well as the pool in the Nancy thermal complex, built-in 1904.
Strasbourg
20) Les Bains municipaux de Strasbourg
It's like swimming in a museum
A visit to Les Bains municipaux de Strasbourg (the bathhouse of Strasbourg) is like swimming in an ancient ruin or museum.
First inaugurated in 1908, it's considered one of the oldest bath complexes in the world. It features two swimming pools, Roman baths, a sauna (previously the medicinal baths), a steam room, and marble pools at different temperatures.
All this splendour sits inside a beautiful neo-Romanesque style building, which is listed as a historical monument since 2000.
Unfortunately, the pools are very rundown but are due for a complete renovation and will likely be transformed into a centre of wellbeing.
Lingolsheim
Lingolsheim is a suburb of Strasbourg you might not have heard of, but this refreshing pool should be on your list.
21) Piscine de Lingolsheim
Swimming in a sunflower pool (Piscine tournesol) that looks like a spaceship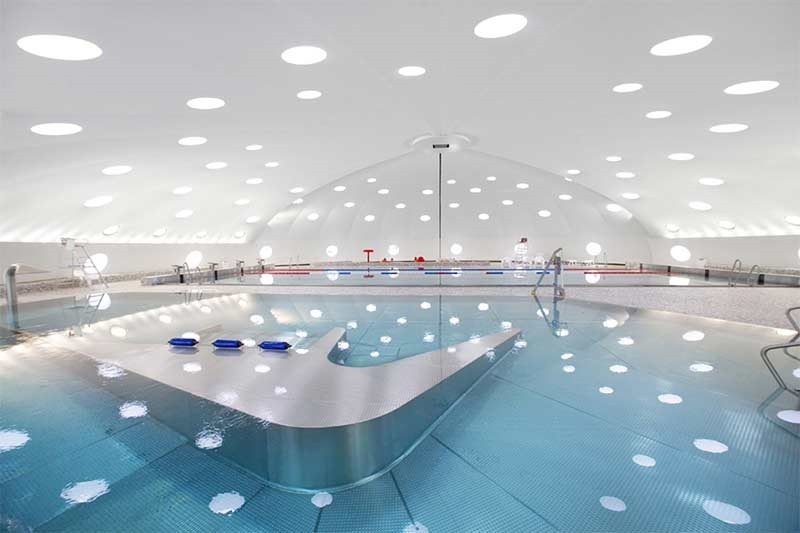 photo © Jean Baptiste Dorner, Communauté Urbaine de Strasbourg
The pool in Lingolsheim, a banlieue of Strasbourg, is one of 183 prefabricated pools built in the late '70s and early 80's called Les piscines tournesols (sunflower pools).
Some say it looks like a UFO, while others think it looks like a mushroom. Either way, the sunflower pool has a place in history; many French adults and children learned to swim in a sunflower pool. Unfortunately, half of the original 183 sunflower pools have either been destroyed or fallen in disrepair and abandoned.
A few lucky ones, like this one, have been beautifully restored. It's like swimming in a spaceship.
Toulouse
There are 12 municipal pools in Toulouse, including the largest outdoor pool in France and Europe.
22) Alfred Nakache été and hiver pools (Toulouse)
Home of the largest outdoor pool in France and Europe.

On the island of Ramier in the middle of the Garonne river is a swimming centre called Piscine du parc des sports Nakache, named after the French Olympic swimmer Alfred Nakache.
Nakache été
There are several pools set on this 1.85 acres (7,500 square meters) including the pool Nakache été (Nakache summer), first inaugurated in 1931. At a whopping 150m long and 50m wide, it's the largest outdoor pool in France and Europe and often makes the list of largest pools in the world.
At the far end of the été pool is a man-made Grotte (cave) with a cascading waterfall made of lava from Mount Vesuvius now listed as a historical monument.
The pool area also features four picnic areas, two paved beach areas for swimmers to sunbath, and various sports activities such as outdoor volleyball. This pool is extremely popular during the summer months. It gets incredibly crowded as people try to cool down in the hot Toulouse weather.
Nakache hiver
The pool is only open during the summer months. During the winter months, swimmers have can head next door to the Nakache hiver (Nakache winter). It features a 25 m and 16 m pool enclosed in a building with art deco touches.
Thonon-Les-Bains
Thonon-Les-Bains is an adorable spa town situated on the edge of Lake Geneva.
23) Plage Municipal (Thonon-Les-Bains)
Swim on lake Geneva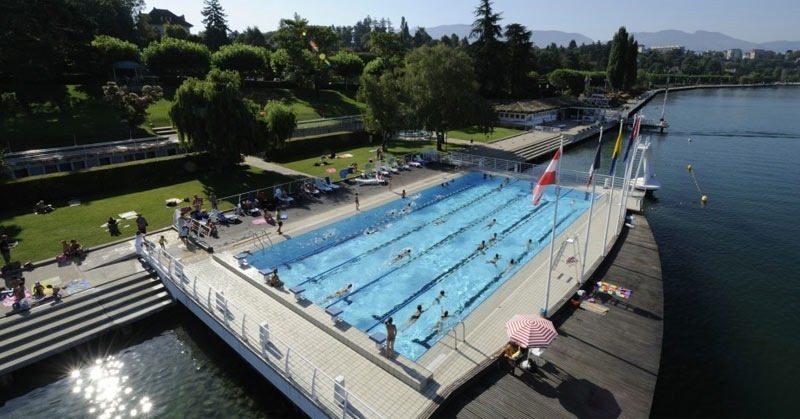 Another outdoor pool overlooking a body of water is a pool called Plage municipal (public beach), located in Thonon-Les-Bain an hour from Geneva Switzerland on Lake Geneva (French: lac Léman).
There are three superb full-size swimming pools enclosed in a grassy park with plenty of trees. There's a smaller pool for diving: a shallower children's pool and an Olympic size pool which sits right on Lake Geneva. There's also a fantastic 100 Metre long slide that winds itself through the park around the pools.
A standard entry is 4.50 euros, but locals pay 3.50, and children under three are free.
Dieppe
Dieppe is a fishing port on the Normandy coast of northern France.
24) Les Bains (Dieppe)
Swim with a view of a 1000-year-old castle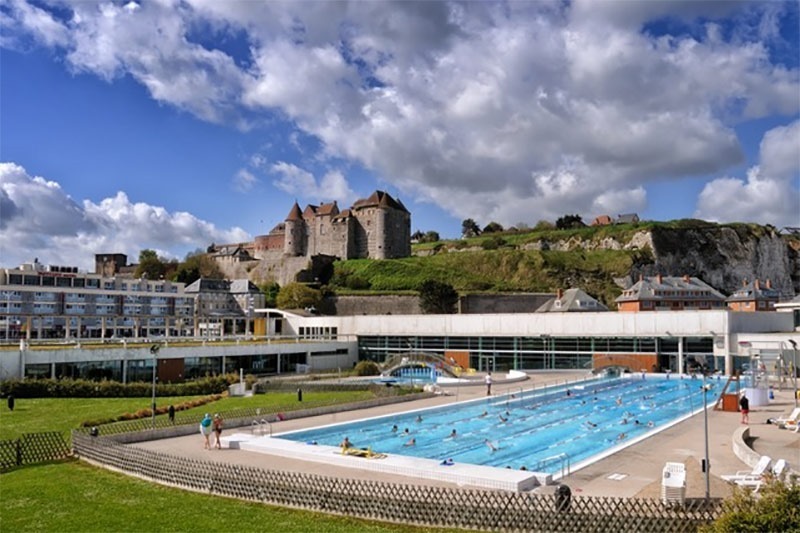 The swimming complex in Dieppe is located right off the beach with AMAZING views of Château de Dieppe, a restored castle founded in 1188. The complex features two 50m seawater pools, one indoor and one outdoor pool.
Chamonix
Chamonix, known for its fantastic skiing, is a French resort city nestled at the foot of Mont Blanc. It also shares a border with Switzerland and Italy
25) Centre Sportif Richard Bozon (Chamonix)
The hills are alive with swimmers.
The Centre Sportif Richard Bozon in Chamonix is a multipurpose sports complex with a lot to offer.
It features a 25m indoor pool, play pool with waterfall, river rapids, water jets, 130m covered water slide, solarium, jacuzzi and hammam. The 50m outdoor pool gives you breath-taking views of rocky mountains tipped with snow and is open from June to Septembre while the indoor pool is open all year round.
Prices are steeper here at 7 euros for adults and 5 for kids.
Hyerès
A city on the French Riviera and one of my favourite outdoor pools.
26) Complexe Aquatique-Piscine (Hyères Les Palmiers)
It's the French Riviera.

I had to include a pool from the French Riviera's because, well, it's the Riviera. I also lived here with my children and husband for almost five years before moving to Montpellier.
Getting to this pool can be a little complicated. You need a car, or you need to take the bus. There is no tram or metro in town. There are three main pools, including an Olympic outdoor pool, a 25m indoor pool, and a 12.5m kids pool. There's also a 21m long slide, fun pool area with a jacuzzi, hydro-massage jets, massage benches, and a paddling pool. For a few euros extra, you can use the Hammam and Sauna.
I can't prove this, but my husband used to swim at this pool quite often and said that women often took their tops off in the outdoor lap pool.
Only on the Riviera.
Le Havre
27) Les Bains des Docks (Le Havre)
A futuristic modern pool.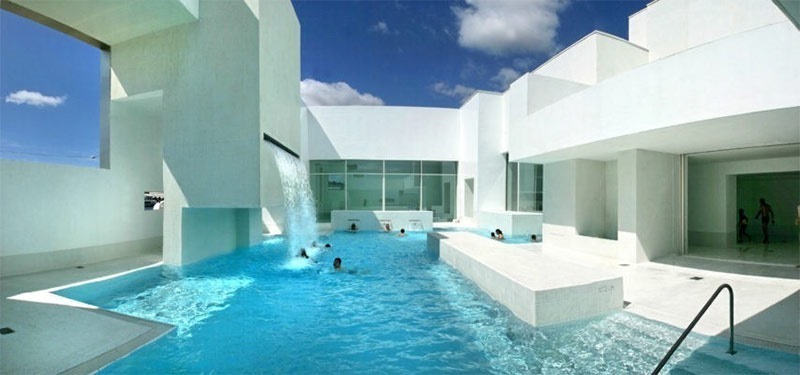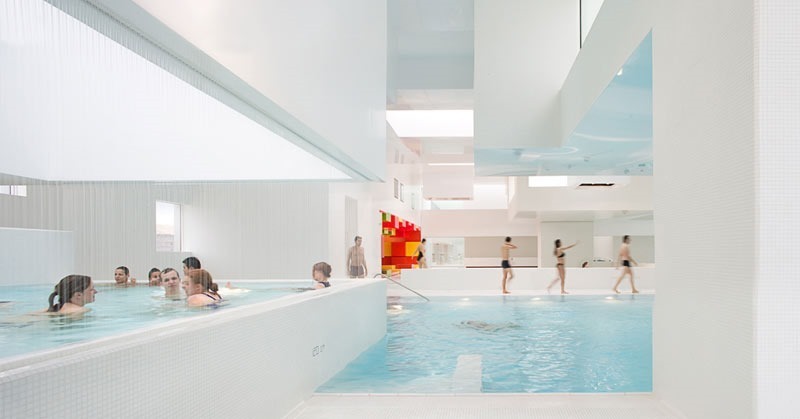 Inspired by Roman baths, Le Bains des Docks is a vast complex of 10 indoor and outdoor pools of varying sizes, including an Olympic size pool.
Once inside, straight, boxy designs painted white surround you. It feels and looks very futuristic.
Chartres
Chartres is best known for the Cathédrale Notre-Dame de Chartres which, a UNESCO World Heritage Site and one of the finest and best-preserved Gothic cathedrals in France and Europe.
28) L'Odyssée (Chartres)
Opened: September 25, 2009
What sets this place apart is its size and amenities. One look around the Complexe Aquatique de l'Odyssée, and you might think you're in an oasis aquatic park.
Largest aquatic centre in France
With over 5000 sq. Meters of surface water, it's the largest aquatic centre in France. There's not one but two Olympic size pools where swimmers can swim laps to their heart's content.
Europes largest wave pool and running river pool
Visitors can float along Europe's largest wave pool, immerse themselves in Europe's largest running river, or jettison down one of several slides. There is also an outdoor lagoon and wading pools for the kiddies to splash around. During the summer, the outdoor volleyball area and man-made beach area is quite popular with families and couples, especially when the temperatures start to rise.
For those that want more of a spa experience, there's a sauna, a hammam, and a relaxing spa with massaging jets.
Like many public pools, there is an assortment of swimming classes for kids and adults offered throughout the year, including scuba diving classes. A full price entry for one adult is around 7 euros.
Watch this video; you're kids will beg you to take them here.
https://www.youtube.com/watch?v=0o0qyPY9K4U
Limoges
Limoge is a city in Southcentral France, on the Vienne River most famous for its Limoge porcelain dolls and industry since the 18th century.
29) Centre Aquatique Aquapolis (Limoges)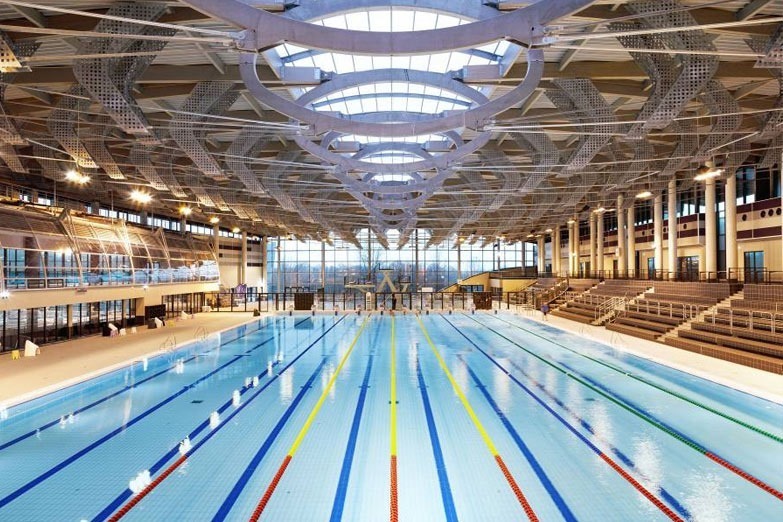 Like the aquatic centre in Chartes, the Limoge aquatic centre is like a big aquatic amusement centre.
It has a beautiful Olympic sports pool, a 25m learning and activity Pool with a moving floor, Lagunas, slides, a 3 level diving pit, workout rooms, man-made pool river, classes, and more.
Sainte-Radegonde
If you're ever in the Loire valley, this place is like the Disneyland of pools.
30) Les Bassins du Thouet (Sainte-Radegonde)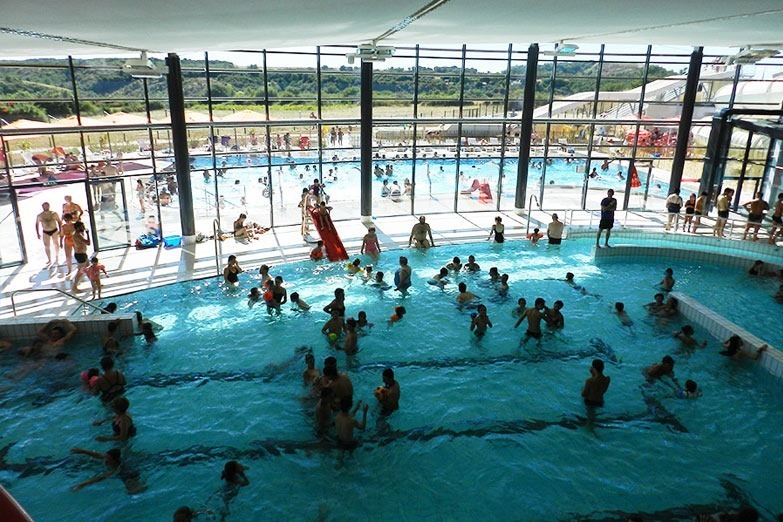 Made for a new generation, the aquatic centre in Sainte-Radegonde, another giant aquatic complex. In addition to a huge indoor and outdoor pool, there are play pools, a 25m nordic pool, slides, a sauna, jacuzzi, workout room, hammam and aquatic classes.
The basic entry fee for one adult is 5 euros. You'll pay extra to use the sauna, hammam, workout room, and classes.
Villenave d'Ornon
Villenave d'Ornon is the fourth-largest suburb of Bordeaux.
31) Piscine Olympique (Villenave d'Ornon)

This large complex has an eight-lane Olympic sized swimming pools, several smaller pools, a solarium & sauna and plenty of classes. They claim to be able to accommodate up to 1072 bathers simultaneously.
Bruay-La-Buissière
32) piscine Salengro (Bruay-La-Buissière)
The only outdoor art deco pool in France.
Constructed in the 1930s, this stadium-park and swimming pool in Bruay-La-Buissière (northern France) claims to be the only outdoor art deco pool still existing in France. It's also a world heritage site.
It's one of the few public pools in France where swimming caps are not mandatory.
Saint-Martin-Vésubie
Saint-Martin-Vésubie is a small picturesque village located 1000 meters above sea level roughly two hours north of Nice and Cannes.
33) Vesúbia Mountain Park (Saint-Martin-Vésubie)
A family's indoor paradise rain or shine.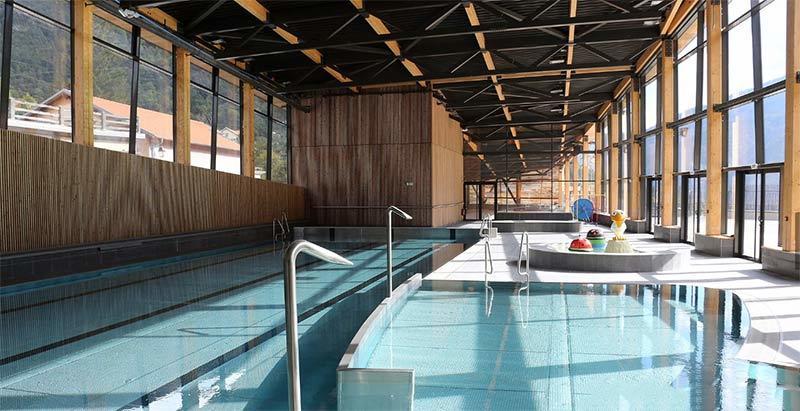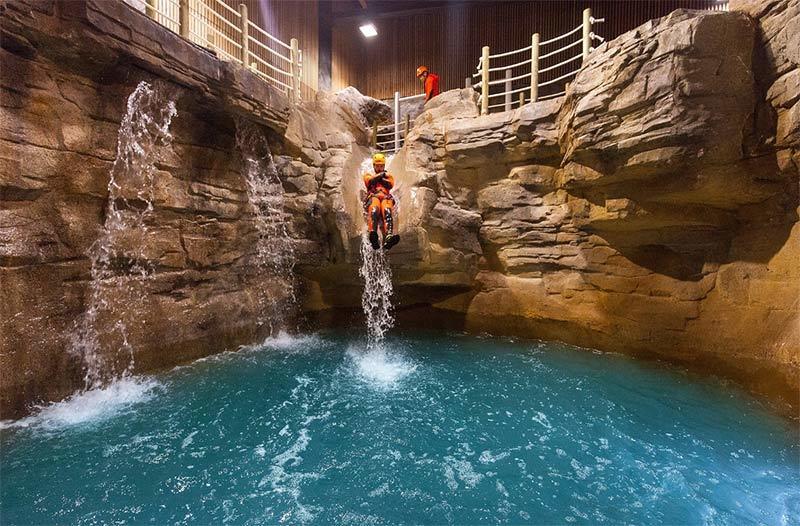 The Vésubia Mountain Park activity center is a must-visit, especially if you want to go somewhere truly unique with the kids. The aquatic area features a 25 m pool, outdoor beach area, sunroom, hydro-massage bench and massage nozzle and paddling pool for the little ones. Access to the pool area is around 6 euros for an adult and 4 for children up to the age of 12.
For an additional fee, you can try indoor rock climbing, indoor zipline and even indoor canyoning and spelunking. Prices for these extra activities vary but expect to pay around 12 euros per hour.
Mérignac
34) Stade Nautique (Mérignac)
The 50m x 15m pool is under an interesting bubble tench, which makes the pool bright but keeps the direct sunlight out. There is also a small 25m x 10m pool, a paddling pool for children from 1 to 6 years, and a diving pit (these 2 activities are only available in summer). There's a sauna for adults and children, and if you're hungry, head over to the restaurant open for lunch from Tuesday to Saturday.
Outdoor Seawater Pools On the Beach
Can't make up your mind between swimming in the sea or a swimming pool? Dive into one of several open-air seawater pools (piscine d'eau de Mer ) dug out of the beaches of France on the Atlantic coast.
These pools were all built back in the late '20s, and 30's and they served a purpose – so swimmers could enjoy swimming in the sea even when the tide is out. The sea retreats very far out on the beaches in NOrthern France.
Saint-Malo
35) La piscine Bon-Secours (Saint-Malo)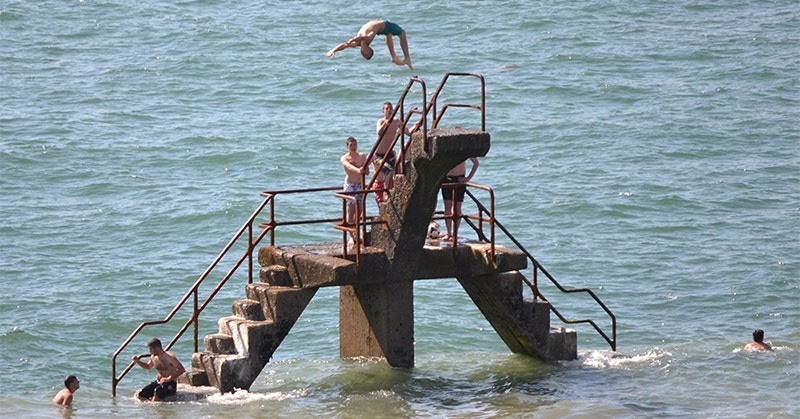 Directly on the Bon-Secour beach in Saint-Malo is a 5500 sq. Metre outdoor seawater pool. First Inaugurated in 1937 by then-mayor M René, the swimming pool is open 24 hours a day, and it's free.
Saint-Malo has one of the worlds' most significant tidal changes, so the water in the pool changes up to twice a day, at each tide. In comparison seawater in the nearby sea pool in Dinard, refreshes only on higher tides.
Check out this video and watch the kids dive right into the water. https://www.youtube.com/watch?v=zPgA1VlroFw (start watching from 47 seconds)
Dinard
36) La piscine d'eau de mer de la Porte d'Émeraude (Dinard)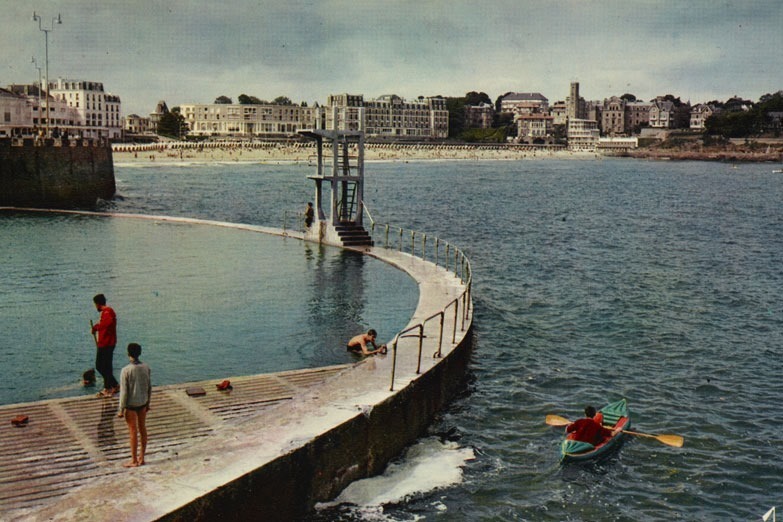 The seawater pool in Dinard is located just 20 minutes from Saint-Malo and also has a diving platform.
37) Seawater pool on Prieuré beach (Dinard)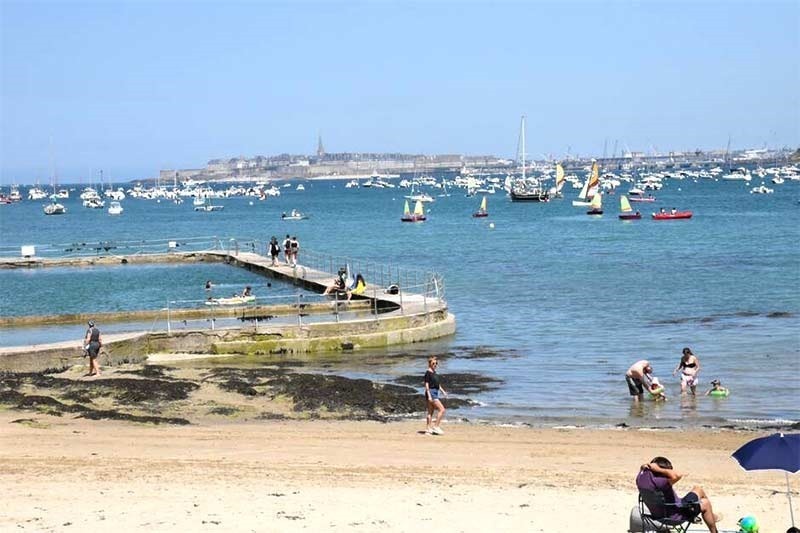 Dinard has a second outdoor seawater pool on the beach. Just 21 minutes south of the seawater pool on Ecluse beach is a much quieter beach, Plage du Prieuré. Less is known about this particular pool, but you'll have breath-taking views of not only the sea but the famous walled city Saint-Malo in Brittany.
Saint-Quay-Portrieux
Saint-Quay-Portrieux is a small commune in the Côtes-d'Armor department of Brittany in northwestern France. Its population of roughly 3000 has remained virtually unchanged since the 70's.
38) Outdoor Saltwater Pool (Saint-Quay-Portrieux)
Châtelet beach is one of three beaches in Saint-Quay-Portrieuxc, a seaside resort town with yet another seawater pool. Built-in 1929, around the same time as the other seawater pools on this list. The seawater is renewed at every high tide when the levels exceed 9m. (high tide can go as high as 12m completely hiding the pool.
The public pool turned into a museum in Roubaix
The next time you're in Lille, go to the neighbouring city of Roubaix. It has a fascinating pool inside a museum.
39) La Piscine (Roubaix)

The pool in Roubaix originally opened in 1932 but closed in 1985 for safety reasons. In 2001, it reopened as Musée d'art et d'industrie, but most people just call it La Piscine Museum.
It's a unique museum concept and an unusual setting for various works of art. Be sure to check out the stone figures and statues around the pool.
If you do decide to visit the piscine museum, be sure to pick up the Lille City pass. For 28 USD, it gives you free access to more than 30 tourist sites and attractions in Lille, including the Piscine museum of art and Industry in Roubaix. Plus you can use the pass to travel around the city for free on Lille's metropolitan public transport network (metro, bus, tram)
Why go to a public pool instead of a high-end pool at your hotel?
The public pools on this list may pale in comparison to some high-end hotel pools, but remember; these are public pools for the masses with a price point that can't be beaten.
For less then the cost of a Starbucks frappuccino coffee, you can spend the whole day, if you want, swimming and cooling down in these pools. It's an excellent value for your money. Plus, you can flex your French language skills and experience what it's like to live in France versus swimming at your hotel pool with other tourists.
Vives les piscines municipales!