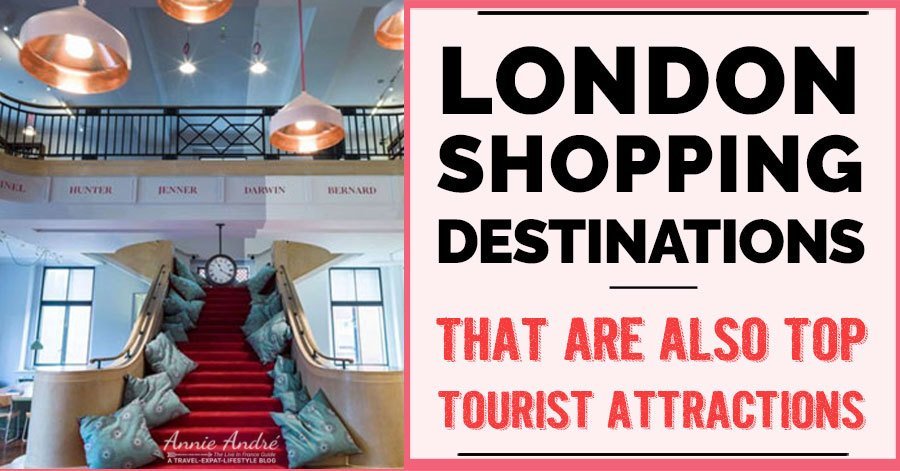 Whether you want to flex your
credit card
or just do a little window shopping, London is a shopper's paradise.
Recognized internationally as one of the world's most important fashion capitals, London is jam-packed with designer shops, luxury department stores, exclusive shopping streets and famous markets.
Here are 11 recommended shopping destinations who, with the exception of Borough Market, are all conveniently located within walking distance of each other.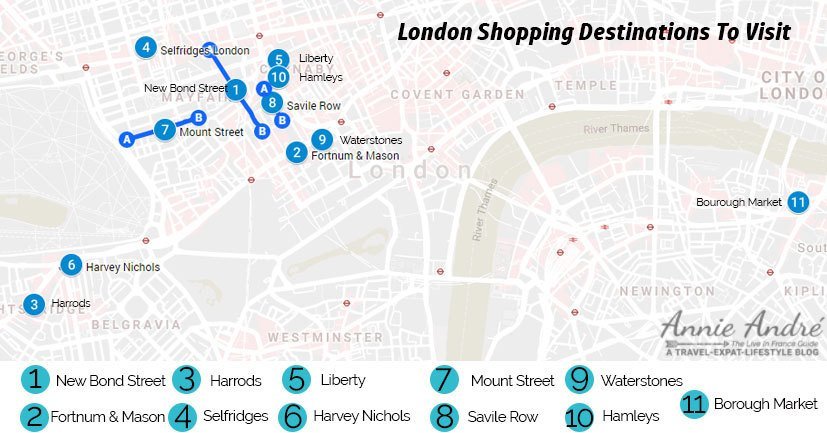 1. New Bond Street
For Luxury shopping that rivals Paris
New Bond Street is an 800-metre long street in London which links Piccadilly to the famous Oxford Street.
It's where the rich and famous with expensive and extravagant taste clamour to find a concentration of sophisticated designer shops like Burberry and Hermes, exclusive jewellers like Cartier and Tiffany and high-end art like the kind found at Halcyon Galleries. The infamous Sotheby's auction house is also located on New Bond Sreet. (According to Westminster City Council, Bond Street has the highest density of haute couture stores anywhere in the world. )
In 2017, New Bond Street stole the first place prize from the Champs Elysées in Paris as the most expensive and sought-after strip of real estate for retailers in Europe. Rents average $1,179 USD per square foot per year on New Bond Street.
[thrive_text_block color="dark" headline="You might be interested in reading"] 18 of France's most popular shopping streets for shopaholics.[/thrive_text_block]
Even if you can't afford it, it's worth a trip to window shop.
And if you're looking for someplace to stay in London, The Marylebone Hotel always gets top reviews. It's also conveniently located just (500m) a few minutes walk from designer boutiques on Bond Street and the shops of Oxford Street including Selfridges and John Lewis. At roughly 200 to 300 USD per night, it's an affordable and ideal base dedicated to shopping and sightseeing compared to some alternatives.
If you have the budget and prefer a more luxurious 5-star hotel, there's The Connaught hotel, in the Mayfair area, also not far from Bond Street. It offerers on-site Michelin-starred dining, a holistic spa and 2 chic bars. Plus upon arrival, guests receive bespoke butler and concierge services.
Located at New Bond Street
2.Fortnum & Mason
Best known for its Luxury fine foods
Known as the best grocery store in England and the official grocer to the royal family for over a century, Fortnum & Mason or Fortnum's, as it's known in the UK was founded in 1707 as a small grocery store selling quality and exotic foods.
During the Victorian era, it grew and expanded to include homeware, beauty products, clothing and accessories to become what some people say is the worlds first department store.
The Fortnum logo and iconic turquoise packaging is known by everyone in the UK and is somewhat of a status symbol.
Be sure to check out their hampers which are some of the best in the world and their impressive tea selection.
Located at 181 Piccadilly, St. James's, London
3. Harrods
Largest Luxury Department Store in the UK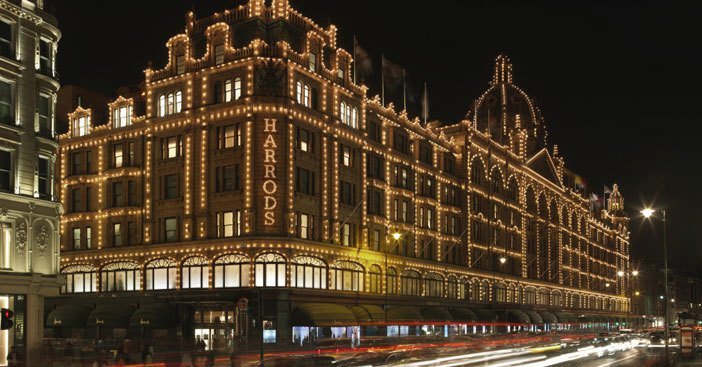 Charles Henry Harrod founded Harrods in 1849 as a humble grocery store much like Fortnum & Mason.
Today Harrods is the largest department store in the UK and represents the height of British luxury.
The store's motto is "Omnia Omnibus Ubique", which is Latin for "All things for all people, everywhere" and it delivers on its promise by providing everything a shopper could ever want thanks in part to its size…
As the largest most well-known department store in the UK, Harrods boasts over 1 million square feet of retail space spread over 7 floors and over 330 departments that showcase the best luxury merchandise, from high-end fashion and accessories to the finest homewares and latest technology. There is an acclaimed food hall with nearly 30 restaurants, toy kingdom for the kids, an Ice cream parlour, a donut shop and more.
Wealthy Egyptian born Al Fayad, who once owned Harrods put a lot of his own personal touches into the building such as the Egyptian elevator and glittering Egyptian room which is adorned with several busts of himself. Following the death of Mr. Al Fayad's son Dodi and Princess Diana in a car crash in Paris, he also created a memorial to the couple in the store.
Plan on spending the whole day, and braving the overwhelming crowds of people.
Located on Brompton Road in Knightsbridge, London
4. Selfridges
Luxury Department Store
Founded in 1908 by Harry Gordon Selfridge, Selfridges' flagship store located on the famous Oxford Street is another high-end department store in London—the second largest department store in the UK after Harrods.
If you've ever caught an episode of the TV drama Mr. Selfridge (which I love), you know all about how this American born businessman revolutionized British shopping and invented intricate and artistic window displays that all department stores now have adopted.
Located at 400 Oxford St, Marylebone, London
5. Liberty
Luxury Department Store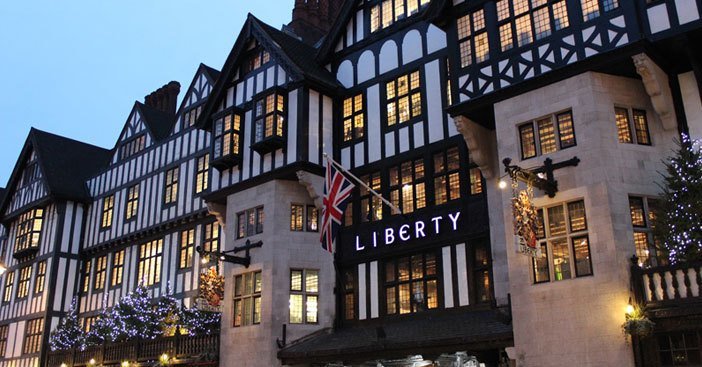 Liberty department store, founded in 1875 by Arthur Lasenby Liberty, is one of London's most traditional looking department stores—done in the mock Tudor style, known also as half-timbered or colombage in French.
When it originally opened, it sold ornaments, fabric and art objects from japan and the East. Today Liberty sells luxury goods including men's, women's and children's fashion, cosmetics and fragrances, jewellery, accessories, homeware, furniture, stationery and gifts.
Located at Great Marlborough Street in the West End of London.
6. Harvey Nichols
Luxury Department store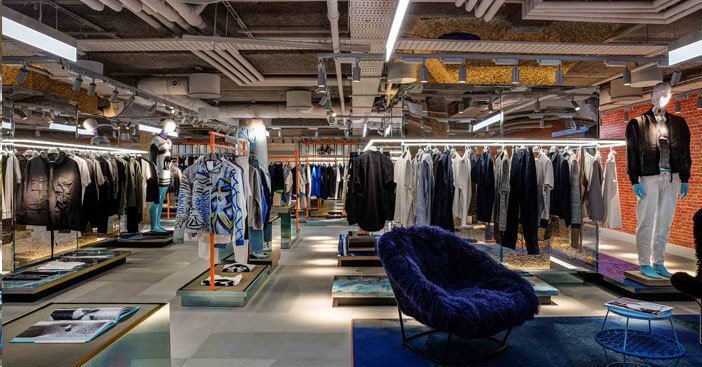 Founded in 1831 by Benjamin Harvey, Harvey Nicols was originally opened as a linen shop but expanded over the years to become an upscale department store.
Located just a few blocks from Harrods, some might say that Harvey Nichols is the younger more fashionable version of the two.
Princess Diana often frequented the 5th-floor restaurant.
Located at 109-125 Knightsbridge, Belgravia, London
7. Mount Street
Luxury shopping street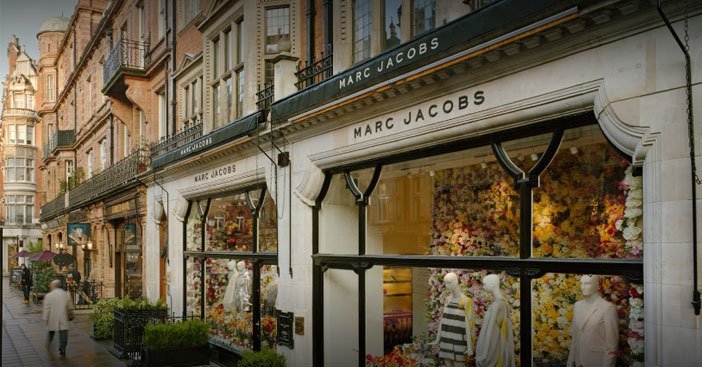 Not to be missed when visiting London is Mount Street in London's affluent Mayfair district.
The street is an aspiring mix of old-world charm and 21st-century niche, luxury, beauty, fashion, art, antiques and exclusive restaurants and gives Bond street a run for London's luxury retail supremacy.
Prestigious brands that call Mount street home include Balenciaga London, Lanvin Ladies Boutique, Goyard, Moynat, Marc Jacobs, Oscar de la Renta, Stephen Webster (jeweller shop), niche retailers like antique and cigar shops. There's even a Porsche showroom.
Located at Mount Street in London
8. Saville Row
For finely tailored suits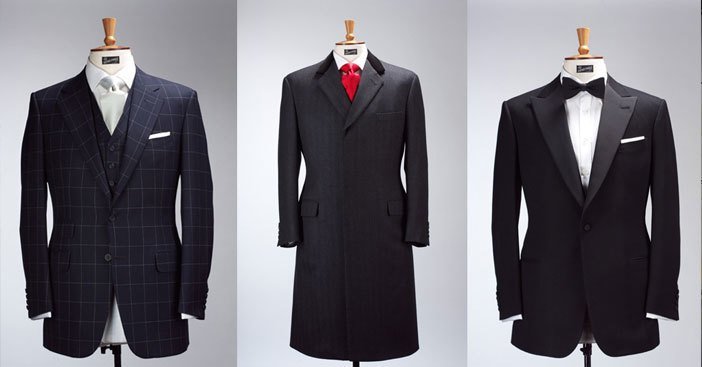 If you're interested in getting something tailored then head over to Saville Row. A short little street which has become synonymous with good tailoring.
Henry Poole & Co who is credited as being the founder of Saville Row and its reputation as THE PLACE FOR BESPOKE TAILORING is also credited with creating the modern Tuxedo in 1864. The shop still exists at No.15!
Bespoke tailoring: clothing cut from a pattern drafted from scratch for the customer. Think of bespoke tailoring as the opposite of off the rack ready to wear suits.
In 2018, the website GQ British featured the article "Savile Row tailors: the GQ Guide" which called "London the menswear's global capital with Savile Row being the most important street in that world because it creates the best suits in this world."
The street is so legendary for the quality of its tailoring that the Japanese word for a three-piece business suit is "Sabiro" which is a Japanified way of saying "Savile Row".
Located at Savile Row, Mayfair, London
9. Waterstones
For Book Lovers
Waterstones is a British book retailer with over 200 retail outlets. The Waterstones flagship building at Piccadilly is the store to visit though.
Be prepared to spend the whole day here because the book selection can't be beaten and the location is huge. It's literally an 8 story department store of books —the largest bookstore in Europe.
There are comfortable sofas, an excellent restaurant & café on the 5th floor open for breakfast lunch and dinner. You can even enjoy a glass of wine and settle down with a good book.
Located at 203-206 Piccadilly, St. James's, London
10. Hamley's
For Toy store Lovers
If there was a paradise on earth for kids, it would probably be Hamley's—the oldest, largest and best-known toy shop in the world. This place makes Toys R Us look like a dump.
Set over 7 floors, it's considered one of the cities top tourist attractions. Entering the store, you will be amazed. There is so much going on, on every floor.
There are wonderful toy displays, live toy demonstrations by the staff which is renowned for their fun friendly demeanour. There are also themed areas like the Harry Potter-themed area on the lower floor.
What else would you expect from the best toy shop in the world!!
Get there early, the shop fills up fast. And be prepared to spend a lot of money. Most travellers complain that this store is extremely expensive.
Located at 188-196 Regent St, Soho, London
11. Borough Market
For Lovers of Food Markets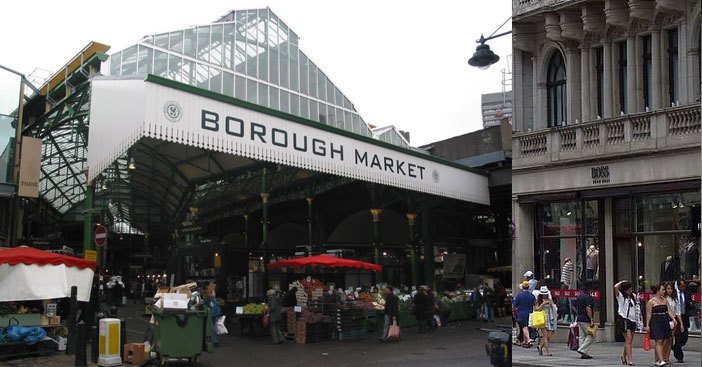 This bustling covered market located next to the London Bridge is London's most renowned and oldest food market, dating back to the 12th century.
A visit to the market is like taking a culinary trip around the world. With its fascinating maze of stands, stalls and carts selling anything and everything from all four corners of the earth. From Spanish Tapas and spicy Thai Curry to favourite local dishes, you can't go wrong here.
There is no smoking allowed and no dogs allowed with the exception of seeing-eye dogs.
Hours of Operation: Open Monday to Saturday from 10 am to 5 pm. On Fridays, the shops close at 6 pm. (closed on public holidays). On Monday and Tuesday, not all of the traders are present, but still plenty of choices.
Located at 8 Southwark Street, London