If you rely heavily on your prescription eyeglasses to see the world than losing or breaking them is an annoyance which you can fix rather easily and quickly if you live near a prescription eyeglass retailer like Lenscrafters. Not so easy in France. Discover why you're totally screwed if you lose your prescription eyeglasses in France, plus learn what you should do if you lose or break them followed by a few of my most useful tips for travelling with prescription glasses.
Although this article is written for people travelling to or living in France, most of the tips and advice can be used for any trip you take.
Murphy's Law: Stuff Happens
Things don't always work the same way abroad as they do at home. Most people forget or ignore this simple truth until doomsday is upon them. That's why it's important to fight procrastination and think ahead especially when it come to your vision and travelling.
Scenario: Imagine strolling along the Champs-Élysées and some clueless tourist bumps into you knocking your prescription eyeglasses off your face which fall to the ground, break and shatter beyond repair. Even if you're not completely blind without your glasses, it's still stressful to be sight-seeing someplace or driving with blurry vision.
What to do? Assuming you speak the local language good enough to get by (a must in most of France), you need to somehow make your way back to your hotel or flat all squinty eyed, call an eye doctor and set an appointment to get new eyeglass prescriptions.
Right about now, you're regretting not bringing an extra pair of glasses with you but you think "what's the worst that could happen?. I lose a few hours of my life during the the eye checkup but I'll have my fancy new French eyeglasses in a week or less."
WRONG, You're totally screwed because time is not your friend mon ami.
Why your screwed if you don't have a backup pair of prescription eyeglasses with you in France.
"

It can take 6 months to 1 full year to get an eye doctor appointment
I know it's hard to believe but it can take three to six months to get an eye doctor appointment and in some areas of France it can take up to a year to get a rendez-vous.
We were living in the South of France when my son broke his last backup pair of prescription eyeglasses. No biggy, I thought. I'll just call up an eye doctor and make an appointment.
I called over a dozen eye doctors (ophtalmologiste or ophtalmo is what they are called in French) in our area and every single one of them gave me the same depressing response.
Désolé madame, pas de rendez-vous avant 6 mois.
(I am sorry madam, no appointments available before six months).
One particular doctor blew my mind when she said some eye doctors had a years waiting list to get an appointment while others (presumably the ones with no receptionist), don't even bother answering the phones everyday because they are too busy with their existing patient load. MIND BLOWN!!
**I have heard but can't confirm that some areas of France like Paris have a shorter waiting list.**
7 Things You Should Know If You Are Travelling To France With Prescription Eyeglasses
I felt so stupid not knowing in advance about how impossible it was to get an eye doctor appointment but in my defence, sometimes you don't know what you don't know which is why I'm here to tell you how things work in France.
Here are 7 of my best precautionary tips and sound advice. Forewarned is forearmed.
1) Bring an extra pair of glasses with you just in case!
My absolute best advice and easiest thing you should do is simply bring an extra pair of eyeglasses with you. Even better, bring 2 extra pairs. I always order 4 pairs of glasses for my son who is pretty rough on his glasses.
He is blind as a bat without his prescription glasses so it's important he always has back-up pairs on hand.
2) Bring your prescription with you and you can walk into an eyeglass retailer to get your prescription filled.
If you can't or don't want to bother bringing an extra pair of glasses with you then I recommend you bring your official eyeglass prescription which you can then use to get glasses at one of the thousands of retail optician stores across France who will gladly fill your eyeglass prescription.
If you don't lose your glasses no harm no foul but if you do lose your glasses, you'll be glad you had your prescription with you because you won't have to go long without your glasses or wait months to get an eye doctor appointment.
Opticians (Called "les opticiens" in French ) are not eye doctors and are not optometrists and cannot perform eye exams or treat vision problems. They can only fit and sell eyeglasses using your existing eyeglass prescription.
Things to note about buying eyeglasses from an optician in France
Make sure your prescription is less than 3 years old otherwise by law the optician cannot fill your eyeglass prescription.
Glasses can be extremely expensive to buy at an optician. There are huge markups on glasses in France as much as 250 percent. Lenses can run you anywhere from 50 to 250 euros depending on if you get progressives lenses or other upgrades like ant-reflective, anti-scratch or other coatings. Frames can cost between 50 to 500 euros depending on the brand you get.
You will most likely spend about 200 on the low-end to 600 on the high-end in total.
3) Know your prescription and save hundreds of dollars by buying your spectacles online
For those of you who don't have an updated prescription (less than 3 years old) or backup pair of glasses, you won't be able buy your glasses at an optician's office however all is not lost if you have an older prescription on hand. You can use your prescription to order glasses online and at a HUGE COST SAVINGS!
Don't worry, it's totally safe. I've' been buying my son's eyeglasses online for over 8 years and I have never ever had a problem.
To give you an example of the cost savings, I usually buy 4 pairs of glasses for my son for under 100 dollars with shipping. Shipping usually takes about 7 to 14 days depending on where I am. I have no idea how they do it but the quality of the glasses seem to be just as good as glasses I buy from local retailers.
Here are the details you need to know about your prescription if you buy prescription glasses online
Whether you have your prescription in hand or you have it written somewhere here are the things you need to know in order to buy your glasses online.
a) Naturally you must know the strength of your prescription for your left and right eye.
b) You must also know your pupillary distance (abbreviated as "PD"). This measures the distance between the center of your pupils in millimetres.
Doctors sometimes do not include this information on your prescription so be sure you ask for it.
You could try to measure it yourself in which case you measure from the center of one pupil to the other to get the distance in millimetres.
PD is generally between 55 and 65 for adults.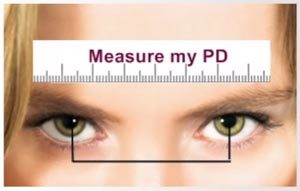 c) You should also have a front facing photo which you will upload and use to try on your glasses virtually.
I love this feature. It's the next best thing to being there and physically trying on glasses. If you are worried about them not looking great on your face, get several pairs just in case.
Where to buy eyeglasses online?
Just Google "buy glasses online" to find hundreds of sites willing to sell you glasses. If you are a bargain hunter like me, take a look at Groupon coupons first. They usually have online coupons where you can get an additional 10 to 25 percent savings off your order or free shipping. These additional discounts can usually only be had by going through the Groupon website vs going directly to the eyeglasses website.
Here are a few eyeglass sites I found through Groupon :
Armed Forces Eyewear is interesting because they offer exclusive pricing for US military, veterans, law enforcement, firefighters & their families as much as 50% off retail.
4) Bring a pair of prescription sunglasses to use as backup and to get a new prescription
Your prescription sunglasses not only protect your eyes from the suns strong UV rays while sightseeing during your travels but can also serve as a backup pair. You might look a little silly at night but it's better than nothing right?
A little known fact is you can get new glasses made from any prescription glasses (in France). All you have to do is walk into an optician's office who will measure your prescription using the lenses from your existing glasses and make a new pair. Voila!
I believe you have to be over 16 to do this though.
5) Bring a hard shell eyeglasses case to protect your glasses from getting crushed
Take precautionary measures with your extra back up pair of glasses or when you're not using your glasses to prevent your glasses from getting crushed in your nah or luggage by bringing a hard shell case for your eyeglasses.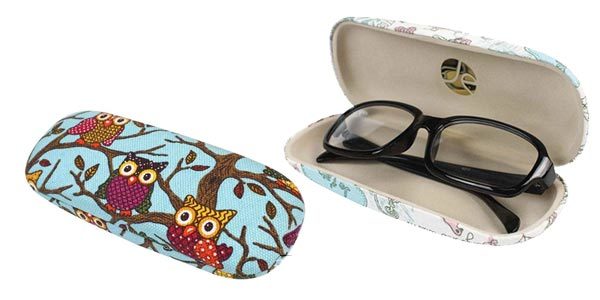 6) Bring a clean eyeglass cloth and cleaning solution
You're not supposed to clean your glasses with the bottom of your t-shirt because it is most likely filled with tiny dust and dirt particles that can leave tiny scratches on your lenses.
Instead try to clean your lenses with warm water and soap. If you are out and about, bring a dedicated cloth like one of those microfiber cloths otherwise clean cotton works just as well. Just make sure you don't wipe your glasses when the lenses are dry. If water is not an option, use a cleaning solution.
7) Bring a small eyeglass repair kid
The last thing you want is for a screw to come loose or worse fall out leaving you with only one working arm forcing you to use nerd tape to hold your glasses together.
I really like the repair kits that have a bunch of extra little screws just in case you actually do lose a screw.
Better safe than sorry
I still think the best solution is to bring an extra pair of glasses with you as back up. If you end up not needing them no big deal but if you do end up breaking or losing your glasses, you'll feel so smart and relieved that you did because not being able to see clearly for any amount of time whether on vacation or not is just plain stressful and annoying.