If you love group exercise classes, but you're stuck at home with the kids, social distancing or simply too lazy to go to the gym, here are 13 fun beginner home workouts you can find online that actually make you sweat.

Sound familiar? I love the idea of exercising and working out at home, but…
I love staying fit, so exercising and working out are both an essential part of my weekly routine. However, I won't do anything that feels like torture or bores me to death.
That doesn't mean I don't love an intense workout that kicks my butt. I just hate certain types of exercises.
I don't jog because 10 minutes jogging feels like agonizing hours or torture to me.
My husband loves swimming laps at the pool, but I find it painfully dull.
I can never stick to a self-led home workout routine.
Group exercise classes at the gym have kept me motivated to workout
Although it's not for everyone, the solution that keeps me motivated has been to participate in a wide range of organized group exercise classes led by an instructor.
The variety and intensity of the classes not only keep me accountable, but they also motivate me to push myself harder than if I were to follow a self-led home routine.
Here's an example of some of my favourite group exercise classes I've taken in the past and present.
I took several years of kickboxing group fitness classes at Undisputed Boxing gym in Redwood City, California and loved it.
When I moved to France, I did a year of CrossFit with my husband and went on to do a few obstacle course races, such as a Spartan Race in France and Prison Break race in Quebec.
Then I did a year of MuayThai (Thai kickboxing).
In between, I do other classes such as Zumba, which is fun, step classes, yoga, boxing conditioning and stretching classes (who doesn't want to be more flexible?).
Fun home workouts (beginners to advanced) you can do at home with no equipment
If all this sounds familiar and you want to find a home workout that mimics the instructor-led group classes you typically take at a gym, here are some fun Beginner Home Workouts that'll make you sweat and keep you tone. Not to mention, vigorous exercise is great stress relief.
1) Online home workout classes in French
As strange as this sounds, French learners can kill two birds with one stone by watching home workout videos online in French.
You'll find countless beginner home workout videos you can watch for free on youtube. Here are just a few examples.
Fitness master class (series of home workouts. You can do a different one every day with the same instructor)
Search Youtube using this French Vocabulary to find home workout classes in French
Home workout = Séance à la maison
Fitness Workout = Séance de fitness
Cardio workout = Séance de cardio
Abs at home = Abdo à la maison
Thigh abs butt (this is a popular class at many gyms in France) = Cuisses Abdos Fessiers
Burn fat = Brule grasse

2) Latin Dance home workout for beginners
I know Latin music lovers will love burning off calories while dancing to some fast-paced Latin music.
3) Learn to belly dance for FREE
This may sound strange, but I've always wanted to learn to belly dance. I found this amazing site by Coco, who teaches people of all levels how to belly dance with confidence, and it's free.
4) Learn to street dance
On the Steezy website, there are over 600 dance classes with new releases every week where you can master a variety of street dance styles, including urban, dance popping, housebreaking, dance hall, jazz-funk and more.
I wasn't going to mention Steezy because it's not free, but the features blew me away.
As you watch the videos, you can do a variety of things, such as switch views of the dancers from front to back. If you can't get a specific movement right, you can loop the video to replay and slow the speed of the video until you get the moves down right. The most interesting and unique feature is the ability to see yourself dancing on a split screen (if you have a camera on your computer).
Unlimited monthly membership costs roughly 8 USD if you pay annually.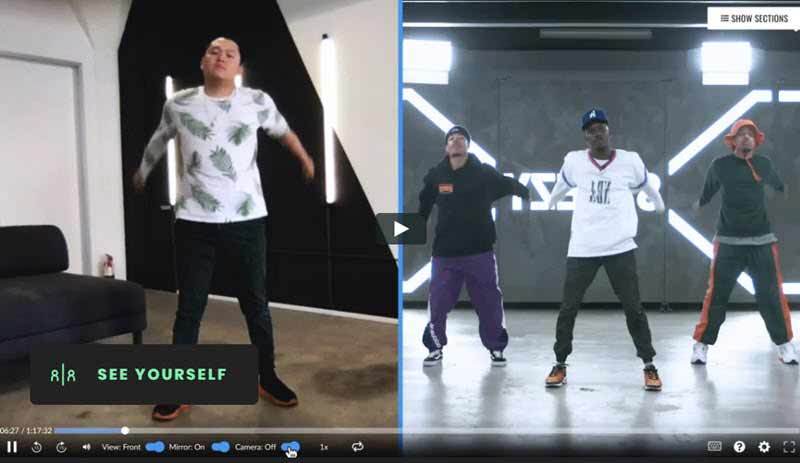 5) Dance exercise routine to your favourite song
Don't judge, but I really like the song Dance Monkey and the girls over at Shine dance have a really good dance routine set to the song.
6) Hip Hop Tabata Dance home workout
If you like Hip Hop then you're going to love this 30 minute Tabata dance workout. Tabata training is a popular form of high-intensity interval training (HIIT) which consists of eight rounds of ultra-high-intensity exercises in 20-seconds-on, 10-seconds-off intervals.
7) 50 Min. Barre Workout You Can Do at Home
I tried the Barre workout, an energizing full-body workout, for a few months and it was tougher than it looked. Although the main focus is not weight loss, you'll definitely feel slimmer, improve your posture and feel toned.
8) 30-day Glutes home workout for beginners
Blogilates is a popular fitness channel on YouTube that has a 30 day, 1000 glutes challenge and hundreds of Beginner Home Workouts.
9) Zumba classes on line
Most Zumba classes typically use four different types of dance: cumbia, merengue, reggaeton and salsa.
This non-stop 30 minute Zumba compilation is a fun home workout with a little bit of everything.
10) 20-minute jump rope workout
If you've ever jump-roped for more than 10 minutes straight, you know what a great overall workout it is whether you're trying to lose weight, build strength, or get fit. It's also a very portable exercise you can do while travelling or on the go because all you need is a jump rope.
Unfortunately, jump roping can get boring or repetitive so I always have Spotify music playing while I workout. I recently discovered an audio home workout app called "Jump Rope Training" by crossrope. It's been a game-changer for me. The app has a built-in workout timer and guides you through each short but intense workout with intuitive audio.
Alternatively, there are countless jump rope workouts you can find online like this 20-minute jump rope workout. If you don't have a jump rope, just mimic holding one.
11) Home workout for beginners on Amazon Prime
If you have an Amazon Prime membership, you have access to Amazon prime video, which means you can binge exercise all the yoga and pilates videos you want and more.
12) Yoga workouts online you can do at home with your kids
Do Yoga With Me is a fabulous yoga workout website. They have hundreds of yoga classes for just about anyone from beginner to advanced. In addition to the yoga class for kids aged 3 to 8 and plus size yoga, they offer a variety of free classes in different yoga styles including Hatha, Vinyasa, Ashtanga, Power, Kundalini, Yin Yoga, restorative yoga and more.
They also offer a membership for US $99 Annually, which gives you access to premium content.
13) Fitness video games: Beginner Home Workouts for you, your kids and the whole family
If you have a Nintendo Switch and haven't tried any of the fitness video games, you don't know what you're missing.
I originally bought the Switch for my daughter as a birthday gift and honestly thought I would never use it since I'm not into video games (anymore). I was wrong.
Fitness video games gamify your home workout routine and reward you for performing different moves correctly. Many fitness video games track your daily efforts and progress, give you an estimated amount of calories burned and keep track of the time you spend working out. Some even let you track your weight.
You won't get ripped from fitness video games but:
You won't get ripped or build huge biceps, and it won't replace your main workout routine, however fitness video games will keep you moving, make you sweat, and keep you toned if you do it regularly. It's also a great way to get the kids moving indoors. I play with my daughter, so I know first hand that it's a fun activity to do together as a family when you're stuck indoors.
Here are my favourites for the Nintendo switch. They may be available on other video game systems too.
Just Dance – Nintendo Switch
The very first fitness video game we bought was Just Dance 2017. After playing it with my daughter, I soon realized it was also a great cardio workout for the whole family.
Depending on how much you weigh (the heavier you are, the more calories you'll lose), you'll burn between 200 to 400 calories per half hour of continuous dancing. So if you play Just Dance 5 days a week, 30 minutes a day, you're looking at burning an extra 1000 to 2400 each week. Of course, it also depends on the level of exertion at which you dance.
With Just Dance, you get to dance to the latest hits and learn choreographed dance moves while increasing muscle tone and improving flexibility without getting bored. My daughter and I both love Just Dance. The more you play, the better you get at the dance moves.
How Just dance works:
Just choose your song, grab a game controller, and follow the dancer(s) on the screen. The controllers track your movements and let you know how well you're doing.
One of my favourite things about the game is you can create a playlist of songs to play in succession. This is very handy because you don't have to stop after each dance to choose the next song. You just keep on dancing. I usually dance anywhere from 30 minutes to 45 minutes, and I'm always out of breath and sweating by the end.
Just dance also has wrist Bands so you can attach the switch controllers to your wrists rather than holding them.
You can order just dance unlimited for 365 days here. After purchase, you can access the game in your games library.
Fitness Boxing – Nintendo Switch
I love contact kickboxing and kickboxing with bags, so the idea of a Fitness Boxing video game sounded weird to me. After all, you're not actually hitting anything. But then I remembered that Cardio KickBoxing, BODYCOMBAT and even shadow boxing are all no contact and can burn around 500 calories an hour.
So I caved and bought the game. It's now my favourite alternative workout for days I can't get to the gym.
You can pick up a digital version of the Fitness boxing video game here. After you purchase, you access the game in your game library on your Switch.
How fitness boxing works:
When you first start fitness boxing on the Nintendo switch, you enter your vitals: Height, age, weight and fitness goals.
There is a "daily workout" calendar that tracks the amount of time you box, number of punches and fitness achievements in graphs. It will also give you an estimated or approximate BMI and keep track of how many calories you burn so you can keep an eye on your goals. You can even fight your friends in the ring
The training starts slowly with a few punches and short combos, but as you progress, and learn the new moves, the length and complexity of the combos steadily increase. As you progress, you can earn more songs and more challenging training circuits. If you prefer to work out with a buddy, you can use two sets of Joy-Con Controllers.
You perform all the punches and movements to the beat of instrumental versions of hit songs with a digital instructor.
I have only three complaints about the game.
The music isn't great, but some people like it.
My hands get sweaty from holding the controllers. I think I might invest in some joy-con wristbands to keep them on my wrist or use my MMA boxing gloves.
The voice of the instructor is loud and repetitive. I recommend going into the settings and lowering the voice or muting the voice. Don't worry; it doesn't affect the music level.
Zumba: Burn It Up! – Nintendo Switch
If you love Zumba and dancing to wold music, you'll love burning off the calories with Zumba Burn it up. Depending on the level of intensity you exert while dancing, you can burn anywhere from 400 to 500 calories per hour of Zumba dancing.
As with all Nintendo switch fitness video games mentioned in this article, the Joy-Con controllers track your movements, but in Zumba burn it up; you're rewarded extra points for dancing with energy and flair. Pick your fitness level, songs and start learning the dances.
Ring Fit Adventure – Nintendo Switch
The newest gamified exercise video game by Nintendo switch is Ring Fit Adventure.- an adventure fitness game.
Play it correctly, and you'll definitely feel achy the next morning.
The game comes with two physical accessories that each hold a game controller:1) a leg strap (to hold one joy-con on your thigh) and 2) a flexible ring (Ring-Con), which is essentially one of those resistance rings you use in Pilates or yoga.
You play as a hero dressed in gym clothes. Instead of using buttons and a joystick to explore, you control your character through your movements. So if you want your character to run forward and jump, you simply run in place and jump.
The experience is similar to Super Mario, adventure or role-playing games. As you travel from level to level and scene to scene, you try to accomplish various goals, gather ingredients to create magic smoothies and fight the bad guys.
I can't find any workout videos on Netflix
I was disappointed not to find many workout videos on Netflix. Since I'm already a subscriber, it would have been great to binge exercise. That's ok though, considering the number of streaming exercise videos online available for free or a small fee, you're sure to find something to motivate you on those days you can't get outside.
Why not also try to fit in some of these classic body-weight exercises you can do at home too. Crunches, Push-ups, Planks, Squats, Lunges, Wall sits, Burpees, and Jumping jacks.
Bonus: Skillshare
Skillshare is an online learning community for people who want to learn from educational videos. There isn't a huge selection of exercise videos; it's worth a try because of the other classes to keep you busy Drawing, Photoshop, mental well being, programming etc. Think of it as Udemy but unlimited. Get two months of Skillshare for free here