The SkyMall Magazine- It's your favourite in-flight magazine you love to hate. Or hate to love?
Some of their products are so ridiculous, I honestly can't tell if the folks over at Skymall are idiots or genius marketers. Regardless of how stupid or useful the products in the Skymall magazine are, after I fasten my seat belt, l almost ALWAYS reach in the seat back pocket hoping to get a good laugh at their eclectic and unique set of products.
17 Stupid SkyMall Products I Dare You To Buy
Here are a few classic skymall products.
I used to link directly to them in the SkyMall catalogue but they keep changing their product links or discontinue products. Now I just link to them through Amazon if they are still available. Just in case you want to buy one.
1-SkyRest Travel Pillow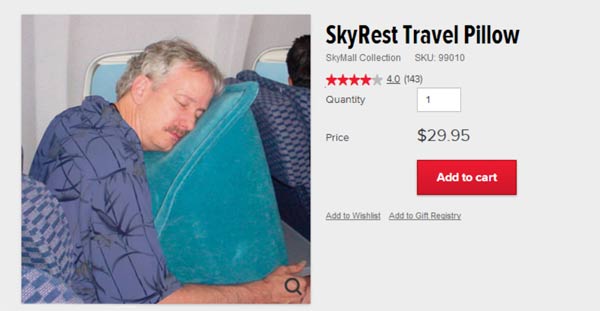 Like a trusty old friend, I can always count on this Gray haired gentleman peacefully resting his head on his inflatable skyrest pillow.
I can't remember a time when he WAS NOT in the Skymall catalogue. I will miss his familiar face when they finally do decide to discontinue this item.
2-Upright Sleeper
Words just don't do this product justice. I mean look at it! I get that it helps to hold your head up but would you really wear this on a plane? This is no longer available as far as I know but you can buy some more discreet travel pillows for upright sleeping that don't make you look like you have a broken neck.
3-e-Reader Buddies Pillow
I don't actually know anyone that has an e-reader but having some kind of kickstand for your iPad or tablet is kind of useful.
I think the design is flawed on this pillow thing because you still have to prop the pillow up in order to have the screen facing you.
I found a better pillow tablet holders here.
4-County Jail T-Shirt
There has been a trend I have seen where women orange jumpsuits as a fashion statement. Now you can get the male version- an orange prison T-shirt. I'm sorry but the last thing I want to wear while driving down the highway is a t-shirt that makes me look like a penitentiary escapee.
5-Big Ass Bigfoot Garden Yeti Sculpture
Really? This is what you want in your backyard or in your garden. And look how much it costs- 2,500 bucks. Who would pay that much money for this thing? You can pick up a much cheaper Garden Yeti statue for 500 dollars here.
6-Bigfoot Tree Yeti Sculpture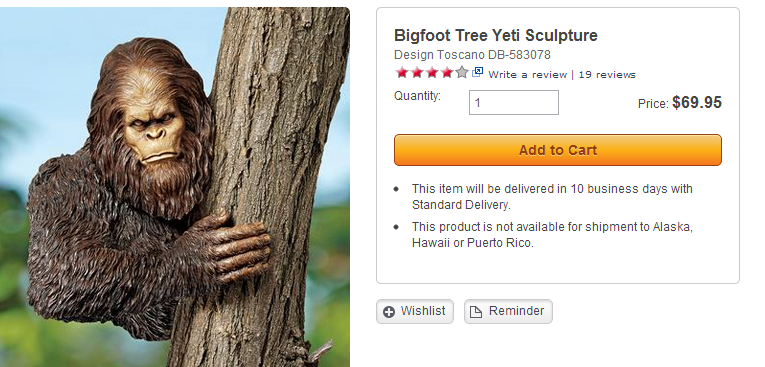 If you can't afford the 2,000 dollar price tag of the life-size yeti, Skymall has a smaller more affordable one.
With his spooky face lurking behind a tree, this BigFoot tree Yeti will creep out your guests and scare away intruders and feral animals.
7-Creepy MLB Forest Face
It's called a forest face, I call it weird, ugly and disturbing but then again I am not a baseball fan.
You're supposed to hang this porcelain forest face on your tree to let your friends and neighbours know which team you are rooting for. I get the hat part but the big honking nose, lips and creepy eyes are too much. If you're into the Boston Redsocks, you can get one to hang on a tree too.
8-Faux Workpant Lounge Wear
Is this supposed to be irony? A faux tool belt on a pair of sweatpants?
9- Dr. Seuss Graduation Cap & Glasses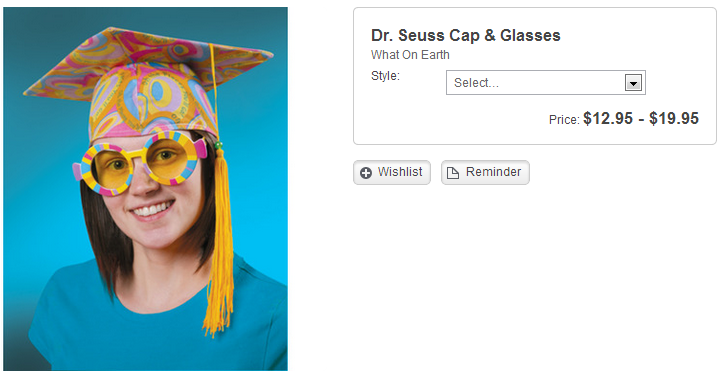 Be the life of the party with this Dr. Seuss Graduation Cap and Glasses. Seriously how did this even get a spot in their magazine?
hahaha, I, haha, can't, hahaha, stop, hahaha, laughing.
10-Grip-n-Assist Mobility Belt
Don't you hate it when you can't get a good grip on your grandpa so you can help him out of bed? Now HE CAN GRAB YOU and pull himself up. Problem solved.
I did a litle research and there really is a need for belts with grips only it's the patients that wear the belts not their caretakers. The caretakers can get a better grip when helping you in and out of bed, wheelchairs and other mobile situation.
11-Sand Name Prints
Let me get this straight. Instead of writing your name in the sand and taking a picture of it yourself, you want to pay someone up to 70 bucks to Photoshop it onto a photo for you? I think I have my new business idea..I'll do it for 20 dollars too.
12-Roswell, the Alien Butler
For the sophisticated middle aged sci-fi lover. Now you can pretend that you are being served brandy by an extraterrestrial from outer space whose name is Roswell.
Honestly, I'm not sure if this is super stupid, super cool or super creepy.
Actually, this would go great in my bathroom holding up a roll of toilet paper.
13-Babette Table
No Pun intended but would you put your COCK-Tail on this table? I mean nothing says CLASS more than a torso-less pair of legs wearing a pair of strappy red high heels, stockings and panties trying to pass as a table to hold your cocktails.
It's just wrong! I think it might actually be a little sexist?
14-Hot Dog Leash
When I first saw this photos I thought, "oh that dog's master is feeding him sausages."
Then I realized the owner was not feeding his dog tasty treats but cruelly teasing their dog with a leash made of fake hot dogs.
Poor poor thing….just look at how depressed he looks.
15-FaceTrainer
Saggy face? Fine lines? Crows feet?
Forget creams, lotions and plastic surgery. All you need is the Face Trainer!
Put it on for 10 minutes every day and watch your sags melt away.
Plus it doubles as a scuba divers hat thingy.
Another option is to pick up one of these silicone face slimmers.

16-Mobile Massage System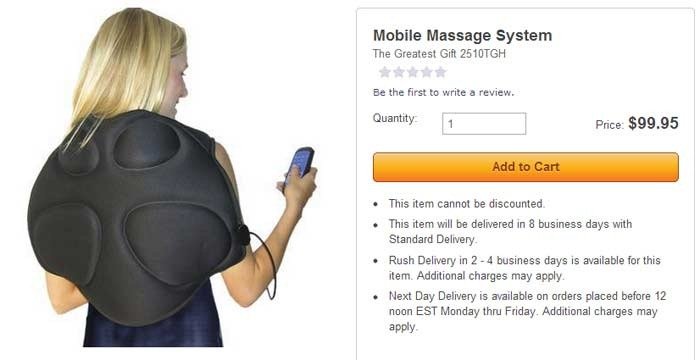 No, It's not a ninja turtle costume. It's not a shawl. It's a portable back massage thingy that you control with a remote control.
For the life of me, I cannot figure out in what situation would I ever want to wear this. Wouldn't you rather have one of those sit down chair massagers? Maybe it's made for people who don't have the time to sit and relax for 2 whole minutes?
I've personally tried this zero gravity shiatsu massage chair and it is worth every penny.
17-Hic
ural Hiccup Stick
Forget trying to chug water while holding your nose and plugging your ears.
Bite down on this $20 stick while drinking a glass of water and your hiccups will be cured.
I have no idea if this works or not but the idea of it made my stomach sore from laughing so hard.
I couldn't help myself.
After my daughter and I stopped laughing, (a half hour later) my daughter got suddenly quiet and walked away.
Then she returned with a stick between her teeth. We both started laughing again. After we stopped laughing, I reached for the camera and took the above photo.
She's a genius.