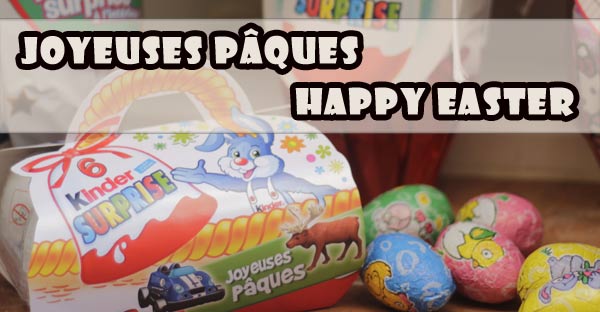 Happy Easter from France.
We had a fantastic Easter here in France.
We took the kids to see some friends who own a Nursery and spent the day eating, drinking and talking about everything and nothing.
There was a mix of French, German, Dutch and English spoken at any given time because everyone seemed to be from somewhere different.
Our host, Ferdinand and his wife cooked up some lamb, chicken and Merguez sausages on the Bar-B-Q and we drank lots of wine, Armagnac, ouzo and then we moved on to some weird green stuff which tasted like cough medicine.
I brought an apple crumble pie which I made the night before and it got snarffled up in a flash.  Somewhere in between we ate some salad and chocolate but I can't remember.
That's us in the photo above. Notice my face as I drink the Armagnac. BLEH!!
We Gave The Children Contraband Chocolate
I bought the kids, mostly teens plus our little Catherine who is five, a bunch of chocolate including the famous Chocolate Kinder eggs.  
There is nothing special about this chocolate egg except that they have been banned in the US since 1997 because each egg contains a small toy which is a chocking hazard to kids under the age of three. DUH! of course it is but I guess the American government doesn't think parents are responsible enough or smart enough to figure out NOT to give the small toy to kids to eat?
Who knows. People here in Europe laugh at this strange law considering there are so many more dangerous things that should be banned.
If you want to get your hands on some contraband chocolate eggs you can get them anywhere in Europe, Australia and even Canada but don' t try to smuggle them into the U.S. because they carry a 2,500 USD fine if you are caught.
How Is Easter Celebrated In France?
For the most part, Easter in France wasn't much different than how it is celebrated in the US or Canada except for one small thing. Easter is celebrated for two days and almost everyone gets a three day weekend
First Day Of Easter
Easter Sunday is a day spent with family and or friends eating and drinking.
Second Day of Easter
The day after Easter Sunday is…..Easter Monday which is a holiday. Most of the shops, banks, schools and other businesses are closed on this day.
In our small town there is an Easter egg hunt sponsored by the city complete with buses that shuttle people back and forth from the centre of town to the park where the egg hunt will be.
What about you. how was your Easter break?