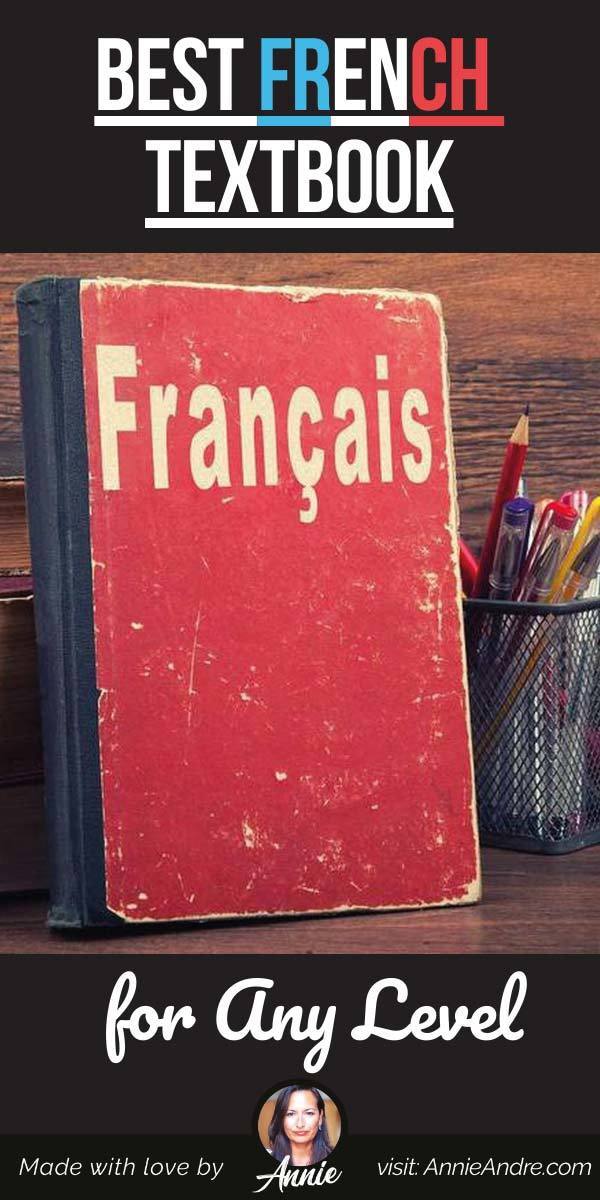 Ah, French. The language of love. Almost everyone dreams of learning how to speak the French language. Well, that is until they give it a try. They soon learn that the language has a lot of nuances that make it a tad challenging. Especially when you don't have the right approach or learning materials.
Not all textbooks are created equal, and the case isn't any different with French books. Some of the books jump the gun, making it hard for beginners to get started. Others are a tad too simplified for intermediate and advanced learners. Some books, on the other hand, strike the perfect balance to cater to the needs of readers at all levels. Here are our picks for the best French textbook for any level.
Best French Textbook for Any Level Reviews
French in Action: A Beginning Course in Language and Culture: The Capretz Method, Third Edition, Part 1
French is referred to as the language of love, and romance and this book, alongside the free video and audio components, live up to this promise. The videos series follow an interesting romantic storyline in true French style to let you anchor words and phrases quickly.
Currently in its third edition, the French in Action textbook is broken into 26 bite-sized chapters that correspond to each of the freely available 26 videos. It also contains an entire transcript of video which is crucial in speeding up the learning process. French words are a tad tricky to pronounce, hence matching written words with their corresponding sounds makes for a seamless learning process.
The latest edition of the book boasts lots of colored pictures and illustrations to help with visual learning. It also includes journal entries by a French woman to give you deep insights into Francophone life dating back to 1985. These humorous entries make for an exciting read and give a comic relief from the concise grammar explanations and exercises sprinkled throughout the book.
Pros:
Complemented by 52 freely available videos
Revised to include everyday francophone learning materials
Critically acclaimed French textbook
Cons:
Only available in two formats
Vis-a-vis: Beginning French (Student Edition) 3rd Edition
The difference in spelling and pronunciation makes learning a new language quite a tricky affair for most people, but this book puts a stop to all that. It makes for an attention-gripping read that engages the learners to arm them with a sound foundation of the French language and culture. Vis-à-vis relies on proven, concise grammatical explanation, cultural explanations, and intuitive flow to give learns a beautiful learning experience.
Best of all, it comes with excellent digital r​​esources to break the reading monotony. You have a choice between a soft and hardcover version when buying the book. The audio cassettes not only help to speed up the learning process but also ensure that you master the grammar nuances as well.
Vis-à-vis covers the grammatical concepts in a progressive way to let you build a solid foundation in the beginner levels before progressing to the intermediate level. Coupling the textbooks with a multimedia CD gives you an authentic French accent in no time. If you're so inclined you can also opt for the audiobook version.
Pros:
Available in four different formats
Uses a contemporary approach to learning
Cons:
Not available in soft copy
Contacts: Langue et Culture Francaises 7th Edition
Contacts provides an exceptional way to ease into the marvels of the French language. It's easy to use and presents grammar lessons in a logical sequence while using reinforcement to master and build an impressive range of vocabulary. The book taps into all the fours skills – writing, reading, listening, and speaking – to engage all your senses as you master the language of love.
This entry-level French te​​xtbook explores culture, communities, comparisons, connections, and communication to meet the national standards for a foreign language. Full-color spreads break the monotony of printed words to tap into your visual senses to help you engage with the material and master the language faster. You have a choice between a hardcover and paperback book for your learning pleasure.
Including supplementary materials, such as CDs and workbook in your reading regime can help propel your language mastery to new heights quickly. The CD set contains 14 discs, each with 40-minute lessons to help with pronunciation and language nuances. The book has been revised several times to incorporate more learning material and French contemporary culture and lifestyle.
Pros:
Well structured content
Full-color spreads
Meets the national foreign language standards
Great for self-study and classroom use
Includes CDs
Cons:
CDs are often available as a separate purchase
Entre Amis 5th Edition
Entre Amis, which translates to between friends in French, makes an excellent way for beginners to learn French. The book centers on a progressive approach that makes the learning process fun and enjoyable. It covers all four language skills but places considerable emphasis on oral communication.
The book is part of a larger program that includes video and an audio lab to help you pick up and polish your French accent, nuances, and pronunciation. The book's content unfolds progressively to help learners build a solid foundation.
It also offers insights into the Francophone culture in 30 capsules that include discussions on many social issues. The book comes with many self-testing opportunities and includes excellent explanations to help readers improve their oral communication. Contextualized writing assignments with the work let you share your ideas and personal information, which is a brilliant way to build your presentation skills. Coupling the textbook with the workbook enables you to make significant progress in learning the French language.
Pros:
Well-designed and paced content
Includes illustrative drawings
Geared towards improving oral communication skills
Numerous self-testing opportunities
Cons:
May require an additional purchase of the video and audio lab
French in Action: A Beginning Course in Language and Culture, the Capretz Method: Part 2
French in Action Part 2 is the second installment of the critically acclaimed French book for beginners. It follows the now famous Capretz method that combines text, audio, and video to help learner progress quickly. This second part of the book contains 26 lessons and picks up where the first installment left off.
The book was split into two equal parts, each with 26 lessons to make it less imposing on French learners. Each edition has been revised to include more fun learning materials to make the learning process more immersive and enjoyable.
Each of the 26 lessons is accompanied by a corresponding 26 30-minute videos that are freely available from the Annenberg/CPB Project. The second part builds on the previous part to arm you with intermediate skills necessary to communicate in French. It not only helps you build your vocabulary and pronunciations but also offers deep insights into the Francophone culture.
Of course, you get to continue your adventures with the opinionated Marie-Laure as she dishes out her humorous take on things. Her raves on the cultural, technological, and political changes taking place between 1985 to date not only leave you in stitches but also speeds up the learning process.
Pros:
Highly fun and immersive
It's accompanied by 26 free lessons
Follows a highly successful teaching method
Crafted to improve communications skills
Numerous illustrations and color pictures
Cons:
Builds upon the previous part of the book
Meant for intermediate learners
Final Verdict
Since it comes in two parts and contains the musings of a funny and interesting character on all things French and the francophone culture, French in Action is a cut above the rest. Each part of the book is accompanied by a series of 26 30-minute videos that are freely available on the internet. The book is part of a larger program that includes textbooks, workbooks, instructor's guide, study guide, audio program, and a testing program. That makes it the best French textbook for any level.