Welcome to "The live in France guide: an expat travel and lifestyle blog featuring, destination guides, inspiration, travel tips, personal advice and anecdotes on working, living and playing in France. ( Equal parts weird, wacky and wonderful)
Did you already read the about page?
Meet The Family Who Moved To France
We're a blended family of five. Blake and I have a daughter together and I have two boys from a previous marriage. Blake has raised my boys since they were 5 and 7 years old. Between the five of us, we have three different last names. To make matters worse, my son's first name is my maiden name which makes some customs officers scratch their head.
We moved to France for what we thought would be a year long trip because we thought it would be a wonderful experience for our kids and family.
Life hasn't been perfect in France. It has it's own set of challenges just like anywhere else in the world but we make the best of it. Besides, it's France. We get to eat cheese and the best baguettes in the world then wash it all down with wine and champagne.
The Parents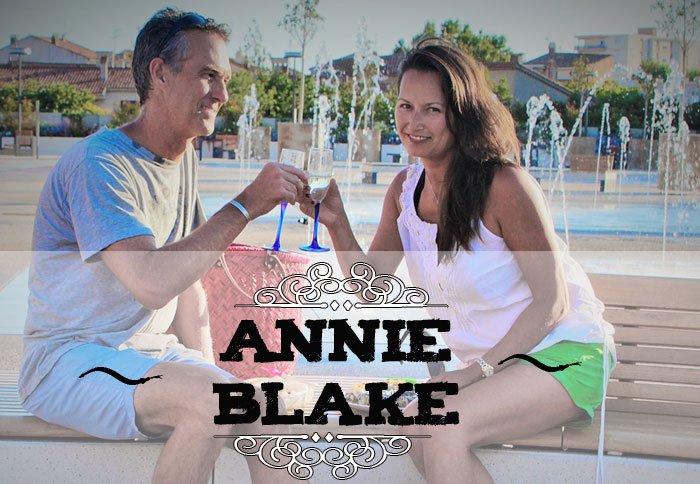 My name is Annie André and my husband's name is Blake Elder. We met while working for the same company in silicon valley California. Blake was the director of software QA and I worked as a database marketing analyst and web traffic optimizer.
Blake and I are complete opposites on a lot of fronts but we have the same belief system which I think has been the key to our marriage. That and we both are foodies.
 Meet the kids

All three of my children were born in Mountain view California. My boys spoke no French when we first came to France but now speak fluently.
I always regretted the fact that I did not speak French to my boys when they were younger so when Catherine was born,  I decided to speak only French to her while Blake speaks only English to her.  She literally has two first languages, French and English and is perfectly bilingual.
The kids have all had their ups and downs while living in France. I think it was harder for my two sons who were older and already in their early teens. Not only did we move but we moved to another country with different customs, holidays, foods etc.
 Catherine is the baby of the family. 4, 5, 6, 7, 8, 9, I mean 10 years old)
Just don't let her hear you call her baby.
Despite being the youngest, she has an old soul. She cries during sad movies and is an extremely empathetic young lady. Her two older brothers absolutely adore her which to me is a wonderful thing because everyone knows older brothers can be cruel to the younger ones.
Catherine has lived fully immersed in 3 countries so far. California her first 3 years of life, then a year in Montreal and now France for over 6 years. She has a very international outlook on life and is extremely flexible when it comes to what she will and wont do. She's been to over 20 countries so far and I hope she can visit more.
She has a love for North American things even though she is being raised in France. She loves bacon and eggs just as much as she loves her stinky cheeses.
Kieran 15, 16, 17, 18, 19, 20, 21, is the is the oldest.
What can I say about Kieran? Well, I once went river rafting near my aunts house in Montreal and the guides name was Kieran. I liked it so much I named my first born Kieran.
Kieran left France for about a year to have an American high school experience but claims he didn't like it that much so now he's back in France with us where he belongs.
He attends university of Montpellier and plans on majoring in political science. He still lives at home with us. In fact, we moved to Montpellier where his university is located and we love it.
André is the middle child. 13, 14, 15, 16, 17, 18, 19 years old

When we first moved to France, Andre was only 13 years old so he's spent all his teen years in France. He speaks impeccable French thanks to his French best friends.
One of the first things you notice about Andre when you meet him is that he is very tall. He measures over 6 ft 4 inches tall / 1 metre 95. He also has shoes the size of skis. Very hard to buy shoes for him.
It's rare that I get a picture of André smiling so I truly cherish this photo of him squatting in front of a poisonous mushroom (which we took while we were mushroom foraging near Cannes France.)
Andre is an extremely gifted graphic artist. He attended a special high school (lycée) in Hyères France where he improved his digital arts skills. He now freelances on sites like Upwork and does some stunning logos and product mock ups.